April 2005
Jaguar XJ 3.0 V6 SE
Conservative styling hides a technologically advanced car
April 2005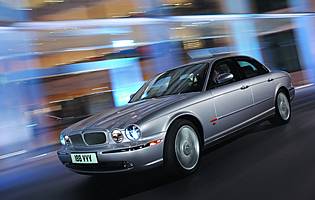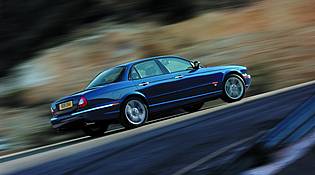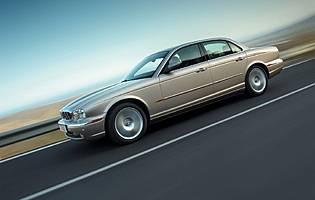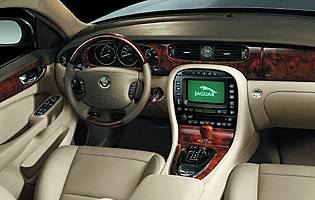 Overall rating

Likes:
Responsive and fun to drive - for a big car
Smooth-shifting transmission is pure Jaguar
Spacious cabin a huge leap forward
Straightforward approach to cabin design most welcome
Gripes:
Despite hi-tech construction, exterior styling too similar to old XJs
Boot is on the shallow size for a car of this size
Lack of diesel engine will have some people looking elsewhere
J-gate' gear selector is dated and sometimes clumsy to use
It may look almost identical to the car it replaced, but this Jaguar XJ is more refined, better to drive and better built. With proof that conservatism is alive and well in the executive sector, Jaguar opted not to launch something radical in a bid to hold on to existing customers while attempting to impress younger buyers with the car's hi-tech trappings.
You have to look closely to spot the differences between the old and current XJ. Such was Jaguar's determination to stay loyal to its regular buyers that any challenging exterior treatments were banned. As such there's no mistaking the XJ for anything else on the road. The trouble is, does the car suffer because it's too conservative?
If you believe Jaguar and loyal owners, then no. However, this car was also developed to appeal to younger buyers and people who would automatically go for something German and sporty. In its bid to combat the 'fuddy duddy' image that has dogged Jaguar for years, the firm set about making its flagship saloon more enjoyable to drive at a brisk pace.
You'll have to look under the car's skin to appreciate the full extent of the engineering overhaul, though. Following the likes of Audi and its A8, the XJ is made out of aluminium not steel. The advantages include less weight, a stronger structure and a more agile feel to the driving experience thanks to the weight savings and stiff nature of the material.
And it's only when you drive the car that you realise what a good job the engineers have done. As nimble as a car half its size on the road yet refined when you want to go slow, the XJ is very good indeed. It packs a lot of clever technology; touch screen sat-nav, a high-spec entertainment systems and adaptive air suspension being the main highlights.
The weight savings have also allowed Jaguar to use a small capacity petrol V6 for the first time in ages. Anything but the clunker of the range, this motor proves more than adequate despite its modest output. All cars come with a slick-shifting six-speed auto gearbox, while the driver also gets electrically adjustable pedals to further help fine tune the seating position.
Our verdict on the Jaguar XJ 3.0 V6 SE
As it stands, the XJ is a well-sorted car that can turn its hand to wafting through town one minute and spearing down a motorway the next with the minimum of fuss and bother. Jaguar's decision to use technology for a reason and not to simply impress potential buyers is also worthy of note. The car's air suspension requires no input or tweaking from the driver, while the aluminium chassis' benefits can be experienced on even the briefest of drives. It's just a shame that more effort wasn't put into giving the car a stronger visual appearance.
Costs
If you've got this sort of money to spend on an executive car - or your company has - then you're unlikely to wince at the XJ's less than impressive fuel economy. The V8 models certainly like a drink, however the V6 is surprisingly frugal on long trips and gives away little real-world performance. With reliability woes largely history, visits to the dealer should be of the scheduled variety.
Space and practicality
Jaguar loyalists should cheer at the news that the car's cabin is now more accommodating. The major improvements centre on the rear, as there's noticeably more legroom - a key attribute if you spend time transporting important people around for a living. Even if it's your own car, this XJ does everything that bit better; the boot is a reasonable size - although rivals still have the upper hand and oddment storage is good thanks to a generously dimensioned centre console.
Controls and display
Jaguar has done the decent thing and kept the button count to a sensible level in the XJ. Unlike certain rivals, the car's fascia isn't peppered with rows of confusing controls. The centre console contains the stereo and ventilation systems, which are easy to master. Opt for the touch-screen sat-nav (which is very good) and these controls can be accessed via the big, clear screen. Elsewhere, the column stalks and minor controls prove straightforward.
Comfort
The XJ's air suspension must take the lion's share of the credit for the car's impressive ride. In all but extreme conditions it cossets occupants. When you want to have fun, it also ensures that pitch and roll are kept to a comfortable minimum. As you would expect, the car's seats are generously proportioned both front and rear and electrically adjustable up front. At the rear this model boasts more legroom than ever before and it shows - passengers will have little problem getting comfortable.
Car security
It may not stand out as much as a 7 Series but the XJ is distinctive nevertheless. As such you get a comprehensive immobiliser system, including an interior motion sensor, plus remote central locking with delayed locking which activates once you drive away. Being a saloon, the car's boot is separate from the cabin, which is an added theft deterrent.
Car safety
Jaguar has covered all the usual bases in the safety department, as the car comes with twin front, side along with curtain airbags plus ABS, brake assist and subtle but effective traction control. If completely honest, the fact that you'll be driving around in a big car is probably worth more in psychological terms. Also comforting is the knowledge that the rear seats are Isofix-equipped for child seats.
Driver appeal
The XJ has always had a reputation for its 'magic carpet' ride. This was often at the expense of sharp handling, but now the two attributes have been successfully combined. Thanks to air suspension - a sport option is also available - the car's ride is both measured and fun. The car's steering also possesses a reasonable amount of feel, and the engine line-up contains no duds. The supercharged V8 is predictably rapid but the regular V8s are also quick. The big surprise is the V6, which is more than adequate and not too thirsty. The XJ's slick six-speed auto is a super unit but the old-fashioned J-gate shifter can prove awkward when you're in a hurry.
Family car appeal
The XJ is no substitute for a premium MPV if you have a few kids, but two growing children can easily be accommodated in the back. The rough and tumble of family life could take its toll on the leather seats, though. Bootspace won't match that of a people carrier or SUV, either, as it's a little on the shallow side - bicycles and the like will have to go on an external carrier.
First car appeal
Not what you'd want to drive as your first car, really. Even if you had buckets of cash it would cause more than a few anxious moments threading the Jag through crowded city streets. That said, if you were new to driving but had to borrow such a car, it's very easy to pilot thanks to a smooth auto gearbox. The V8 models aren't slow, though.
Quality and image
Jaguars usually split opinion as some people remember the cars from the past that were less than perfect in reliability terms, while more recent converts are keen to extol the virtues of traditional design and high levels of cabin refinement. Jaguar has done a good job of banishing quality worries, and the car certainly feels better built than its predecessor thanks to the use of higher quality materials. And yet, despite the recent hiccups, Jaguar's general image remains strong in the executive sector.
Accessibility
Owners of older XJs will notice the improvements straightaway, as this model boasts more room in all the right places. No longer 'snug', the cabin is now a more pleasant place to spend long hours in. Back seat occupants reap the most benefit as access to the rear is much improved thanks to the car's increased dimensions. The boot can be released remotely or directly but the lid could rise higher - especially for tall people - although the loading aperture is reasonable for such a long, wide car.
Stereo and ICE (In car entertainment)
Standard fit on the XJ is a rather good combined radio, CD and cassette player. All bar the entry-level 3.0 V6 get a boot-mounted CD changer - that V6 gets a single slot, dash-mounted unit. Basic functions can be controlled via steering wheel-mounted buttons. Audiophiles can choose the extra cost 'Premium' system, which comprises a more powerful amplifier and 12 speakers. Other options include a TV tuner or DVD player plus rear headrest-mounted screens and sat-nav - all operated from Jaguar's easy to use colour touch screen display. Voice control is also an option, along with a fixed mobile phone or Bluetooth provision for you own device.
Colours and trim
As you would expect there are numerous external and internal trim treatments available, and with the carefully selected choices on offer it would be very difficult to make a mess of it. If your car's going to lead a hard life you're better off with a dark interior. Light coloured leather and wood trim does look good - and the Jag is one a few cars that boasts wood that looks convincing.
Parking
It might feel like it shrinks around you when on the road but there's no mistaking that the XJ is a big car. At least Jaguar did the decent thing and fitted rear parking sensors as standard. Front sensors are standard on all but a few of the lower order cars. This feature plus the ease at which the car can be steered into tight spots makes the big Jag surprisingly easy to live with on a daily basis.
Spare wheel
Space saver fitted as standard.
Range information
Four engine options, all petrol - 3.0 V6 (240bhp); 3.5 V8 (254bhp); 4.2 V8 (300bhp); 4.2 V8 Supercharged (400bhp). Trim levels as follows: no designator for entry-level V6 then SE, Sovereign, Sport, Sport Premium, XJR Supercharged and Super. XJR and Super can also be had in Long Wheelbase form. All cars come with a six-speed auto gearbox as standard.
Alternative cars
BMW 7 Series Bristling with technology but styling not universally accepted
Mercedes-Benz S-Class Traditional Merc has strong following and it's easy to see why
Lexus LS430 Hardly pretty but supremely refined and well equipped
Audi A8 Sporty A8 is closer to 7 Series than S-Class in driving stakes. Very roomy, too