January 2013
Hyundai Santa Fe 2.2 CRDi Auto 4WD Premium 7-Seat
The Santa Fe is surprisingly capable off road in four-wheel drive form
January 2013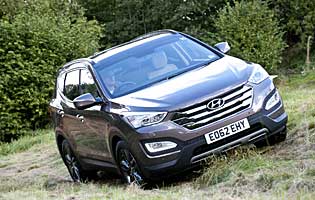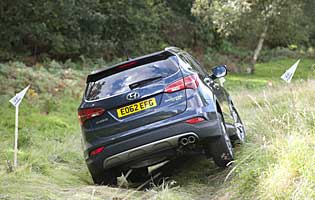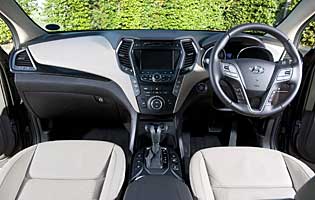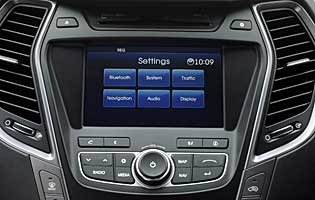 Overall rating

Likes:
Genuine off-road ability is sufficient to tow trailers across muddy fields
Bang up-to-date styling brings genuine desirability
Smooth, quiet drivetrain is very relaxed
Materials quality raises the bar towards premium manufacturers
Gripes:
Boot space limited when rearmost seats are in place
Only one engine choice across the range
Acceleration is dented by the relatively low power to weight ratio
Some plastic exterior panels vulnerable to damage
Hyundai's ever-building reputation for making good cars has reached the point where style and outright materials quality are becoming priorities. The firm's reliability and consumer confidence records are excellent and Hyundai wants to build on that with a layer of genuine desirability that will help the brand compete with more expensive rivals on more levels than ever.
The model it replaces was something of a typecast car, generally bought by older drivers who cared less about fancy materials and the latest styles than they did about getting a big off-road capable car for a modest price. That value-for-money ethos hasn't changed but the way it's packaged has, and prices have gone up to reflect the myriad advances.
The main difference in the new car, aside from its much more stylish and modern looks, is its standard equipment list. The model has moved a large step upmarket with the trim level choices that are offered. Even the most basic is extremely well equipped with the pricier options like this model filled with a bewildering array of features.
Driving dynamics have come in for scrutiny as well, and part of the new Santa Fe's remit is to be better to drive. In that regard it succeeds completely, and it's now a car that responds well to all the typical types of driving it's likely to be put through. Its relaxed demeanour is well suited to an automatic gearbox.
The car's upmarket character isn't restricted to its driving dynamics. Cosmetic changes over the previous model are significant, with this Santa Fe adopting a more transatlantic 'look' more in keeping with one of its biggest audiences: North America. It's no coincidence that the car's exterior brightwork has been enhanced in a bid to boost its looks and perceived higher quality.
Our verdict on the Hyundai Santa Fe 2.2 CRDi Auto 4WD Premium 7-Seat
There is a considerable market in rural communities for honest 4x4 vehicles that can tow a horse box across a muddy field as easily as they can transport a large family to the seaside. Hyundai also has an impressive customer loyalty rate, and vast proportions of people trading in their old Hyundai go for a new one. Fortunately the Santa Fe is more than a match for expectations.
Costs
This is not the most efficient version, and thanks to its weight and four-wheel drive system this particular Santa Fe is not especially economical by modern standards. There is a two-wheel drive model that is cheaper to buy and run, but that won't be as capable off-road. The main benefit the new model brings is a much broader appeal, which in combination with the higher quality and increased suspension should guarantee excellent residuals.
Space and practicality
On this front the seven-seat version obviously betters the five-seat alternative for people-carrying capacity, but because the fold-away rear seats have to disappear to somewhere they effectively raise the boot floor and cut out some of the outright space. In this form it's still a capacious luggage carrier, but it's no longer among the very best. The cabin has lots of storage spaces for everyday items and on the whole it's a very easy car to live with.
Controls and display
A large central colour display is the main readout, coping with the sat-nav, media interface and more. The graphics and menus are designed to be modern and fresh but easy to understand, and the overall system manages to satisfy the key preferences of both the new, technologically minded middle-aged buyers and the older, more traditional audience. The driver's instrument cluster is also clear and concise, with nicely spaced numerals on large, clearly lit dials.
Comfort
With large seats and a lot of interior space for the front five occupants the Santa Fe is amongst the best for comfort in this price bracket and several above it. A compliant, supple ride helps to cushion the worst of the road network's imperfections while the seats are a good balance of supportive and relaxed. The front pair of seats have plentiful adjustment to let all heights of person get comfortable.
Car security
Deadlocking features on the remote central locking to prevent vandals opening a door from the inside after smashing a window. There is also an immobiliser to prevent the car starting without the proper key, and locking wheel nuts to stop the wheels being stolen by opportunist thieves. Speed-sensitive automatic door locking aims to prevent car-jacking once the journey has started. Privacy glass is standard from the rear doors backwards.
Car safety
Seven airbags are standard across the range, with a pedestrian-friendly pop-up bonnet and a huge array of standard active safety systems. For families there are child locks to prevent little ones opening doors when they shouldn't, while the front passenger side airbag can be turned off. A clever Trailer Stability Assist system helps to cancel out the beginnings of any snaking from a trailer at speed. Tyre pressure monitoring systems are only fitted to Premium SE spec.
Driver appeal
The diesel automatic drivetrain excels at being smooth, exceptionally quiet and relaxed. This isn't a fast car by any means and that's not where it delivers its satisfaction, but for those who value refinement the Santa Fe is light years ahead of where you might expect. For all sorts of cruising, even towing, the Santa Fe is an ideal car for the job and will help to make every journey less stressful.
Family car appeal
If ever there was a car tailor-made for families it's the Santa Fe. With seven seats owners have the option of either people-carrying capacity or impressive luggage space. Thanks to the high roof there's plenty of space for large items like pushchairs or child seats when not in use. The cabin is more susceptible to damage than the previous model's, being higher quality, and the seats on this model are only half-leather, leaving the seat bolsters open to damage from spilled drinks or food.
First car appeal
This more expensive model can't be considered cheap, but it depends what it's compared to. There are cheaper on-road-only seven-seaters, but for the all-round ability and quality the Santa Fe offers there's little that offers comparable value. That still doesn't make it affordable for first-time car buyers though, and its size is a prohibitive factor for inexperienced drivers. Insurance is another hurdle, but it's difficult to believe that many newly-qualified drivers would see the Santa Fe as an ideal first car anyway.
Quality and image
With a long standard warranty and an enviable reputation for reliability, the Hyundai brand has gone from strength to strength. Only badge snobs still have any objection. Moreover, the Santa Fe is a truly high-quality product with excellent materials put together very well. Just a short journey inside the car is enough to convince even hard-line anti-Hyundai drivers that the Santa Fe really does deserve a fresh start in the image stakes.
Accessibility
Two factors work in the Santa Fe's favour when it comes to getting in and out. Firstly is large dimensions allow for big doors, and secondly its raised ride height means that all its seats are positioned higher, requiring less of a bend to get into and out of. The problem is that the doors are also quite long and to some people may seem quite heavy. The rearmost seats are relatively easy to get to, but do need some flexibility to access.
Stereo and ICE (In car entertainment)
The Premium specification Santa Fe benefits from the full spread of audio equipment offered by Hyundai. An upgraded Premium Sound System tackles audio tracks with 10 speakers and a separate amplifier, and there are several ways that occupants can play their music. There is a CD slot, USB and aux input sockets and Bluetooth wireless streaming. A group of buttons on the steering wheel allow full control of and navigation through the chosen media.
Colours and trim
There is a typical spread of colours for a car of this type, with red, blue and a tasteful brown joining several silvers, black and white. White is the only free colour choice with all the rest optional. The best colours for the model are the dark silver and the brown, which both look particularly good in the metal. The interior trim is much improved on the old model, with better soft-touch plastics and a more modern, stylish layout.
Parking
Rear parking sensors are standard on all Santa Fe models and they help to offset the fact that the high door shoulder lines reduce rear visibility. Front parking sensors are only standard on Premium SE specification but they're also very helpful, because without raising the driver's seat very high it's difficult to see quite where the front corners of the car are. The doors are relatively large and need to be opened with care in bay parking spaces.
Spare wheel
Full-size alloy spare wheel fitted as standard.
Range information
Diesel engine options - 2.2-litre (194bhp). Transmission options: six-speed manual gearbox or six-speed auto. Trim levels: Style, Premium, Premium SE.
Alternative cars
Ford Galaxy Good to drive but can't cope off road, offers good value all-round
Citroen C4 Grand Picasso Brilliant family car with good engines, but two-wheel drive not suitable for fields
Volkswagen Touareg Large, comfortable and very capable with off-road towing, but expensive
Toyota Land Cruiser The complete off-road capable package with legendary reliability