Honda FR-V 2.0 SE
Honda Accord levels of refinement
November 2004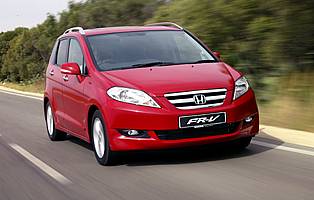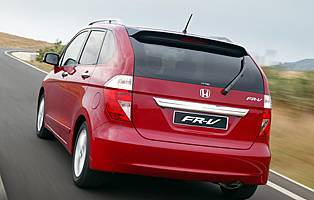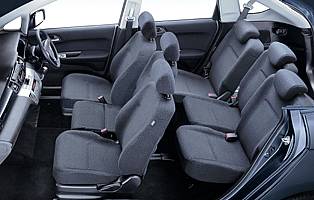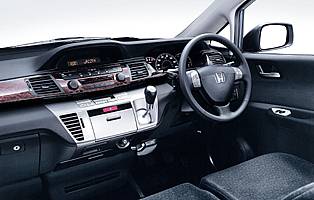 Overall rating

Likes:
Honda Accord levels of refinement
Drives more like conventional car than a traditional people carrier
Practical and durable interior – but not at the expense of style
Cabin can be configured in numerous different and useful ways
Gripes:
1.7 petrol engine is lacklustre and sounds strained when pushed hard
Push-pull parking brake requires more effort than you think
Wood trim on Sport model looks unconvincing and out of place
Lack of auto gearbox option could put off some potential customers
Compact people carriers have rapidly become an acceptable and popular alternative to the conventional family hatch. Although boasting greater versatility and practicality than their forebears, they haven't entirely escaped criticism as some people bemoan the cars' less than sophisticated handling and tendency to feel awkward around town. Honda's FR-V, as well as offering six seats and above average build quality, drives more like a car than many of its rivals.
People carriers; you either love them or loathe them. When, as a family, you outgrow the regular hatchback, they soon become a more sensible alternative to a long, bulky and inflexible estate car.
That said, compromise is always around the corner when you buy a people carrier. The prospect of folding seats and more room for the kids is often tainted by a particular model's inability to navigate corners without pitching and rolling like a boat in a storm. The magic combination of a decent car-like ride and room for all the family plus some to spare is an elusive one.
Honda's FR-V, a six-seat people carrier similar in concept to Fiat's Multipla, appears to successfully straddle two schools of thought: that such cars should deliver above average levels of space and flexibility while offering the driver an experience more akin to that of a conventional car.
On the first count the FR-V does well, as its two rows of three seats makes perfect sense. The centre seats slide and the rear row folds flat, ensuring that the 'flexibility' box is ticked. The second criterion has also been met thanks to the FR-V's ability to resist pitch and roll movements when driven enthusiastically.
That Honda's past attempts at making multi-seat conveyances have been less than successful when measured in volume sales terms makes the FR-V's achievements look all the more impressive. Add in Honda's critically acclaimed reliability and customer focused attitude and it would appear that established European models' dominance could be coming to an end.
Our verdict on the Honda FR-V 2.0 SE
Having missed out on the success of the first wave of compact people carriers, Honda FR-V combines all that is good about the sector yet manages to avoid the usual MPV pitfalls – poor handling, less than child resistant cabin materials and so-so low speed manoeuvrability. It's not as flamboyant as Renault's Scenic, but more durable and delivers a more car-like ride.
---
Costs
Balance the FR-V's generous level of standard equipment against its asking price and the six-seat Honda can be considered as good value for money. Factor in its maker's reputation for building reliable, durable cars and visits to the dealership should be for routine servicing only – another potential cost saving.
Space and practicality
Honda's FR-V strikes a pleasing balance between offering enough bootspace and enough room for occupants. While noticeably more 'cosy' than Fiat's Multipla, the FR-V's cabin should prove more than adequate – even for six adults, so long as they keep their elbows in. The FR-V may lack the seemingly endless number of secret compartments boasted by Renault's Scenic range, but you do get more than enough cubbyholes, storage areas within the centre front seat, deep door pockets and a drinks holder that takes three bottles. As for the seats, the rear trio can fold flat, while the centre pair can be slid fore and aft. The front chair doubles as an armrest or table.
Controls and display
The clarity of the FR-V's controls cannot be called into question and the centrally located audio, ventilation and (optional) satellite navigation displays all work well. The car's main dials are equally good at what they do, and the model dependent steering wheel audio controls are easy to master when on the move. The same cannot be said for the FR-V's under-dash located parking brake as it requires a disproportionate amount of effort to operate. The fascia-mounted gearlever is a much better design, although the six-speed version is noticeably smoother than the five-speed unit.
Comfort
Hondas tend to ride with an added firmness that sets them apart from softer riding Toyotas and Nissans, and this is immediately evident when in the FR-V. Although not an uncomfortable experience, the Honda cannot match the Multipla's softer, more relaxed gait. The upside is a car that doesn't pitch or roll like a Multipla. Seat comfort is also good and the individual chairs offer decent levels of support. The driving position is also comfortable and should suit most size and shapes.
Car security
It's unlikely that an FR-V will ever be at the top of a thief's wish list but its nevertheless reassuring to know that Honda has taken all the basic precautions – remote central locking, immobiliser. Boasting more glass and a larger cabin than a conventional hatchback, owners can do their bit, too by ensuring all possessions are hidden away in the boot when the car is left unattended.
Car safety
Active safety features on the FR-V amount to the now familiar anti-lock brakes and electronic brakeforce distribution, although the 1.7 variant does without Honda's VSA stability system. Passive safety is well catered for with the inclusion of twin front, side and curtain airbags as standard. Mindful that this is a family-orientated vehicle, Honda has equipped the rear outer and front centre seats with Isofix mounting points.
Driver appeal
Few people carriers – large or small – can claim to satisfy the needs of the enthusiastic driver, but the FR-V is more car-like than most. The driving position isn't as lofty as some, and the six-seat Honda rides bumps better than most conventional family hatches. Steering is direct, albeit lacking in outright feel, while the car feels stable at speed and changes direction safely and confidently. The dash-mounted gear lever takes a few miles before feeling immediately intuitive, though, and, as with so many cars, the bulky windscreen pillars hinder visibility.
Family car appeal
Anyone looking for a well built, spacious but easy to manoeuvre people carrier which drives more like a car would do well to consider the FR-V. Drivers will warm to it because it behaves like a large family hatch, while passengers will enjoy the cabin's flexible seating arrangement and decent levels of head and legroom. And, as with so many MPVs, the FR-V can be equipped with a DVD multimedia system – ideal for keeping children amused on long journeys.
First car appeal
Novice drivers are more likely to be attracted to a Jazz or Civic but, if the FR-V is the only car available, it's hardly one to instil fear into newly qualified pilots. Ease of use is very good and all the controls are within easy reach – even the fascia-mounted gearlever. The unconventional parking brake might cause a few headaches, though. Boasting only a modest turn of speed and good low speed manoeuvrability, the FR-V is an easy car to master despite its size.
Quality and image
Image-wise Honda has on the one hand suffered because it has a history of making sensible, if uninspiring, cars, while fans of the brand swear by the cars due to their higher than average reliability and durability. Recent years have seen the introduction of a more euro-centric range that's nicer to drive and own; a range that's broadened Honda's appeal to more than just the mature, the conservative and the retired. And while it's easy to dismiss the interior of the FR-V as restrained, it's built to last and the quality is first class.
Accessibility
All the doors open nice and wide on the FR-V, making access and egress easy. Also, you don't step up into the Honda as you would a conventional MPV thanks to its car-like ride height, but anyone who's a little unsteady on thief feet will still need to take care. Alas, the FR-V doesn't come with sliding rear doors, only conventional ones, which could make disembarking in a cramped car park a little tricky. The FR-V's tailgate opens nice and wide, but, like the doors, needs plenty of space.
Stereo and ICE (In car entertainment)
Standard fit on the entry-level FR-V is a modest combined CD player and radio, which does a fine job. Move up through the range – and the options list – and you can have a CD multichanger, steering wheel controls and a sat-nav system with fascia-mounted colour screen that works well. Also on offer is a full-blown DVD entertainment unit complete with headphones and a screen that drops down from FR-V's roof.
Colours and trim
As with most Honda's, the FR-V's cabin decor is restrained but classy – you won't find bright colours here. Black is the order of the day, with only the car's slightly more adventurous seat fabrics lightening the mood. If there is a fashion faux paux, it's the unconvincing wood trim on Sport models. As for the FR-V's exterior, most colours work well, although dark hues tend to make the car look a little chubby.
Parking
The FR-V boasts a surprisingly un-MPV-like turning circle, which affords the Honda a level of low speed manoeuvrability rivalling that of a conventional hatchback. Helping you squeezing into tight parking spaces is steering that's pleasingly light, and a clutch and throttle combo that's easy to modulate. The only disappointment is the way both front and rear screen pillars conspire to obscure your forward and over the shoulder view respectively – a trend that's not unique to the Honda.
Spare wheel
Space saver fitted as standard.
Range information
Three engine options – 1.7-litre (125PS) petrol; 2.0-litre (150bhp) petrol; 2.2-litre (140PS) diesel from summer 2005. 1.7 gets a five-speed manual gearbox, 2.0 and 2.2 diesel come with a six-sped unit – no auto transmission offered. Trim levels: SE and Sport. Latter is not available on 1.7 variant.
---
Alternative cars
Vauxhall Zafira Getting on a bit but a competent, if not attractive-looking MPV
Fiat Multipla The closest in terms of concept to the FR-V. Facelift has made car look less quirky, though
Renault Grand Scenic Fashionable alternative to FR-V but reliability issues still haunt the French firm
Mitsubishi Grandis Car-like to drive and spacious inside. Mitsubishi is still more famous for making 4x4s, though