Honda Civic 1.8 I-VTEC ES 2011
Elements of the original bold design remain
November 2011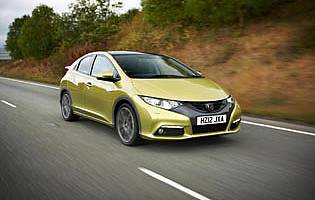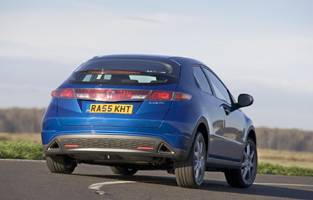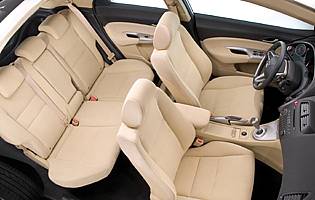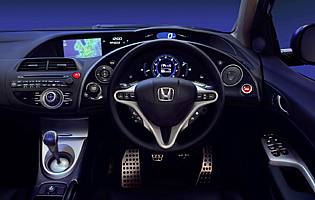 Overall rating

Likes:
Elements of the original bold design remain
Diesel variant is now cleaner and more frugal
Unusual driver-focused fascia makes sense once you've got used to it
Refinement levels when on the move are impressive
Gripes:
The rear view remains restricted despite the inclusion of a wiper
1.4 petrol variant is unlikely to get your pulse racing
There's a lot of black plastic in the cabin
2.2 diesel variant feels less agile than petrol variants on the road
A mainstay of Honda's line-up for many years, the car's evolution was a steady one until recently. The previous generation car's radical appearance and bolder interior design polarised opinion, but was viewed as a necessary act to boost the car's appeal among younger buyers.
This latest model is an evolution of the radical Civic's looks. More considered in approach and having taken some criticism into account, its maker claims its a more rounded offering. And, as per so many in this family hatch sector, this Civic boasts a more economical and greener engine range, with particular focus on Honda's venerable 2.2-litre diesel unit.
Recent years have seen the Civic become a little more willing in its demeanour, with the gap between it and Toyota's Corolla – universally accepted to be the least sporting of the Far Eastern hatchbacks – widening. The iteration goes a step further and promises to please both keen drivers and those seeking a refined driving experience thanks tot a combination of suspension changes and greater cabin refinement.
And there's no question that the Civic's cabin boasts a quality ambience. It's right up there with what you can find in low-end German premium cars, which is something of a compliment. The cabin ergonomics are't quite up to the same standard – probably a little too radical for some – but the driver-focused layout is rare in the family hatch sector.
The family hatch market is a fierce one and the need to broaden the Civic's appeal is important for the company's future. And it's difficult to deny the fact that swooping curves, a rakish nose, Alfa-style rear door handles, a Star Trek-like dashboard and digital instruments will appeal more to the PlayStation generation than any other.
Our verdict on the Honda Civic 1.8 I-VTEC ES
An evolution of the rakish Civic that got prospective buyers and the media talking, this Civic's similarly rakish looks are matched by solid build construction and and increased focus on reduced running costs. It's more refined too, which should please those seeking a more pampered experience. As it should given the car's asking price, which creeping closer to that of the premium products it aspires to be associated with.
---
Costs
Standard equipment levels are reasonably high and the amount of safety kit is generous even on entry-level models. The cash premium for a diesel variant could be lower, although the potential savings are worth investigating. Other running costs are unlikely to break the bank – Hondas are noted for their reliability, making visits to the dealership rare.
Space and practicality
The Civic will easily accommodate a growing family thanks to a well-designed and spacious cabin and boot. Oddment space is reasonable thanks in part to a generously proportioned centre console and glove box. The same is true of the boot, which is both deep and wide and boasts a clever hidden compartment where you'd normally find the spare wheel. Folding flat the rear seats is a convenient one-handed job, with the 'Magic Seat' option of folding them up out of the way to liberate more space behind the front seats a clever trick.
Controls and display
If you're a fan of digital instruments you'll warm to the Civic's offering immediately. For everyone else it's an acquired taste. Also, from an ergonomic angle, it makes a lot of sense to group the various dials and controls together and within reach of the driver. However, the front seat passenger will have to stretch to reach the ventilation controls.
Comfort
Occupants benefit from decent levels of head and legroom. Rear seat passengers are treated in a similar manner, with no major comfort niggles to report. At urban speeds the cabin does well to insulate occupants from road and engine noise. The Civic boasts a pleasingly supple ride, too.
Car security
Despite 'only' being a family car, the Civic is not short of security features. An immobiliser, deadlocks, remote central locking and are standard across the range. For added peace of mind it might be worth investing in a steering lock as a visible deterrent to compliment the car's rear privacy glass.
Car safety
As with the so many cars in this class, twin front and side airbags come standard on the Civic range along with anti lock brakes, electronic stability control and brake assist. Isofix child seat mounting points are also present, along with five, three-point seat belts.
Driver appeal
This Civic variant promises a clever blend of refinement and driving ability that should please conservative and keen drivers respectively. What makes this Civic special is its 2.2-litre diesel engine. On paper its performance appears only average, but on the road it pulls strongly from low revs, is quiet once warmed up and offers good levels of economy and emissions. The manual gearshift is precise and the brakes powerful but easy to modulate. Of the petrol motors it's the 1.8 unit that delivers a enjoyable experience, proving willing to rev yet quiet at speed.
Family car appeal
The Civic would make a reasonable alternative to a compact people carrier if an MPV doesn't appeal. The car's seating arrangement is fixed, but cabin space is good and the boot is equally generous. Isofix child seat anchor points are present. If bought as the only car in the family, the Civic is also presentable enough to be used for business related chores during the week.
First car appeal
The Civic is easy to drive, making it a sensible option for the novice driver. The entry level 1.4 petrol variant would be ideal for first timers, as the larger 1.8 petrol and 2.2 diesel are no slouches and would probably cost a bit more to run and insure.
Quality and image
This Civic is yet another top notch product from Honda. Panels gaps are tiny, fit and finish is exemplary and the choice of materials used to trim the cabin is well above the class average. If the performance of past Civics is anything to go by, mechanical reliability should also be first rate. This car's exterior is a mechanism for Honda to chase a younger audience, as the firm long-standing image is one that attracts the more mature buyer.
Accessibility
The combination of a slightly elevated front seat position, doors that open wide plus reasonable headroom both fore and aft all make this Civic an easy car to live with. Access to the rear seats is also good, although it's easier to get in than get out. The tailgate opens nice and wide and requires little effort to do so.
Stereo and ICE (In car entertainment)
Standard fit is a combined radio and single CD unit, with remote audio controls conveniently located on the steering wheel on selected models. The display is on the large size and sound quality is good from the standard unit, while notable options include a Bluetooth hands free system for your mobile phone and a DVD-based sat-nav unit are available as cost options the further up the trim levels you go. The latter comes with a big screen although its appearance doesn't quite gel with the look of the cabin.
Colours and trim
Lighter hues do much to draw attention to the car's various lines and curves so chose carefully. The cabin look and feel is more than ever like an Audi. The generous use of high quality black plastic is impressive but there's a lot of it. The standard cloth seats are nice, although the optional leather chairs add a more premium feel.
Parking
Thanks in part to a slightly raised driving position and light steering, forward visibility is good. Rearward vision remains the car's Achilles heel, however. It might look good from the outside, but from the inside the tailgate's design includes a split window which doesn't help matters. Thankfully the car's side mirrors are a generous size, and go some way to compensating for the restricted rear view.
Spare wheel
Tyre mobility kit supplied as standard.
Range information
Petrol engine options: 1.4 (100bhp); 1.8 (142bhp). Diesel engine options: 2.2 (150bhp). Transmission options: six-speed manual transmission across the range with a five-speed auto optional for 1.8 petrol variant. Trim levels: SE, SE-T, ES, ES-T, EX, EX GT.
---
Alternative cars
Ford Focus Once a radical looker, but now more conservatively styled. Remains a solid performer
Vauxhall Astra More extrovert than the car it replaced, and much better to drive
Volkswagen Golf Desirable family hatch alternative. Not exciting to drive, though
BMW 1 Series Premium alternative hatch is better to drive but cabin isn't as spacious