Citroen DS4 2.0 HDi 160 automatic DSport review
New gearbox is quiet, smooth and adds significant refinement to the car
June 2013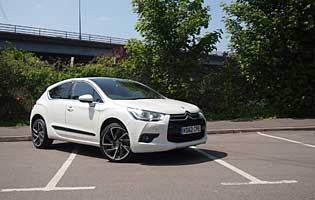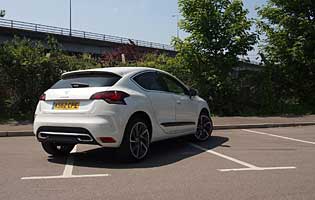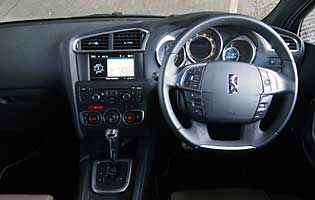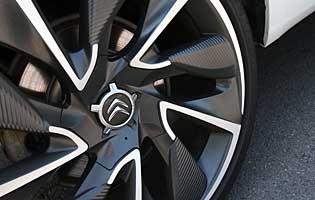 Overall rating

Likes:
New gearbox is quiet, smooth and adds significant refinement to the car
Flat cornering attitude with high grip levels create an impressive drive
Luxurious but robust-feeling interior is also among the most stylish
Smooth and quiet engine packs a useful punch when called on
Gripes:
Large DSport-specific alloy wheels are extremely prone to kerbing
Fuel economy is compromised by powerful engine and automatic gearbox
Rearward visibility is restricted by sleek coupe-like design
High list price could put buyers off even before haggling
This is the first time in many years that Citroen has created a brand new traditional automatic gearbox for its diesel cars, and the DS4 was chosen as the right model to launch it in. Linked to a powerful 2.0-litre engine, its purpose is to provide the stylish crossover with precision shifts and increased refinement.
With seemingly endless negative press still ringing in the French firm's ears following its mass roll-out of inadequate automated manual gearboxes, which were used for their simplicity and light weight at the cost of usability and shift quality, the desire for a really good true automatic gearbox was clear and the firm could not afford to ignore the demands.
Most mainstream manufacturers now offer automatic gearboxes with their diesel cars and Citroen had begun to fall behind, so as part of a major technology offensive it revealed this six-speed unit, debuted in the DS4. The car looks like a different proposition with the new gearbox, exuding a more laid-back, premium feel than before which better suits its natural talents.
The DS4 has always driven well despite a ride that is too firm for some, and in this guise it arguably performs even better as an all-rounder. It's technically slower than a manual version but on the road it feels every bit as muscular as its potent figures suggest. It faces stiff competition at its price point, though.
High-quality materials and a very solid feel are two traits common to the larger DS-line cars, and the DS4 gives an immediate and reassuring impression of substantiality that is befitting of its asking price. Other premium touches, like optional but superb headlights and incredibly strong brakes, create an impression that you get what you pay for.
Our verdict on the Citroen DS4 2.0 HDi 160 automatic DSport
The DS4 is a better car thanks to this gearbox, with its intelligent shift patterns and tendency to find the exact gear you want, whenever you want it. It's not a cheap addition, though, and places the car alongside some surprising alternatives. The DS4 can nonetheless hold its own, with pleasant surprises in practicality, refinement and performance to add to the familiar and fine styling.
Costs
This version is not the most cost-effective DS4, although for a powerful diesel running through an automatic gearbox it does well for itself on fuel economy, especially if driven gently. The list price is very high for a Citroen, and while that might put business users off, private buyers will find that extremely large discounts are available in the showroom. These are essential to offset the poorer residual values the car is forecast compared to German premium alternatives.
Space and practicality
Boot space is reasonably generous in the DS4, with a deep boot a big plus for stacking cases and making the most of the available space. It does mean that there's a significant load lip, though, and items need to be raised quite high before coming back out, making it difficult to load and unload heavy items. Storage drawer under both front seats are handy, and there's also a useful storage bin between the front two seats. The cupholders are, however, not the most practical.
Controls and display
Citroen favours an entirely digital display except for an analogue speedometer, which is a small needle running around the outside of the central dial in the instrument cluster. The display is generally quite clear but the block-based fuel and temperature gauges will not be precise enough for some drivers. The key driving controls like lights, windscreen wipers and indicators are separated well, falling easily to hand and making it easy to avoid confusion.
Comfort
The unusual seat design with its multi-plated look proves more comfortable than many people might expect. The seats are firmer than Citroen's norm, and fall more into line with typical German premium cars with the aim of making them last longer. The seats could use a little extra lower back support, though. Around town the cabin is very hushed with the smooth engine whirring away in the background, but at speed there is road noise from the low-profile tyres.
Car security
Covering the basics the DS4 has remote central locking as standard, complete with deadlocks to prevent thieves opening doors from the inside after smashing a window. There is also a dual alarm system that monitors the inside and outside for maximum security, and the interior element can be switched off if leaving animals or family members inside the car who would otherwise set the alarm off. Finally, the rear door and rear windscreen are darkened, which helps keep prying eyes out of areas where valuables might otherwise visible.
Car safety
Braking and stability controls are standard on all DS4s, with systems to stop wheels locking under braking while putting maximum stopping force down onto the road. ESP stability control limits any unstable cornering behaviour, while traction control acts when the front wheels begin to lose traction. Airbags can be found at the front and front sides, while there are also front and rear curtain airbags. Citroen is keen to introduce as much active and passive safety equipment as possible.
Driver appeal
The DS4 excels from behind the wheel, with smooth and tractable torque delivery matched by stable cornering and loads of grip. It encourages quicker driving simply because it's so capable, but as well as that it offers a very refined driving experience thanks to the new drivetrain. The only negative aspect is that the ride can sometimes seem too firm, with too much of a jolt through the cabin when striking sharper bumps.
Family car appeal
Family values have not been forgotten, with child seat mounting points and a front passenger airbag that can be switched off for when carrying a young child in a rearward-facing car seat. There is enough storage space dotted around to make the car useful enough at carrying child-related oddments, but the stumbling block on this particular model is the high-quality leather seats, which might not respond so well to contact with mud, grit, food or drink spillages.
First car appeal
The DS4 is very distinctively styled and will appeal to a cross section of people of all ages and driving experience levels, inevitably including learners looking for their first car. The reality, though, is that the DS4, and particularly this range-topping model, doesn't offer enough of anything that will be high on a typical first-time car buyer's priority list, like affordability and ease of parking. The DS4, understandably, just doesn't have the right appeal as a first car.
Quality and image
Citroen's electrical problems have dogged its cars for years, with circuitry faults coming high on the list of problems experienced by owners. The company has worked hard with the DS line to try to rectify some of these problems and that's part of the reason the models cost more money. The DS4 isn't as fashionable as its looks and attributes should in theory have made it, but there is no doubting the high materials quality of the car itself - at least in this trim.
Accessibility
The five-door body style is the naturally versatile choice, and in this case it's helped by a slightly raised platform that lifts the seats up and makes them easier to access. The rear door handles are 'hidden' to promote a coupe look, but the heavily curved and protruding nature of the window in the rear doors means that it's easy to hit yourself if you push the door closed in the wrong way.
Stereo and ICE (In car entertainment)
Basic stereo control is applied on the standard car via stylish but old-fashioned buttons and dials. There is a degree of remote functionality via the steering wheel-mounted audio controls, too. DSport models have the full range of connectivity choices including an auxiliary 3.5mm port, a USB socket and Bluetooth for wireless music streaming. An upgrade to a colour touch-screen media interface is available by specifying the optional satellite navigation system.
Colours and trim
Those browsing the paint palette will find a collection of rather sombre colours at the dark end of the scale, and despite them being nice colours they don't suit the car as well as the more vivid red and the pearlescent white, which both make the most of the DS4's distinctive styling. On the inside the trim is arguably the most attractive of the DS range with an even, balanced look and high-quality materials.
Parking
On this top-spec model there is a clever function that adds to the front and rear sets of parking sensors - the front set only coming as standard with the DSport. With the front sensors comes a parking space measurement system that can tell the driver whether or not there is enough room to be able to get the DS4 into a given roadside gap. Rearward visibility is hampered by the thick C-pillars and small rear windscreen, but the DS4 is a modest size and fits into most typical spaces.
Spare wheel
Emergency tyre repair kit supplied. Full-size spare wheel optional.
Range information
Petrol engine options - 1.6-litre (118bhp); 1.6-litre THP (158bhp, 197bhp). Diesel engine options - 1.6-litre (113bhp); 1.6-litre e-HDi (113bhp); 2.0-litre (132bhp, 158bhp). Transmission options: five and six-speed manual gearbox depending on model, plus automated manual gearbox (1.6-litre e-HDi diesel only) and six-speed automatic (2.0-litre 158bhp HDi diesel and 1.6-litre 158bhp THP petrol only). Trim levels: DSign, DStyle, DSport.