Citroen C4 Picasso 2.0 HDi VTR+ review
Panoramic windscreen makes the vehicle feel light and spacious.
December 2006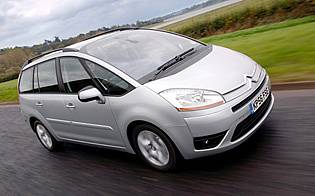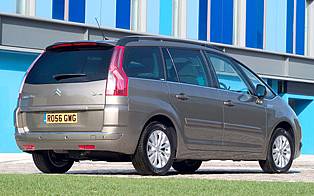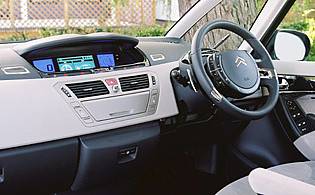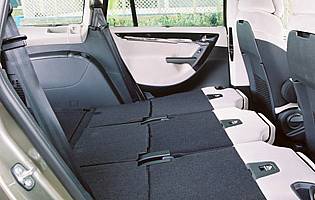 Overall rating

Likes:
Panoramic windscreen makes the vehicle feel light and spacious.
Automatically lit door bins and other clever storage and light combinations.
Absence of a conventional gear lever and handbrake on auto variants creates lots of front cabin space.
Air quality sensor shuts out dirty air from the cabin automatically.
Gripes:
Second row of seats does not fold completely flat and isn't as easy to fold as the third row.
Electronic auto gearbox is ill suited to the petrol engines, particularly in full auto mode.
Push-button parking brake is slow to react.
Can be troublesome finding a comfortable driving position in models with electric seats.
Citroen paints a picture rich with space, light and classy touches with its C4 Picasso. While paddleshift gears and a push-button handbrake may be a welcome novelty to some drivers, they are guaranteed to leave others cold. Potential buyers will need to truly appreciate the wealth of gadgets and finer details enough to pay a price similar to that of a VW Touran.
Citroen is already one of the biggest players in the MPV market, which accounts for around one in 10 of all cars sold in the UK. With the C4 Picasso, Citroen offers compact MPV buyers a choice of two very different and distinctive styles and interior configurations. The C4 Picasso's seven seats adds to the five seats of the older Xsara Picasso.
Citroen hopes to tempt previous purchasers of the Xsara Picasso, and customers who want to be ahead of the game in terms of functionality, personality and style. Exterior details such as the wraparound windscreen, chrome chevrons, subtly flared wheel arches and stylish rear taillights are matched inside.
Plush upholstery, 32 interior light sources and the presence of an array of advanced driving aids such as Citroen's parking space measurement system could easily lure those drivers seeking quality and luxury on a larger scale than afforded by the Xsara Picasso, but as with all vehicles, the performance must equal the pomp, too.
Performance is best with the diesel engines, which boast decent pulling power and flexibility. The fairly soft ride means passengers aren't at the mercy of tarmac bumps, but it doesn't float on undulating roads either. While grip is reasonable the C4 Picasso does suffer from body roll going through bends, as is a trait of this class of vehicle.


Our verdict on the Citroen C4 Picasso 2.0 HDi VTR+
The innovative, futuristic design accompanied by the C4's signature use of technology really do push the Picasso ahead of the compact MPV pack in the style and space race. Practical and luxurious, the C4 Picasso lacks punch only in terms of its petrol models' performance, where Vauxhall's Zafira leads the way.