September 2005
Chrysler 300C 3.0 CRD Auto
Dramatic styling is reminiscent of a bad-tempered Bentley
September 2005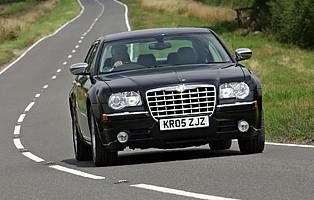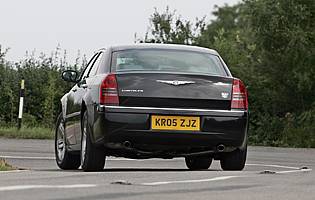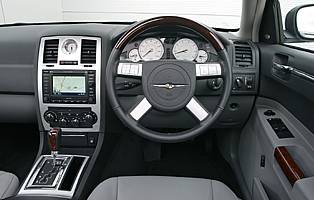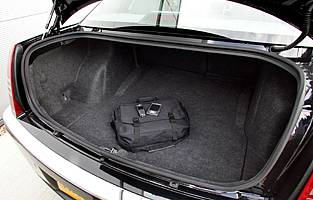 Overall rating

Likes:
One of the most distinctive cars on our roads
Limo looks belie excellent balance and turn of pace
Lots of equipment provided
Temptingly priced
Gripes:
Interior still inferior to European rivals
Turning circle problematic in tight spaces
Diesel fuel economy is just about reasonable, petrol models horrendous
Question mark over strength of residual values
A single glance at Chrysler's 300C is all that's needed to grasp its essentials. It is exactly what it seems - a car with genuine presence and distinctiveness that offers an intriguing alternative in the executive saloon market dominated by BMW, Audi, Jaguar and Mercedes.
American executive models are usually derided in Europe as oversized, overweight gas guzzlers with all the ride quality and maneuverability of a supermarket trolley. Not so the 300C, which convincingly counters each of those criticisms.
Despite looking aggressive enough to make you raise your hands in the air as it passes by, the 300C is much more than a big bruiser. Behind the imposing exterior is a decent cabin. In any case, the chromed cliff face of the grille and the old-fashioned limousine-like styling are not things that need apologies. They are two of the things that set the 300C apart from the rest of the executive set.
Importantly, the range includes an impressive 3.0-litre diesel engine sourced from Mercedes. It makes much more sense on UK roads than the larger petrol powerplants. As well as giving superior fuel economy, it offers surprisingly sprightly performance and is in fact quicker than the 3.5 petrol variant. BMW makes an awful lot of noise about the 5 Series' rear wheel drive system with 50/50 weight distribution between front and rear axles. Well, the 300C has the same configuration.
This looks like a very expensive car, not least because there is more than a nod towards Rolls-Royce and Bentley in the styling. Yet it's actually among the cheaper options in the executive market with a standard specification that looks generous by today's standards.
Our verdict on the Chrysler 300C 3.0 CRD Auto
When products from BMW and Mercedes are so common that they fail to turn heads, the 300C dares to be different. Its brazenness may not appeal to those who prefer understatement, but buyers with outgoing natures will revel in its attention-grabbing ability.
Costs
List prices are at the low end of the executive market. That, and the no-holds-barred equipment list give the 300C an immediate competitive advantage to buyers who aren't overly badge-conscious. Fuel costs are likely to be considerable even for the diesel model and servicing intervals are not particularly long, though the Mercedes-derived diesel engine should prove reliable. Residual values of American executive models are traditionally calamitous. Chrysler is confident that the 300C can turn the tide. Time will tell.
Space and practicality
Unusually, cars with the saloon body style may be slightly more practical than the equivalent estate. The saloon's deep, broad boot is more sensible than the shallower, less regularly-shaped Tourer and of course does not allow potential thieves to look at what's being carried. Inside the cabin, the 300C lacks many of the clever internal storage areas of some rivals, even if these are sometimes of questionable utility.
Controls and display
Chrysler has made an effort to add a touch of class to the cabin. It is only partially successful. While dials and steering wheel are well designed and pleasant to the touch, there are still some questionable plastics. A material described without irony as patented faux tortoiseshell is horrible, making it worth paying extra for the walnut alternative. Audi's A6 remains streets ahead.
Comfort
Scoring highly for comfort, the 300C doesn't stint on items to make long journeys pass easily. Heated leather seats with eight-way power adjustment, a power tilt telescoping steering wheel, a memory feature to remember the pre-set positions of seats, mirrors and other controls and dual zone climate control are all standard features. Shorter drivers might have a problem judging where the bonnet ends.
Car security
Commendably, both a high-tech engine immobiliser and a security alarm are fitted to all cars. Make no mistake, the 300C will attract attention - and not all of it wanted. Hazards from outright theft to jealous scratching make a secure - and sizeable - garage a must.
Car safety
Aware that many key competitors boast numerous cutting-edge safety features, Chrysler has made an effort to keep up to speed with a lengthy specification of its own including ESP, ABS with Emergency Brake Assist and front and rear side curtain airbags. Of particular note are the excellent brakes, which provide reassuring deceleration from high speeds.
Driver appeal
It may look like a big, heavy barge, but the 300C possesses a surprising turn of speed and good balance to boot. The 5.7-litre petrol variant may be the performance model in absolute terms, but the 3.0-litre diesel is a much more engaging affair, able to dash to 60mph in well under eight seconds and the lightest car in the range. Rear-wheel drive provides added driver enjoyment and steering is nicely weighted with more feedback than is customary from an American manufacturer.
Family car appeal
A family will fit into a 300C, but there are plenty more suitable family conveyances out there. The Tourer's extra height might make it marginally more suitable than the saloon. With a full load, fuel economy is likely to be poor, even in the diesel.
First car appeal
Big, thirsty and powerful, this is not a suitable first car. However, owners will attract plenty of admiring glances from the boy racer fraternity who will respect the car's bad boy looks and shameless overstatement, colloquially referred to as 'bling'.
Quality and image
Chrysler has pulled off a neat trick by making the 300C look like a much more expensive car than it actually is. Few, if any other vehicles exude such on-road presence and attract so many comments from passers-by and other road users. Owners need have no worries about being judged as hopeless followers of Americana. This is a great car with bags of character.
Accessibility
Doors do not quite open to ninety degrees but are lighter than might be expected. In contrast, the boot is rather heavy and does not operate without manual assistance. Designed to accommodate the ample backsides of America, seats are comfortable without feeling squashy and unsupportive.
Stereo and ICE (In car entertainment)
The sound system is badged as a Boston Acoustics unit, a name that means very little to European buyers. Its quality is good though, and an upgrade to the seven-speaker system with sub-woofer provided in the 5.7-litre 300C can be selected for the other models.
Colours and trim
To make the most of the 300C's menacing looks and to show the extensive chrome detailing off to best effect, black or dark blue are the must-have colour options. In silver the car loses much of its impact. Interior trim is reminiscent of a range-topping car from the class below such as the Vauxhall Signum rather than achieving true luxury status.
Parking
An exceptionally long wheelbase - as long as a BMW 7 Series - and oversized 18-inch wheels combine to make parking something of a challenge. Happily, rear parking sensors are provided, but even so, parking remains the 300C's Achilles heel. The car will overflow many council-provided parking spaces, so an off-street parking place is essential.
Spare wheel
Space saver spare wheel is provided.
Range information
Three engine options - 3.5-litre V6 (249bhp) petrol; 5.7-litre V8 (340bhp) petrol; 3.0-litre V6 (218bhp) diesel. All models have five-speed AutoStick automatic transmission. No specific trim designator as engine choice dictates equipment levels. Saloon and Touring estate body styles.
Alternative cars
BMW 5 Series Expensive and looks don't appeal universally
Audi A6 Best cabin in its class and an involving drive as well
Saab 9-5 Solid if rather dour Swede that will run and run
Volvo S80 Laden with kit and safe, but aged underpinnings give clunky drive