June 2008
Chevrolet Aveo 1.2 S 3-door
Chevrolet's new split grille gives the model a grownup appearance
June 2008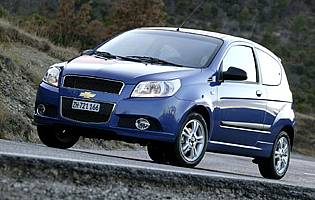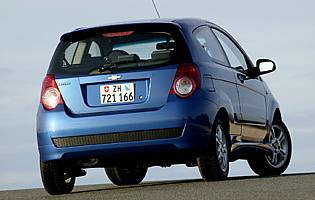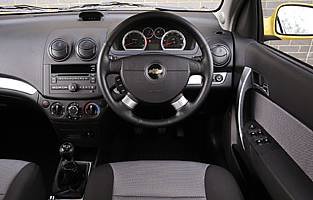 Overall rating

Likes:
Compact size makes it nimble around town
Distinctive styling is attractive but grownup
Good fuel economy
Chassis copes well with poor road surfaces
Gripes:
Lack of storage and small door pockets inside
Engine lacks torque for uphill stretches
Slightly tinny feel and sound when closing doors
Rear seats are not the easiest to access
Chevrolet is on a charge, pushing to introduce new, European built models into its line up while improving build quality and building a name for itself as a European as a well as an American manufacturer. The Aveo replaces the outgoing Kalos in Chevrolet dealers, and following the launch of the five-door, the three-door comes hot on its heels.
Purchasing the remains of Daewoo left Chevrolet with an enviable challenge in the European market. Everybody knows the name, but most associate the brand with huge American muscle cars from a bygone era, with an ever increasing few aware that it's also a European manufacturer building cars for the home market. The city car products it inherited from the bust Korean outfit gave Chevrolet an excellent opportunity to make a name for itself in the UK however, and after a phase of offering essentially rebadged models it has begun producing it's own products for the European market in earnest, but sticking with the value for money ethos.
Originally launched in five-door form, the Aveo super-mini is now available as a three-door variant, too. Unlike the five-door it is only available with a single engine choice - 1.2-litre petrol - and a single transmission - five-speed manual. The model makes good use of the new company design theme, a horizontally split front grille, to give the car a more sophisticated look where others in the sector go for 'cute'.
Improvements in quality and fuel economy were high on the list of priorities for the Kalos replacement, and parent company General Motors has gone to great efforts to ensure a consistent level of quality from its factories worldwide, including the Polish plant responsible for Aveo production. Improvements in build quality are evident inside and out.
The supermini sector continues to see new arrivals attempting to offer value for money and economy alongside sharp design. The Aveo, particularly the three-door, is aimed at a younger audience that seeks value for money and practicality alongside a sense of style, but also at families seeking an economical second car. Available in two trim levels, one less than the five-door, the S is the most basic and affordable of the bunch.
Our verdict on the Chevrolet Aveo 1.2 S 3-door
The supermini sector continues to grow in quality, and the Aveo does little to reverse that trend. Easy to live with, practical and economical, it's also one of the more grownup small hatchbacks available. The lack of engine choice may put of those who appreciate a little more pulling power for motorway or fully laden use but around town, where the Aveo is most at home, the 1.2-litre unit provides enough pace for comfortable progress.
Costs
The 1.2-litre petrol engine is unsurprisingly frugal, and a low purchase price should also be complimented by low insurance premiums. Consumables such as tyres should also be reasonably priced and service intervals are 10,000 miles, meaning the Aveo three-door should be highly cost effective to run.
Space and practicality
The interior is not cramped, although it is also not particularly spacious. Tall drivers shouldn't find headroom an issue and the rear will seat two adults for a short space of time without discomfort. Boot space is not bad for a car of its size and the rear seats can be folded forward for additional load space. Naturally, the three-door loses out to the five-door in terms of overall practicality, but for shopping and DIY store visits it should cope admirably.
Controls and display
The Aveo's displays are well laid out and easy to read with red needles on a black background and a white border. The main controls that are all sensibly and traditionally located, too. The centre console is a particularly stylish design and, although there's a slightly agricultural feel to the ventilation switches, the interior assemblies feel solid and sturdy and the gear change and pedals feel natural to use.
Comfort
The Aveo's suspension does a remarkable job of taking the sting out of large potholes and bumpy surfaces, despite the car's relatively small wheels. As a result the ride is surprisingly refined and the engine is quiet, too. Wind and road noise become increasingly prevalent as speed increases but are never overbearing. The interior is comfortable in a basic sense. The tilt steering wheel helps with finding a comfortable driving position although a height adjustable driver's seat is not standard on the S model.
Car security
Remote central locking and an immobiliser are included on the Aveo 1.2 S. There's also hidden storage provided by the glovebox, but other than that the Aveo interior feels a little short on secure storage.
Car safety
Electronic governance is limited to ABS, but Chevrolet claims a high level of integral safety with a strong body structure featuring reinforced steel B-pillars. Driver passenger and side airbags are standard across the Aveo range.
Driver appeal
The Aveo three-door's small capacity engine struggles to provide any real thrills, but the chassis is lively and the controls responsive enough to be able to maintain a decent turn of speed through a sequence of bends. Its real talents lie around town, where the car proves nippy and compact enough to take some of the strain out of city life. Lights controls make stop start traffic less tiring, too. On the motorway it's able to keep pace without too much trouble, but will run out of puff as the road starts to go up.
Family car appeal
Families would be wise to look to the five-door Aveo rather than the three-door model. Limited access to the rear will make the insertion and removal of cars seats an issue and the larger 1.4-litre engine available on the five-door is better suited to pulling heavier loads.
First car appeal
The Chevrolet Aveo deserves to be high on any first time buyers shopping list thanks to a combination of good looks and cost effectiveness. The three-door in particular is well suited to the younger market. Novice drivers will find it easy to drive and manoeuvre, and the sensible performance is unlikely to take anyone by surprise.
Quality and image
Modern and stylish in design the Aveo three-door has been penned to appeal to a younger audience, but more mature drivers shouldn't be put off as it remains relatively conservative. Chevrolet is one of the fastest growing brands in Europe and as its stock rises, so should its models' kerb appeal. The Aveo certainly feels well put together with tight shut lines inside and out and few bumps or rattles even on harsher road surfaces.
Accessibility
The three-door Aveo can't offer the same easy access to the rear seats as its five-door counterpart, and climbing in and of the rear might prove an ordeal for the less nimble. The large front doors make getting into the driver and front passenger seats easy though, and the small and slightly recessed boot door means it can be opened in a tight spot, too.
Stereo and ICE (In car entertainment)
The 1.2 S has a basic four-speaker sound system that does the job but without any real flare. Sound quality is adequate and there's no strain to hear it above road or engine noise. The single slot XCD system is MP3 compatible, and comes with an auxiliary jack to plug in an external sound device.
Colours and trim
The 1.2 S is the most basic specification Aveo three-door, but it still comes with a few luxuries. Air-con is an optional extra, but electric windows and a tilt adjustable steering wheel are included. Interior trim colours are limited to grey dark grey cloth, but it matches the rest of the dark interior well. Fortunately, there's enough glass for the interior not to feel gloomy as a result. Interior plastics are hardly exuberant, but don't feel cheap or flimsy. For the exterior, there's a wide range of solid metallic and mica paint choices.
Parking
The Aveo three-door offers few problems when it comes to parking. Blind spots are minimal and its compact size and square rear end make it simple to slot into spaces. The model features a decent turning circle and all four-corners are easy to place.
Spare wheel
Space saver fitted as standard.
Range information
Petrol engine options - 1.2-litre (83bhp); 1.4-litre (98bhp). Transmission options: five-speed manual gearbox, four-speed automatic gearbox. Trim levels: S, LS, LT.
Alternative cars
Volkswagen Polo Good choice of engines and impressive quality
Toyota Yaris Reliable, efficient and modern styling
Fiat 500 Stylish and with a proven chassis
Ford Ka Affordable and nippy city car