Audi A8 A8L 4.2 TDI SE Executive review
Smooth and very refined progress
March 2014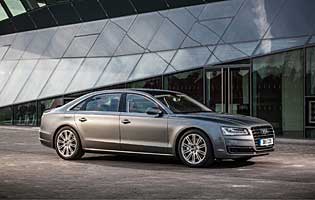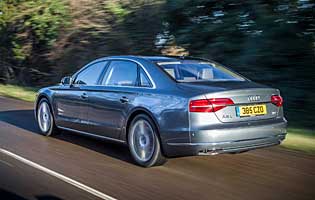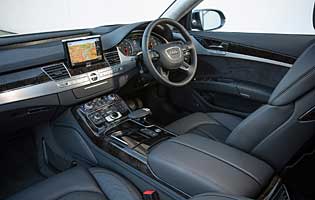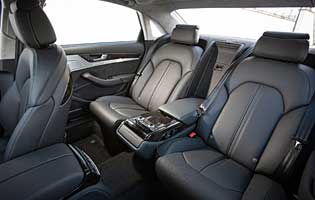 Overall rating

Likes:
Smooth and very refined progress
Very powerful but refined diesel engine
Exceedingly high quality interior materials
Plenty of clever technology makes life easy for occupants
Gripes:
Large size can make driving in town difficult
Significant price increase over its smaller diesel sibling
Exterior design lacks the personality of rival offerings
Driving experience is fuss-free rather than exciting
Audi's flagship model is the A8, a luxury saloon designed to offer the ultimate in comfort, prestige and technology. To suit its common role of chauffeur vehicle Audi is offering a long-wheelbase A8L alongside it, and together with recent revisions and new technology means it offers a stronger package overall.
Best described as a mid-term facelift, the A8 has had a number of elements changed inside and out although it is clearly recognisable as an A8 and it is not easy to immediately spot the changes. The basic chassis dimensions and components are the same and the silhouette is roughly identical, but the alterations do make a significant difference overall.
Most of the engines have gained either in efficiency, output or both, thanks to Audi's latest fuel-saving and power-maximising measures. This 4.2-litre V8 diesel, a unique engine type for this class of car, benefits more from the latter than from the former, with a marginal fuel economy increase but a significant output boost.
It is the highest-performance diesel saloon Audi makes, occupying a niche in the market for buyers who want more than the entry-level V6 diesel without resorting to the higher fuel consumption of the similarly-priced 4.0-litre petrol model, which incidentally will only come to the UK as a long-wheelbase version. All engines except the 3.0-litre petrol will have a long-wheelbase option.
Its trump cards are split between its impressive noise insulation on all fronts, its huge acceleration and high-speed cruising ability, and its class-leading new technology, like advanced LED headlights that can turn certain groups of LEDs off to dim individual parts of the main beam when it detects other cars, maintaining main beam while not dazzling other drivers.
Our verdict on the Audi A8 A8L 4.2 TDI SE Executive
Luxury cars like this are as much about the experience in the back seats as they are from the front, and the A8L does well on both fronts. The additional room in the rear thanks to the stretched body is welcome and provides a truly luxurious experience, while the ride comfort, refinement and driving experience remain highly impressive.