April 2010
Alfa Romeo Mito 1.4 MultiAir TB 170bhp Cloverleaf
Easy to see influence of 8C supercar in Mito's appearances
April 2010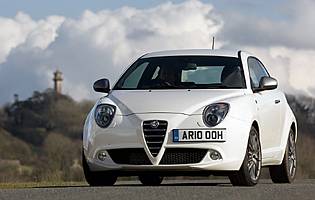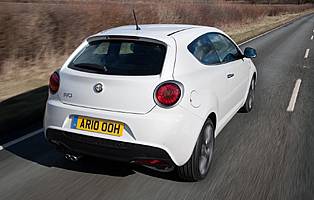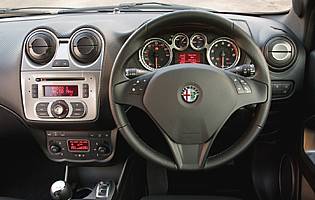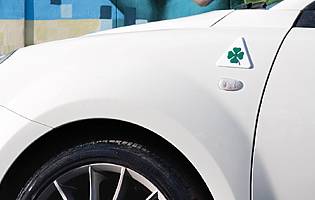 Overall rating

Likes:
Impressive engine balances performance, refinement and economy
Despite size, cabin offers reasonable amount of room
Distinctive exterior styling enhanced in Cloverleaf trim
Interesting alternative to traditional warm performance hatch
Gripes:
Steering lacks the weight and precision of some rivals
For maximum entertainment you need to drive car in Dynamic mode
Three-door body could be a barrier to some
Ride can be upset by poorly surfaced roads
You can trust Alfa Romeo to cause a stir: its Mito compact hatch has done just that since its launch. Style-wise it's pleased fans of the marque; there are numerous nods to Alfas from the past, and it's this feeling the Italian car maker wants to mine further with its high performance Cloverleaf model.
Unmistakably an Alfa Romeo even without its badges, the Mito is not like your average compact tin box on wheels. Taking many of its design cues from the 8C supercar, the Mito squeezes the same headlight and grille arrangement onto a much smaller car. It is a design that people either love or hate, and that's all part of its charm.
Alfa Romeo hopes that charm offensive can be turned up a notch with the Cloverleaf variant. Boasting a 170 horsepower version of its acclaimed Multiair petrol engine, the car with most of Alfa's racing heritage on its shoulders aims to take a shot at the likes of Mini's Cooper sub brand.
And Alfa's engineers have been working hard to make it happen. This is no marketing vehicle in the literal sense. Further suspension, steering and brake tuning over the standard Multiair models - themselves no slouches - has seen the Cloverleaf car sport a purposeful bodykit and demonstrate an impressive level of performance.
Granted, there a few rough edges in its performance, but for the most part the car offers a welcome alternative to cars that appear to have been honed on the track and not the road. The result is not the bone-shaking ride associated with said rivals and a rewarding, real world ownership experience. And the car's Multiair engine is gem; remember, this is 'only' a 1.4-litre turbo unit.
Our verdict on the Alfa Romeo Mito 1.4 MultiAir TB 170bhp Cloverleaf
In Cloverleaf form Alfa's Mito compact hatch delivers an appealing mix of style and ability. It's not perfect, but what it does it does it well. The electronically adjustable ride is no gimmick, and genuinely adds value to the ownership experience. As does the 1.4 Multiair engine, which cleverly delivers a considerable slug of power and supermini-rivalling economy.
Costs
It's fair to say that running costs for the Mito depend heavily on the engine choice. Alfa's Multiair petrol engines offer impressive levels of performance but also deliver higher than average fuel economy - even the Cloverleaf - making the decision between petrol and diesel less of a compromise.
Space and practicality
Better than the ubiquitous Mini in a number of ways, the Mito offers a good selection of cabin storage areas and a reasonable boot. Head, leg and elbowroom up front is reasonable. As you would expect, there's less of everything in the back but that shouldn't stop you giving lifts to friends for that short hop to the pub.
Controls and display
The Mito cabin displays Alfa Romeo's now familiar flair, yet everything works well and is easy to understand. With its chunky steering wheel and heavily styled instruments, the Mito's extrovert character is hard to escape from. In Cloverleaf form the car's shorter gearshift throw is a sign that Alfa engineers are taking performance motoring seriously.
Comfort
Balanced against the Mito's sporty ride characteristics, comfort levels are pretty good most of the time. Granted, it's small cabin, but two adults can sit comfortably up front - the rear is better suited to children and short trips for adults. Road noise has been kept in check, although it would be nice to hear the engine when you're pressing on.
Car security
Being a distinctive car, it's hardly surprising that the Mito is well equipped in this department. All cars are fitted with an immobiliser and alarm system as standard, although you might want to ad a visible deterrent such as a steering lock to deter the casual thief.
Car safety
Like so many cars in this class, the Mito's safety equipment list is comprehensive. All models benefitting from Alfa's full VDC system, its own version of ESP, as well as cabin full of airbags.
Driver appeal
Alfa Romeo is concentrating heavily on the Mito's driving talents, and in with the Cloverleaf it hopes to rekindle some of the firm's magic from yesteryear. In reality the Cloverleaf is a competent and, thanks to its 170bhp engine, a potent machine. The ride can be a little firm and the steering could do with more feedback, but Alfa's 'DNA' switchable sports system goes some way to sharpening responses - throttle, steering, suspension - when you're in the appropriate environment.
Family car appeal
Even fans of the marque will likely pass over the Mito in favour of something more practical - a 159, perhaps? However, children will fit comfortably in the rear and the boot could cope with a single buggy, making it an ideal second car for a busy family.
First car appeal
In Cloverleaf form the car is unlikely to be a sensible choice. It's quite powerful and, thus, more expensive to insure and run than a regular Mito. It's an easy car to drive, though.
Quality and image
Keen to be taken seriously after years having to battle against negative comments from the public and the press, Alfa Romeo has done a sterling job with the Mito and its build quality. The big task will be to communicate this progress to potential buyers, as it may take some time.
Accessibility
The three-door only Mito's big doors are great for when access isn't a problem, but it's worth taking care when in a tight car park. Access to the rear seats is, as you'd expect, a little more restricted and, even with the front seat tilting and sliding forward, the aperture into the rear seats will require some agility on the part of the passenger.
Stereo and ICE (In car entertainment)
There's nothing special about the Mito's audio offering - it comes with a CD/radio unit with MP3-compatibility, although the inclusion of a USB slot is welcome. The steering wheel controls are useful but the various functions are limited compared to the accessing the main unit.
Colours and trim
The distinctive look of the Mito is bolstered by the various colour options for the interior and exterior, with bold hues delivering the best 'look'. The trim itself is also of decent quality and available in a variety of appealing combinations.
Parking
With its compact footprint you can expect parking to be straightforward in the Mito. The light power steering is useful. However, the car's styling does mean that over the shoulder visibility is only average.
Spare wheel
Tyre inflation kit included as standard.
Range information
Petrol engine options - 1.4-litre (95bhp, 120bhp, 135bhp, 155bhp, 170bhp). Diesel engine options - 1.3-litre (90bhp). Transmission options: five-speed manual gearbox, six-speed manual gearbox. Trim levels: Turismo, Lusso, Veloce, Cloverleaf (170bhp only).
Alternative cars
Mini Cooper S Popular and rounded package
Renault Clio Renaultsport variant is better value but too hardcore for some
Suzuki Swift Sport Gets by with less power but entertaining nevertheless
Vauxhall Corsa VXR Raw performance variant is impressive but won't suit everyone