Mercedes-Benz E-Class E350 CGI SE Cabriolet
March 2010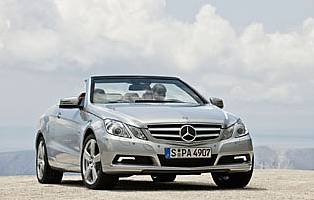 New E-Class face is cuts a fine figure
Ratings
Overall rating
Value for money
Costs
Space and practicality
Controls and display
Comfort
Car security
Car safety
Likes
Looks good with roof in place
Genuine four-seater
Excellent build quality
Refined with the roof down
Gripes
AirCap system emits a whistle at speed
Centre console button layout can be overwhelming
Boot space suffers with roof folded
Rear seat access a little restricted with roof in place
Following the introduction of the new Mercedes-Benz E-Class and E-Class Coupe models comes the E-Class Cabriolet. Using a similar spacious four-seater concept to the Coupe model, the Cabriolet uses a folding canvas roof to offer a traditional open air experience to the occupants.
The Mercedes-Benz line-up is one of the most comprehensive and potentially confusing of any manufacturer, but things have been simplified a little with the reintroduction of E-Class variants known for two generations as CLK. The E-Class Coupe was the first to make a comeback, the E-Class Cabriolet follows suit as a similar luxury four-seater model.
Where many manufacturers have chosen a sturdy folding hard-top in order to offer greater year-round versatility, Mercedes-Benz has opted for a traditional, lighter canvas roof but still claims that the E-Class Cabriolet is a car for all seasons. Key to this claim is the introduction of a new system called AirCap, featuring a lip that extends from the top of the windscreen with the roof down and directs airflow over the occupants, increasing tranquillity in the cabin.
Combined with the neck warming AirScarf system, low drag coefficient and luxurious interior the AirCap system makes the E-Class Cabriolet one of the most refined open tops available. The roof itself opens in less than 20 seconds at up to 20mph. When in place, its acoustic qualities aid refinement also.
Sharp and distinctive exterior styling is boosted by LED lighting and sport pack options. Engine options are shared with the Coupe offering a range of frugal diesels and powerful petrol models and, as always, this E-Class variant is loaded with the latest technical innovations.
Our verdict on the Mercedes-Benz E-Class E350 CGI SE Cabriolet
The return to the E-Class Cabriolet name is timely as the new model feels more like an open top luxury sedan than a typical convertible sports car and is all the better for it. A genuine capacity for four adults combined with a luxurious, refined and welcoming interior and stylish exterior makes the E-Class Cabriolet as enjoyable for passengers as the driver.
Costs

Purchase prices reflect the premium nature of the vehicle, but with so much equipment and quality the E-Class Cabriolet still reflects good value for money. Mercedes-Benz residual values tend to be very strong and the engine is tuned for as much efficiency as possible without sacrificing performance.
Space and practicality

The E-Class Cabriolet is a genuine four-seater, with the sculpted rear seats able to accept adults comfortably. With the roof in place the boot will accept weekend luggage for four too, although it is restricted with the roof folded. Storage in the front is acceptable with a decent size glovebox, space in the centre console and door pockets. Rear seat passengers get their own cup holders.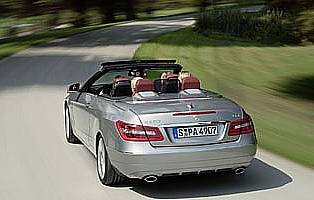 E-Class Cab looks good roof up or down
Controls and display

The control layout of the E-Class may seem a little confusing to those who are unfamiliar with recent Mercedes-Benz products, but a little familiarisation allows the user to access the full range of impressive features. The main difference is the single column stalk set-up favoured by the German manufacturer which takes a little getting used to. The single row of buttons along the lower portion of the centre console can be a little overwhelming when searching for a function from the driver's seat. The instrument layout is a particular plus point, offering a lot of information and control but in a simple and accessible manner, and the main control interface behind the gear lever falls easily to hand.
Comfort

A sublime cruiser, the Mercedes-Benz E-Class Cabriolet features a very comfortable ride. Interior refinement is very impressive, with the new AirCap system reducing turbulence in the cabin with the roof down, although the air rushing through and over creates a distinct whoosh at speed. The naturally comfortable leather-bound interior comes with climate control and 'belt butlers' to aid front seat passengers, rear headrests and front seats are electric and AirScarf system keeps necks warm regardless of the weather.
Car security

A standard alarm and immobiliser system meets the expected level of security on a car like this, although a tracking system would add a final layer of reassurance.
Car safety

Mercedes-Benz has engineered the E-Class Cabriolet's canvas roof to be as strong as that of the Coupe - an impressive feat. None-the-less, pop-up rollover protection is present in case the roof is down. Seven airbags are standard including the new head bags and Pre-Safe anticipates accidents and primes the safety systems in preparation. An active bonnet offers greater pedestrian safety while Attention Assist monitors the driver for signs of drowsiness. A safer vehicle would be hard to find.
Driver appeal

The E-Class Coupe is a large vehicle, but deals with its mass very well. The powerful 3.5-litre V6 petrol unit does an excellent job of hauling the car and occupants up to speed and, using the paddle-shift equipped seven-speed automatic gearbox, can be a great deal of fun to exploit on a twisty road. Sure-footed and responsive it offers a surprising degree of agility for a large car. Roof down, scuttle shake is occasionally present over larger bumps but kept to a minimum. As a long distance or boulevard cruiser, the powerful petrol engine and sharp automatic gearbox combination comes into its own.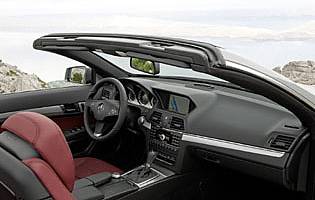 Interior is comfortable and well equipped
Family car appeal

The E-Class Cabriolet could pass muster as a family vehicle, although this is hardly its intended role. The rear seats would easily accept two children and access is not awful, although getting a child seat in and out of the rear may prove tiresome.
First car appeal

The E-Class Cabriolet is unlikely to register as a first car option for many. Large, expensive and aimed at a more mature audience it's more of an executive choice.
Quality and image

Mercedes-Benz is regarded as a manufacturer of exceptionally high quality vehicles and the E-Class Cabriolet shows no signs of damaging that reputation. Very well put together using top quality materials, the model feels solid and robust and the exterior finish is impeccable. The brand tends to appeal to a more mature market in the UK, which is not without its advantages but means the badge earns more respect than street cred.
Accessibility

Given the nature of the vehicle, access to the E-Class Cabriolet is very good. Front seat occupants will not struggle thanks to decent size doors and the electric sliding motion of the front seats allows reasonable access to the rear even with the roof in place. The saloon style boot is of a decent size but, with the luggage protector in place, there's a restricted portal for accessing luggage at the far end of the boot.
Stereo and ICE (In car entertainment)
Mercedes-Benz's Comand system is one of the neatest systems available and is remarkably simple and intuitive to using, offering sat-nav and audio facilities. The high quality screen is capable of playing DVDs and doubles as an information display for the various functions. An auxiliary input is present and sound quality is good, aided by the interior refinement. A Harman Kardon upgrade is an optional extra.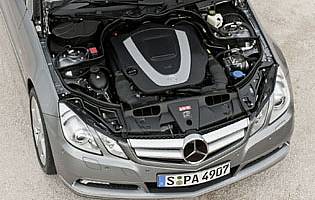 V6 engine is not short on power
Colours and trim
Only two trim levels are available, with the Sport option adding AMG alloy wheels and more aggressive bodystyling, sports seats and intelligent lighting. The SE trim level is hardly a scant affair however, with beautifully crafted leather front and rear. Customers can choose between different interior colours and combinations as well as from wood or metalwork finishing and details in two 'interior concepts'. Exterior colours are reserved and stylish in keeping with the Mercedes-Benz philosophy. Three dark roof colours are also available.
Parking
Advanced parking guidance is standard on the E-Class Cabriolet, able to scan for parking spaces and guide the driver into them using a the parking sensor warnings and an optical display. Despite being a sizeable vehicle, decent over-shoulder visibility makes it reasonably easy to park despite the hampered rearward visibility with the roof in place. The turning circle is good, too.
Spare wheel
Space saver spare wheel fitted beneath the boot floor.
Range information
Petrol engine options - 1.8-litre (184bhp and 204bhp); 3.5-litre (292bhp); 5.5-litre (388bhp). Diesel engine options - 2.1-litre (136bhp, 170bhp and 204bhp); 3.0-litre (231bhp). Transmission options: Five-speed automatic gearbox, seven-speed automatic gearbox, six-speed manual gearbox. Trim levels: SE, Sport.
Alternative cars
Lexus IS250C Single engine option but extremely refined and spacious
BMW 3 Series Convertible Smaller but smartly styled with metal roof
Audi A5 Cabriolet Excellent build quality and strong engine range
Infiniti G37 Convertible Hard-top newcomer is more compact but smartly styled
Over 1,200 more car reviews online
All the reports since 1990 are available on this site, just search by make and model below.
Other products & services
Related information
March 2010