Top tips to help customers buy a car unseen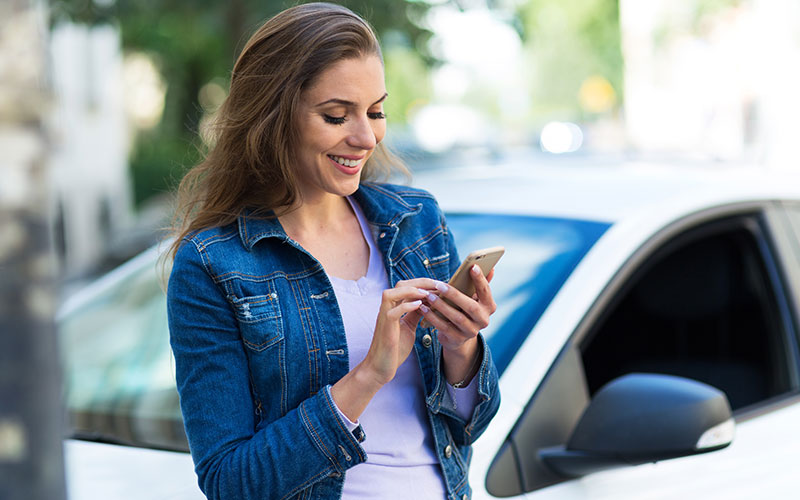 While there are many customers that still want to step foot into a showroom to see and feel a car before signing on the dotted line, there is an increasing number of shoppers that are happy to buy a vehicle without seeing it first.
Spurred on by the coronavirus pandemic - when consumers weren't able to as freely go and see a car they're interested in before buying - as well as the rise in the likes of 'online' car dealers Cazoo, more people are happy to buy a car in this way than before.
While you, as a dealership, will have likely sold a number of cars in this way, it's worth having a standardised set of procedures and steps in place to keep you on the straight and narrow, as well as to give further confidence to customers looking to buy this way. Let's take a look at some great measures to help with this.
Are your adverts thorough, researched and well-photographed?
If a customer is happy to buy a car without seeing it first, they want to know what they're buying inside and out. The best place to start is by showing the car in the possible light, and that all begins with the advert.
Quite simply, try and take as many photographs as possible to make the car stand out to a buyer who will be scrolling through tens if not hundreds of adverts. It might be worth investing in a proper camera, though the latest smartphones are able to take excellent images.
Try and take standardised photos of all the cars for sale, taken in the same place and from the same angles as this will give a more professional feel. The more photographs the better.
Uploading a video will also help to give customers a 360-degree impression of the car, showing some of the key features and equipment fitted to the car. With this, you should also point out if the car has any marks or damage, as it's important to be as detailed and transparent as possible to help a customer make an informed decision when buying unseen.
The advert also needs to be thorough. Customers don't like reading the same standardised advert with the same text, so it's worth going into a bit more detail about the vehicle and its history. Try taking the estate agent listing model, being more thorough and showing a bit more passion.
Embrace other methods of communication
The type of customer buying a car unseen is likely doing so for convenience and because of a lack of time. It's why you should try and implement measures to help with this, including different kinds of communication, such as WhatsApp and Facebook messaging. Having an active and engaging TikTok or Instagram channel will likely attract this sort of buyer as well.
You might have to be prepared to be 'active' outside of typical office hours, as working the usual 9-5 routine might not work for customers wishing to buy a car unseen. We're not saying you should be working 24/7 though!
You should also embrace video calling. Buying a car unseen can be quite a big deal, and customers will likely want more than just a quick exchange of messages before buying. A video call is a great way, either using FaceTime on iOS devices, but you should also use Android systems to satisfy all customers.
Make sure the cars are top notch
Selling used cars unseen is a slightly riskier business than new cars, because there are certain unknowns. While every car you sell should be sold without any issues, it's especially important for those customers purchasing without seeing it first.
Steps such as having every car independently inspected (and advertising this) will help to give customers further peace of mind that it is a quality product that is in good condition and has been looked after well. On higher-value cars, customers may send someone to have the car inspected on their behalf, which is something you need to be au fait with.
Payment
Arranging and ensuring payment can be one of the hardest elements when it comes to selling a new car remotely. One thing is for sure, you want to make sure you have received the full funds or that a finance agreement is in place before handing over the keys or delivering a car.
There are several approaches here, such as getting a customer to pay a holding deposit and then for the rest of the car upon collection or delivery. You might prefer the full car to be paid for upfront, though customers might not be quite so happy to do this initially. This approach will likely come down to your business principles and finding a solution that is most suitable.
Arranging delivery
Some customers might wish to buy a car unseen, but would still like to collect it from you as a dealership, which is a simpler option.
However, for added convenience and ease, some buyers might rather the vehicle be delivered to them instead. Depending on the size of your dealership and the team, it could be worth considering having a member of the team deliver the car. You will need to make sure there are the resources available for this, though, and that you have priced correctly to take into account the transport.
Outsourcing delivery is a preferred option for many, though you should vet the companies first to make sure their handover process is up to your dealership's standards. After all, they are representing you in this instance. You should have clear pricing to be able to provide to customers as well.
We've partnered with AnyVan – the UK's favourite delivery, removals and transport marketplace. You can now make it quicker and easier to get cars to customers who are less local to you. So now you can sell across the UK with our new Vehicle Delivery service. You can book delivery in just a few minutes, while there is full transparency with mileage, service and vehicle photos. Customers will also be able to benefit, as they're able to track their new car right to their door.
Guarantees and warranties
When selling a car to a customer that hasn't seen it first, you will need to put additional reassurances in place to help with this.
You should, of course, be offering a three-month warranty on all used cars anyway, and we have a range of flexible in-dealer warranty options with AA Warranty. If a customer wants to cancel the warranty policy within the first 30 days, they are entitled to a full refund provided no claims have been named.
To find out more about our Vehicle Delivery Solution or AA Warranty to help your customers to buy unseen please call 01920 877750 or email [email protected].