May 2009
Volvo C30 1.6D DRIVe S
The C30 presents a more youthful face
May 2009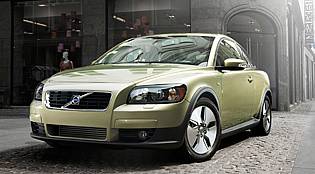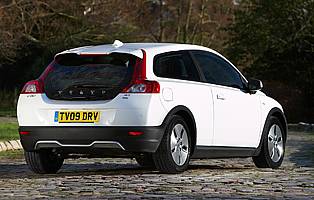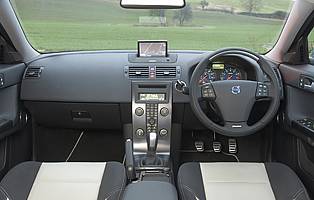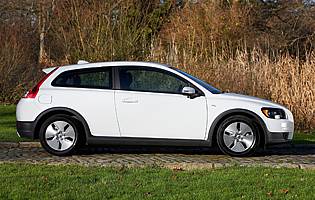 Overall rating

Likes:
Emphasis on economy doesn't impact on the driving experience
Diesel engine refinement
Fun to drive
Economy claims aren't hype
Gripes:
Modest standard specification
Cabin oddment storage space could be more generous
Rear seat space can't match that of a regular three-door hatch
Fascia button layout can be hard to manage when on the move
Swedish car maker Volvo might be famous for its focus on safety matters but it's also becoming a force to be reckoned with on green issues. As a way of competing with other firms offering low CO2 and highly fuel efficient cars, Volvo has tasked its 'Drive' sub-brand to carry the green flag, and its C30 is its most accessible model.
As with anything Volvo chooses to do, its entry into the compact hatch market was always going to be a little left of field. The C30 is hard to pigeonhole; it's car that's unlikely to appeal to the masses keen on a family-friendly five-door hatch, while its looks are a world apart from the traditional, boxy Volvo look.
The C30 doesn't drive like a Volvo either. The conventional experience of years past was a conservative one, and certainly one that wouldn't have attracted enthusiastic drivers. This time it's different; partly because the C30 shares its underpinnings with the critically acclaimed Ford Focus, and because this Volvo is aimed squarely at younger buyers.
It's appropriate, then, that this particular C30 boasts a cleaner than usual conscious. Volvo's lead-in green 'Drive' model is more likely to secure the youth vote than the firm's more conservative S80 saloon. There's little sign of the C30's abilities, but Volvo has always been heavily into subtle messages.
In essence this C30 saves you money at the pump and helps make the world a better place through the use of lower rolling resistance tyres, the clever tweaking of the car's aerodynamics and detailed changes to its engine and gearbox - more efficient running and longer gearing respectively. The end result from this 1.6-litre diesel C30 is a pleasant surprise, and without the usual eco car compromises.
Our verdict on the Volvo C30 1.6D DRIVe S
In isolation Volvo's C30 is a little different from all the usual compact hatchbacks. The styling, for starters, is very un-Volvo-like, while the cabin focus is heavily biased towards the two front seat occupants - this is no family car. The Drive eco element works well, doesn't compromise the driving experience yet introduces some welcome savings on a day-to-day basis.
Costs
While you can't pigeonhole the C30 with most other compact family hatches in terms of practicality, in Drive form the car is surprisingly economical. Granted, it makes more sense if you travel a lot miles, fuel consumption and emissions are low, allowing you to make savings at the pump and with vehicle excise duty.
Space and practicality
This is no family hatchback and, as such, space in the rear of the C30 is modest at best. For singletons, couples and empty nesters it'll be just fine, though. The C30's boot is also modest, but at least the rear seats can be folded forward. Up front there's a reasonable amount of space - both for occupants and oddments. The latter gets a covered central area plus a glovebox as the door pockets are small.
Controls and display
The C30's main instruments are clear and easy to read - even at night. The car's chunky column stalks are easy to use also. The central fascia is less intuitive, though. The mobile phone-inspired design might look good but they aren't as effective in practice. The audio unit's LCD display could be of a higher resolution, too.
Comfort
With its supportive seats the C30 isn't a car that will have you longing for a break on a long journey. The cabin is also spacious enough to ensure two adults never feel cramped, plus wind and road noise rarely causes a problem.
Car security
Despite the C30 not being an expensive of glamorous car, Volvo has chosen to equip it with an alarm and immobiliser - it's still a distinctive sight, though. You also get remote central locking as a matter of course, while an inexpensive yet visible steering lock could be enough to deter the casual thief.
Car safety
One area where the C30 scores well is in the safety department. Twin front and side airbags are standard across the range, as is Volvo's own flavour of dynamic stability control. It might not be a powerful car but the Drive variant's torquey diesel can still provoke wheelspin in the wet.
Driver appeal
A little known fact is that Ford's Focus forms the basis of the C30, which makes it a great car to drive. In eco-minded Drive form, the little Volvo shares the same enthusiasm for the road as the other C30s. Ride quality and dynamics are impressive, while the 1.6-litre diesel engine is refined, smooth and willing in all circumstances.
Family car appeal
The C30 will win no prizes in the family car stakes, but then it isn't targeted at such buyers. As a second car it won't disgrace itself, although you'll appreciate why it falls short when you go to belt a child into one of the rear seats - access could be better. The car's small boot is another issue, making Volvo's S40 or V50 a better choice.
First car appeal
There's no reason why the C30 can't be a suitable car for the first timer. It's an easy car to drive and, the flagship performance model aside, is unlikely to prove too powerful. Only the modest rear visibility could tax a novice when parking, making those parking sensors a worthwhile investment.
Quality and image
Volvo's traditional safety conscious image remains intact with the C30. It's a car that maintains the firm's solid track record, and is something many buyers still hold dear about the brand. Quality is a non issue here - the car is well built and feels like it will last a lifetime.
Accessibility
Being a three-door car, there's always the issue with opening doors in tight spaces - no three-door car is immune to this. However, the upside is easy access to the cabin. At the rear the car's small tailgate requires little effort to operate, although there is a small load lip to content with.
Stereo and ICE (In car entertainment)
The standard fit audio unit is a built-in type, which makes it less attractive to thieves. The display is a conventional LCD, which can make it hard to read sometimes. The various buttons might look smart but they can sometimes make navigating the unit's features a little slow.
Colours and trim
Volvo's C30 is not styled like other compact hatches, and as such pretty much any colour suits the car; bold, bright or subdued. The absence of any chrome helps add a youthful slant. The bold interior maintains Volvo's trademark sombre tone despite the inclusion of a few choice trim highlights.
Parking
Accurate steering makes light work of manoeuvring into small spaces. Forward visibility is pretty good despite the low driving position. Aft visibility is less great thanks to the car's small rear screen, although purchasing parking sensors will make life a lot easier.
Spare wheel
Space saver wheel included.
Range information
Petrol engine options - 1.6-litre (100bhp); 1.8-litre and FlexiFuel unit (125bhp); 2.0-litre (145bhp); 2.5-litre T5 (230bhp). Diesel engine options - 1.6-litre and Drive variant (109bhp); 2.0-litre (136bhp). Transmission options: five and six-speed manual gearbox, five-speed auto gearbox. Trim levels: S, SE, SE Lux, R-Design.
Alternative cars
Audi A3 Premium Audi is a polished performer but not an inexpensive one
Vauxhall Astra Three-door Astra is good-looking and affordable
 BMW 1 Series
 Ford Focus