May 2015
Volkswagen Golf Alltrack 2.0 TDI 184
Extra bodywork trim identifies the Alltrack among the Golf's range of estates
May 2015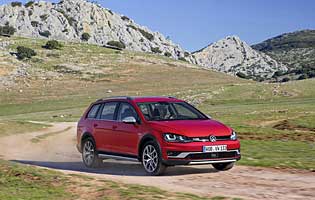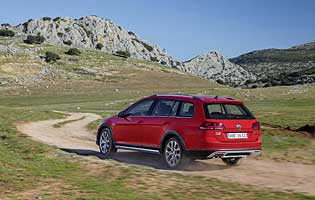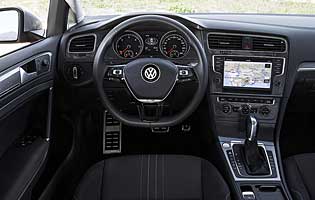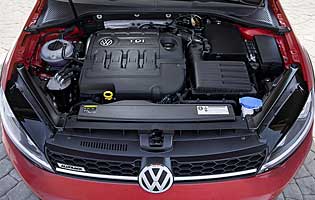 Overall rating

Likes:
Familiar Golf cabin uses premium materials for a luxurious atmosphere
Strong yet frugal diesel engine gives versatility and performance
Genuine off-road ability useful in slippery conditions and when towing
Good value compared to SUV alternatives
Gripes:
Large and attractive alloy wheels could be vulnerable off-road
On-road driving experience lacks engagement
Costs a lot more than other excellent Golf estate models
Some interior materials could be damaged by everyday family life
The Golf Alltrack follows a growing trend for estate cars with light off-road capability. The successes of the Audi Allroad series, the Skoda Scout series and of its own Passat Alltrack has prompted a move to create this; effectively a more premium, higher-riding Golf estate.
The defining feature of the Alltrack is its advanced four-wheel drive system, which, unlike earlier versions of the same setup, can send power to the wheels with more grip even before the other tyres give up traction. This faster-reacting arrangement means that the Alltrack has an impressive everyday ability to overcome slippery getaways.
Of course, the model is defined visually as well. Dark grey plastic wheel arch and side skirt extensions give the recognisable appearance of an off-road capable estate car and follows a pattern established by previous successful cars of this type. The Alltrack also benefits from 20mm of extra ground clearance compared to a standard Golf estate, and electronic differential locks.
It is marketed as a premium model and priced as such, eclipsing the similar but two-wheel drive golf GTD, which also lacks the styling enhancements and rides somewhat lower. It is expected that most will be bought with high-powered diesel engines and DSG twin-clutch automatic gearboxes; a pairing that suits the car's character very well.
Caravan owners may see the Alltrack as a viable alternative to a full-size SUV. The most powerful model is rated to tow loads of up to two tonnes, which when combined with its raised driving position and four-wheel drive could make it a very capable alternative to larger, less wieldy and potentially more expensive cars. It faces close competition, though, from sister cars the Skoda Octavia Scout and the Seat Leon X-Perience.
Our verdict on the Volkswagen Golf Alltrack 2.0 TDI 184
The Alltrack feels almost like any diesel Golf estate when on the road, but its ability to traverse obstacles off-road would leave many drivers surprised. The addition of extra go-anywhere practicality to the estate boot, automatic gearbox and strong diesel engine makes the Golf Alltrack an incredibly versatile option. It's not exciting to drive, but it's extremely capable for everyday use, and even for towing.
Costs
As one of the most expensive Golf variants the Alltrack can't be considered especially keen value for money, but compared against no-more capable SUVs it starts to look like very good value. All diesel engines are fuel-efficient if driven with care and forethought, but can also disappoint on that front if driven carelessly.
Space and practicality
A 225-litre increase to the boot capacity over a Golf hatchback means a total of 605 litres of space below the luggage cover. Within that boot is an easily adjustable boot floor, a sub-floor space to store the luggage cover when not needed and remote releases for the 60:40 split rear seats. They do not fold flat, but they come closer to it than some rivals'. The Alltrack's natural off-road ability and four-wheel drive adds obvious extra practicality.
Controls and display
The controls and displays in the Alltrack all seem to have been selected to meet a level higher than most people's expectations. The well-damped control stalks join similarly robust-feeling buttons and sensible but stylish dials. At no point does the car come across as confusing, unless perhaps it's when exploring the many menus within the media screen.
Comfort
In theory any given driver should adopt the same driving position in the Alltrack as they do in any other seventh-generation Golf. The seats are on the firm side, which will appeal to some backs more than others, but generally speaking they cause few complaints. Rear legroom is adequate rather than expansive, but it should be fine for family life. Automatic climate control is standard and keeps the interior of the car at a set temperature.
Car security
The Alltrack is clearly more noticeable than other Golfs, but there is no real reason why it should attract any unusual degree of animosity from vandals. It isn't a very sporty or expensive car, either, and so it shouldn't fall high on potential thieves' hit lists. That said, it does have security features for its wheels, fuel filler and boot, to go with an alarm and engine immobiliser.
Car safety
The Alltrack runs on ordinary road tyres, giving it the maximum amount of grip for the type of surface it is likely to spend almost all of its time on. Braking and cornering are therefore as secure as ever. An advanced suite of electronic active safety systems monitors the attitudes of each wheel and compensates for any potential loss of stability or traction. They respond faster than ever to virtually ensure safe car behaviour under most driving conditions.
Driver appeal
There is little to choose between the Alltrack and a standard Golf estate, which is to say that the former drives with stability, reassuring levels of grip and a relaxed, smooth demeanour. It isn't exciting or engaging since it lacks the exhaust note tuning given to the Golf GTD, for example, but it gets on with the job in hand, even if that involves off-road driving. A specific off-road driving mode that mimics a low-range gearbox, plus a basic hill descent control system, makes it easier to drive safely over the rough stuff.
Family car appeal
Families will find much to praise in the Alltrack, from its practical go-anywhere chassis to its large boot and quiet cabin. While many families would be better to stick to lower-priced Golf estates, though, active parents might welcome the rugged sense of purpose here, not to mention its inherent ability to pull itself - and a trailer - out of a wet or muddy field. It must be said that the premium cabin materials are vulnerable to mistreatment, though.
First car appeal
It is extremely unlikely that any first-time car buyer would zero in on the Golf Alltrack as the ideal choice after passing their test. While it's very easy to drive and very forgiving to those who might make an occasional mistake, it is a niche car directed at a small number of people, and its price point reflects that. It is too expensive to make sense as a first car.
Quality and image
Volkswagen is marketing the Alltrack as a premium version of its Golf, placing it almost as a standalone model. With the much-admired and much-desired Golf as the base underpinning a stylish, practical and capable package it will always be in demand. Tangible quality is boosted by features like felt-lined door pockets, although Volkswagen's reliability record in recent years has fallen some way short of where its reputation puts it.
Accessibility
Rear passengers in any Golf need to tuck their feet right back to exit the car, and the relative distance from the seat to the ground means that it's all too easy to rub your calf on the exterior paintwork or plastic trim when getting out. In the Alltrack, the Golf most prone to getting dirty, this could be an irritating factor. Front seat occupants will simply enjoy the raised ride height, though, which makes it easier both to get in and to step out.
Stereo and ICE (In car entertainment)
The stereo is controlled chiefly through the central touch-screen, which does make its operation tricky while on the move. Bumps in the road make precise pressing of on-screen buttons difficult, but there are controls mounted on the steering wheel to make it easier. The number of speakers matches the number in any Golf estate, while inputs are offered for USB devices, CDs, FM/AM and DAB radio.
Colours and trim
Aside from a lustrous red that, as well as being the boldest choice is also the best-suited to accentuating the car's additional dark grey body trim, the colour choice is limited to sober hues centred on black and grey. The interior trim is typical of high-end Golfs apart from the absence of the check-patterned upholstery on GTI and GTD models, and the DSG gearbox has a standard style lever as opposed to one resembling a golf ball.
Parking
The Golf is blessed with relatively good visibility thanks to a shoulder line that doesn't rise too much towards the rear of the car. There is still some restriction towards the rear corners that is made marginally worse by the raised ride height, but since parking sensors are standard it should still be easy to slot the Alltrack into spaces.
Spare wheel
Space saver spare wheel supplied as standard.
Range information
Petrol engine options - 1.8-litre (177bhp). Diesel engine options - 1.6-litre (108bhp); 2.0-litre (148bhp, 181bhp). Transmission options: six-speed manual gearbox and six-speed DSG automatic depending on model. Trim levels: Alltrack.
Alternative cars
Seat Leon X-Perience Stylish and the off-road capable Leon boasts a more extrovert exterior look
Audi A4 Allroad Classic looks and excellent material quality make this the class leader
Skoda Octavia Scout Incredibly spacious and targeted directly at active families
Volvo XC70 Larger, well-trusted and more expensive, but showing its age