August 2013
Vauxhall VXR8 Tourer
Butch appearance hides a relatively benign driving experience
August 2013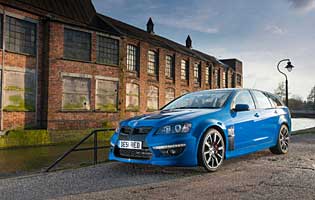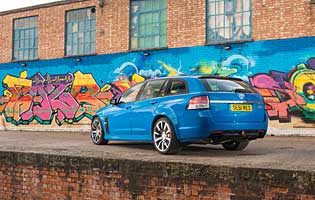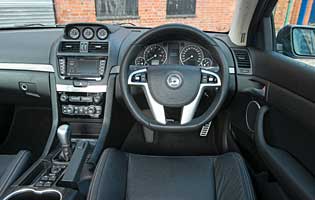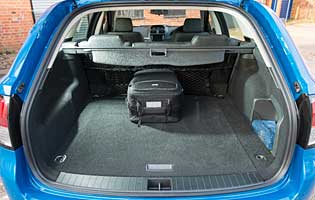 Overall rating

Likes:
Impressive value for money
Supremely willing and wonderful sounding V8 engine
Truly versatile and spacious load area
Well-equipped, comfortable and spacious cabin
Gripes:
Relatively cheap to buy, but not to fuel or insure
May be too brash for some tastes
Some trim pieces still feel a little cheap
Vauxhall badge can't compete with premium competition
Vauxhall's VXR sub-brand majors on high performance for a relatively modest cost, and the VXR8 is the prime example. Heavily based on its Australian counterpart from Holden, Vauxhall has now expanded the VXR8 range to include the Tourer, adding a large does of practicality to what is already a usefully-sized vehicle.
Despite the Vauxhall Griffin proudly displayed on the nose, the VXR8 is a car that owes much to its Australian counterpart from Holden also under the GM wing. The Tourer follows the same recipe as the VXR8 saloon with a large capacity V8 petrol engine up front, rear-wheel drive and lots of space in between. Although the mechanical underpinnings may be more humble than some rivals but the payoff is a price advantage.
Aside from the obvious change at the rear of the car the VXR8 Tourer is distinguished by its dark front grille, surrounded by LED daytime running lights and large intake vents below them. The rear has a similar contrasting theme with dark-coloured elements to the spoiler, all of which are marked out in particular when finished in a light body colour.
Power comes from a 6.2-litre naturally aspirated petrol engine, similar to those used in the Corvette sports car and in racing cars such is its flexibility and huge torque output. GTS models also gain a new Magnetic Ride system that uses electronically-controlled dampers to provide both better handling and improved ride comfort.
Inside the VXR8 has a impressive array of equipment with launch control and tyre pressure monitoring as standard. There is also a comprehensive driver interface system that offers the enthusiast a wealth of extra data - including drift angles, lap times and data logging.
Our verdict on the Vauxhall VXR8 Tourer
The VXR8 in saloon form has space, performance and value on its side and the transformation into Tourer guise just adds even more to the package. The extra space in the rear makes it hugely practical with no discernable impact in looks or dynamics, and it matches its chief rivals in many areas but with a considerably smaller price tag.
Costs
There's no way of hiding the fact that the VXR8 is a costly car to run. Sure, regular servicing should be straightforward, but fuel, insurance and tyres will factor heavily in your table of outgoings. And the VXR8 will use a considerable amount of fuel; anything powered by a 6.2-litre V8 petrol engine will, but get ready for low teens mpg around town as it's very much the norm.
Space and practicality
As you would expect, the VXR8 is a pretty spacious vehicle. Cabin space is generous up front and rear seat passengers also fare very well indeed. At the rear the big tailgate opens to reveal a vast load area with lashing eyes, hooks and a cargo net which is essential if you plan on driving quickly. Inside the car there are plenty of storage options for mobile phones, maps and the like.
Controls and display
The main dials and supplementary controls in the centre console are clear and intuitive, and although aimed at the enthusiast the very comprehensive digital information display is packed with detail. The auxiliary dials on top of the dashboard also provide useful information for an engine of this nature.
Comfort
The seats dominate the VXR8's cabin, and to good effect. Wide and supportive, they do a fine job of keeping you in place and making long motorway journeys comfortable. Elsewhere, cabin space is pretty good and rear seat occupants also get to experience supportive seats. The only downside is the car's road and tyre noise, which can be a little intrusive at high speed or on poorly surfaced roads.
Car security
Although hardly an inconspicuous car any thief targeting the VXR8 will have to live with its head-turning qualities. Factor in the car's exclusivity and it's fair to think that most opportunists will leave it well alone. Thankfully the car's defences are more sophisticated, what with the usual central locking plus alarm and immobiliser making an appearance.
Car safety
As you might expect from a car with this kind of pace, the VXR8 is equipped with the usual safety features. From airbags to ABS and electronic stability control - a vital component considering the car's performance - you can feel safe in the big Vauxhall.
Driver appeal
The VXR8's powerful V8 motor, traditional rear-wheel drive layout and no-fuss handling characteristics make the big Vauxhall hugely entertaining to drive. A real enthusiasts' car, the VXR8 demands concentration at high speed and prefers wide sweeping turns to bumpy B-roads. The engine sounds great whatever your speed, plus the steering and brakes both deliver positive and direct responses to your inputs. At more run of the mill speeds the car is easy to drive and is quite happy to assume the role of family saloon, although as you'd expect the car's ride is quite firm.
Family car appeal
The VXR8's space and practicality make it a highly suitable, if slightly extreme family car. There is plenty of space front and rear, although the back seat is ideally shaped for two rather than three people. The boot is also very large, and most children would be happy to ride in a car as quick and as rare as the VXR8.
First car appeal
The VXR8 is pretty much the last car a first time driver should be thinking about. It's big, fast, rear-wheel drive and expensive to run. Even if you could afford the substantial fuel and insurance costs - the latter is likely to be particularly eye-watering - the car's brutish performance potential is best left to buyers with more experience of similar cars.
Quality and image
Premium-chasing brands such as Vauxhall are squeezing the quality gap, and a decent improvement over the outgoing model is welcome. It still has a little way to go, but a car costing so much less is inevitably going to offer a little less in this department. Vauxhall's VXR sub-brand has come a long way in the ten years since its inception and the VXR8 is well-known for such a low volume product.
Accessibility
With four big doors the VXR8 presents no problems for those climbing aboard. The front doors open wide, the rears are the same and the sizeable tailgate and low loading lip is ideal. No electric tailgate option however.
Stereo and ICE (In car entertainment)
The Tourer has a high-specification audio system with USB and MP3-player connectivity, Bluetooth and satellite navigation. The touch-screen system works well and the sound reproduction is of a high standard, although arguably the engine provides even better sounds.
Colours and trim
Some of the more brash detailing can be toned down by choosing a conservative colour, but everything from silver or black to bright yellows, reds and blues are on the options list. On the inside there is a sizeable chunk of black plastic but the leather trim can be had in a few different shades.
Parking
The VXR8 Tourer is a big car, but with the help of good-size mirrors plus the parking sensors you shouldn't have a problem. The car's turning circle is surprisingly good, and the steering is light at low speeds.
Spare wheel
Full size spare fitted beneath the boot floor.
Range information
Petrol engine options - 6.2-litre V8 (425bhp). Transmission options: six-speed manual gearbox is standard, a six-speed auto gearbox is a cost option. Trim levels: Clubsport, GTS.
Alternative cars
BMW M5 A key rival and a brilliant all-rounder, but saloon only
Mercedes-Benz E63 AMG Estate Spectacular performance, hugely practical but also very expensive
Audi S6 Avant Faster and more frugal, but slightly more expensive and less spacious
Jaguar XF Sportbrake Similar money but diesel-only engine range and less spacious