September 2013
Vauxhall Insignia SRi 2.0 CDTi (140ps) ecoFLEX start/stop 5dr
Revised exterior boasts subtle improvements
September 2013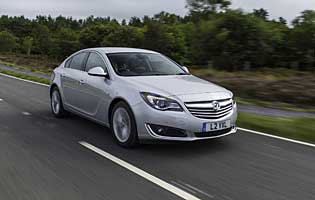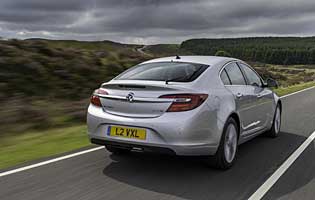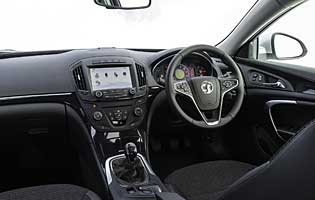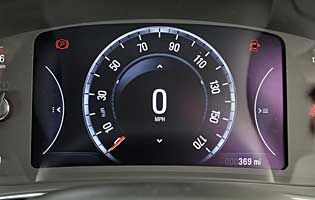 Overall rating

Likes:
Well executed exterior styling
Sharp handling belies size
Much improved cabin ergonomics
Prospect of reduced running costs thanks to improved engines
Gripes:
Cabin plastics still lack the wow factor of more expensive rivals
New diesel engines still fall short on noise when pushed hard
Full-on sat-nav experience still displays some lag when in operation
Big wheels can harm the car's urban ride quality
With its subtle visual changes and more extensive ones under the skin, Vauxhall's popular mid size Insignia promises to build on its initial launch success and ensure it's more appealing to both the business and private buyer.
With its sharp, executive styling designed to compete at a more premium level than its predecessor and mainstream rival, this refreshed Insignia can be had in hatch, saloon and estate bodystles. Tested here in hatch guise, the five-door model forms the bulk of sales.
With an increased focus on making hi-tech safety systems more widely available, boosting the perceived and actual level of refinement in the car's cabin and overhauling the engine line up to reduce emissions and fuel consumption, there's a considerable focus on affordability - something that's likely to appeal to business users.
Crucial to the continued success of the Insignia, and future Vauxhall models in general, is the appearance of a new family of petrol and diesel engines. The latter will be of considerable interest to cost-conscious business users, as in 2.0-litre guise a tax-busting sub 100g/km CO2 rating will impact positively on the finances of both individuals and companies.
Along with significant powertrain changes, the Insignia's cabin has also been overhauled. Gone is the sea of buttons that used to confront drivers, replaced by fewer physical controls and a greater emphasis on different sized touchscreens depending on the model chosen to access everything from basic audio to detailed navigation functions.
Our verdict on the Vauxhall Insignia SRi 2.0 CDTi (140ps) ecoFLEX start/stop 5dr
The Insignia's smart refreshed styling is backed up by a reworked cabin and the prospect of cleaner, more efficient engines delivering reduced running costs for all types of buyers. The increased focus on a more 'premium' experience is more than just a marketing exercise, with the Insignia easily capable of holding its own in the executive car park.
Costs
Vauxhall makes numerous bold claims for the frugal nature of its revised Insignia range. In reality, assuming you focus on the improved diesel variants, you can expect to pay less tax thanks to much low CO2 ratings plus pay less at the pumps. The insignia is a high volume selling car so don't expect record trade-in prices, though.
Space and practicality
The hatch version of the Insignia offers a good balance of practicality and versatility. Occupant access fore and aft is good, while access to the car's load space via the easy to open tailgate is straightforward. In the cabin there's sufficient oddment storage space to keep even the most disorganised road warrior happy.
Controls and display
Alongside changes to the Insignia's engine line-up, it's here that you'll notice the biggest changes. With a choice of navigation options and a sliding scale of screen sizes, access to the car's infotainment features is now much easier and the sea of buttons in the old car have thankfully gone. There's also two types of main dial displays - all digital, clearer than an analogue option and capable of displaying a wealth of information. As a package the changes are most welcome.
Comfort
With a high degree of refinement the Insignia is an inherently comfortable car to travel in. As a high speed motorway cruiser it can rival the premium contenders, a market Vauxhall is keen to enter. Road and wind noise present few problems for occupants, although larger wheel options can unsettle the car on poorly quality urban roads.
Car security
The Insignia maintains a strong standard of security with remote central deadlocking, alarm and immobiliser. Covered storage in the front armrest and glovebox plus a sturdy rear load cover means valuables can be kept out of sight.
Car safety
The basic safety proposition in the Insignia is a good one and compares well with the rest of the market, thanks to the inclusion of plenty of airbags and a good spread of electronic stability systems. Factor in the likes of a traffic sign reader, adaptive headlights plus lane departure warning and you're also covered if you wish to explore the cost options list.
Driver appeal
The Insignia gives little impression of its size once behind the wheel and is capable of providing a responsive and involving driving experience. This can be tempered a little by steering that occasionally feels too light and disconnected when pushing on, but there's no doubting the overall quality of the car's chassis or the surefooted handling. Tested in 2.0-litre diesel guise, the new engine is responsive, if a little gruff when extended, and is happiest at a constant throttle - ensuring the motorway slog will be a refined and effortless experience.
Family car appeal
Although the estate or Country Tourer variants would be more obvious, and practical choices, the five-door Insignia easily doubles as a family holdall outside of office hours. Able to comfortably seat a growing family of five, it's an adaptable and stylish choice, although you might want to steer clear of leather upholstery if you have a young family for practical reasons.
First car appeal
The Insignia is not a vehicle targeted at the first time car buyer. More suitable models can be found elsewhere in the Vauxhall range for less money but that's not to say the Insignia isn't a suitable car. With light action controls and good visibility it's not a challenging car to drive or own.
Quality and image
This refreshed Insignia is a concerted effort on the part of Vauxhall to move away from the dowdy image of the mid-size hatch and saloon market. A more upmarket affair in terms of styling inside and out, the Insignia builds on the excellent reception earned by the smaller Astra. Material quality is good and build quality seems solid.
Accessibility
A well proportioned car, there are few issues with accessing the front or rear passenger sections of the Insignia. Front and rear headroom is also good, with adult passengers seeking refuge in the rear unlikely to feel uncomfortable. In hatchback form, the car's tailgate allows unhindered access to the generous size load area.
Stereo and ICE (In car entertainment)
The cabin overhaul isn't restricted to just upping the cabin's premium ambience, but also to improving front seat and driver ergonomics through the simplification of the Insignia's various controls. Out go most of the switchgear in favour of a touchscreen - a pleasingly large one if you opt for upmarket models and the options list. Boasting clear graphics but a sometimes annoying slight lag when responding to inputs, it's a huge improvement. AS you'd expect, all the usual sources are available, including DAB radio.
Colours and trim
The Insignia looks at its best in mid-tones such as greys or reds. The darker shades can reflect the light awkwardly, making it look less handsome. The large alloy wheels of the upper trim levels suit the bulky design better than some of the smaller wheel options and the executive styling of the interior carries leather and bright trim accents well.
Parking
Parking is reasonably straightforward thanks to good all-road visibility and light yet accurate steering when at walking pace. The car's parking sensors take the pain out of the act, and the Insignia proves more agile than its size suggests.
Spare wheel
Space saver fitted as standard.
Range information
Petrol engine options - 1.4-litre (140bhp); 1.8-litre (140bhp); 2.0-litre (250bhp); 2.8-litre (325bhp). Diesel engine options - 2.0-litre (120bhp, 130bhp, 140bhp, 163bhp, 195bhp). Transmission options: six-speed manual gearbox, six-speed automatic gearbox. Trim levels: Design, SRi, SRi VX-Line, SE, Tech Line, Elite, VXR Supersport.
Alternative cars
BMW 3 Series Remains a benchmark in the premium sector
Audi A4 Popular and well rounded, competent choice
Mazda 6 Polished and cost effective alternative to its German rivals
Ford Mondeo Despite many revisions starting to show its age inside and out