March 2014
Vauxhall Insignia Country Tourer SRi 2.0 CDTi 140 ecoFLEX Start/Stop
Rugged look is immediately obvious, hinting at minor off-road capability
March 2014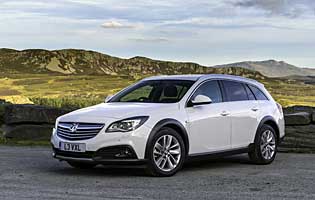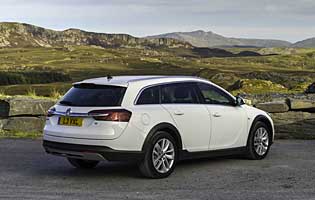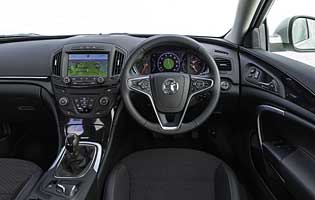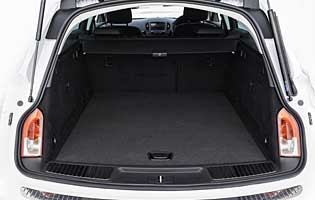 Overall rating

Likes:
Distinctive and sharp exterior styling
Surprising driving dynamics for its size
Excellent cabin ergonomics and switchgear
More efficient new engines available
Gripes:
Question mark over its relative desirability
Weight tends to make for poor urban fuel economy
Sat-nav can lag behind user inputs and true position when in operation
Ride quality not as comfortable as might be expected
Estates are undergoing something of a vogue at present, with many saloons and hatchbacks suddenly looking better-proportioned and more desirable as load-luggers. Vauxhall already has its Insignia Sport Tourer, but now there's a taller version that, according to the people behind the Griffin badge, is capable of modest off-roading as well.
The shape is more or less identical to that of the Sport Tourer, so it's a good-looking car with an assured stance on the road despite its higher ride height. In terms of visual differences there is extra plastic trim around the wheel arches, bumpers and side skirts, helping to impart a more rugged feel. This extra trim's usefulness when it comes to protecting the bodywork is up for debate.
The move to create the Country Tourer was in part inspired by the success of upmarket rival Audi's Allroad models, which are also based on estate cars and feature much the same styling enhancements. Vauxhall wants the newest member of the Insignia family to be a cut-price status symbol in a way that a normal estate can't. There is an associated price premium, of course.
It uses roughly the same four-wheel drive platform that underpins several other Insignia variants, but in conjunction with taller suspension to give both a slightly higher viewpoint for the driver and more ground clearance. While the car is definitely not designed to rival a Land Rover Discovery, it does have greater ability off-road than a typical two-wheel drive alternative.
Many of the interior finishes and technologies are shared with Insignia Sport Tourer models, but as befits its premium aspirations the Country Tourer's available trim levels all have plenty of equipment. It's something of a marketplace flagship for Vauxhall and it is built to appeal to buyers who might balk at the price of an Allroad Audi, while retaining the popular Insignia style.
Our verdict on the Vauxhall Insignia Country Tourer SRi 2.0 CDTi 140 ecoFLEX Start/Stop
There is an undeniable extra appeal in the Country Tourer that will sway some buyers to spend the extra over the Sport Tourer. People who live in rural areas who may, at certain times of year, appreciate the four-wheel drive, but there are other Insignias with this drivetrain that cost less. If people were to choose to say the additional price wasn't worth it, few would have grounds to argue.
Costs
The main real-world factor counting against the car is its weight, which does force the engine to work harder to keep up with traffic away from the lights. Vauxhall makes numerous bold claims for the frugal nature of its revised Insignia range, but while the improved diesel variants will see you pay less tax thanks to lower CO2 ratings, fuel economy might not live up to expectations. The Insignia is a high volume-selling car so don't expect record trade-in prices, either.
Space and practicality
Not only does the raised suspension make the Country Tourer the most practical Insignia in the range, but there are plenty of interior storage solutions, too. The capacious boot can hold two large dogs if needed, while pushchairs and other large items will slide in without any fuss.
Controls and display
The Country Tourer comes along not too far behind the arrival of new screens and controls in the Insignia range. With a choice of navigation options and a sliding scale of screen sizes, access to the car's infotainment features is now much easier and the sea of buttons in older versions have thankfully gone. There are also two types of main dial displays; all digital, clearer than an analogue option and capable of displaying a wealth of information.
Comfort
Thanks to a range of qualities from the higher suspension to the supportive seats, the Insignia is an inherently comfortable car to travel in. As a high-speed cruiser it can rival the premium contenders, a market in which Vauxhall is keen to gain a stronger foothold. Road and wind noise present only minor irritations for occupants, although larger wheel options can unsettle the car on poor quality roads.
Car security
Nothing changes here from the standard Insignia security systems. It maintains a strong standard with remote central locking and deadlocks, an alarm and an immobiliser. Covered storage in the front armrest and glovebox plus a sturdy rear load cover means valuables can easily be kept out of sight.
Car safety
The basic safety proposition in the Insignia, shared as it is across all models, is a good one and compares well with the competition thanks to the inclusion of plenty of airbags and a good spread of electronic stability systems. Four-wheel drive increases the traction for a safer getaway in wet conditions. Factor in the likes of a traffic sign reader, adaptive headlights plus lane departure warning and you're also covered if you wish to explore the cost options list.
Driver appeal
The Country Tourer gives relatively little impression of its size once you're behind the wheel and is capable of providing a solid and predictable driving experience. This can be tempered a little by steering that occasionally feels too light and disconnected when pushing on, but there's no doubting the overall quality of the car's chassis or the sure-footed handling. The new engine range is responsive, quiet and is happiest at a constant throttle, ensuring the motorway slog will be a relatively refined and effortless experience.
Family car appeal
In keeping with the talents of the Sport Tourer, this model easily doubles as a family holdall outside of office hours. Able to comfortably seat a growing family of five, it's an adaptable and stylish choice, although you might want to steer clear of expensive leather upholstery if you have a young family for practical reasons.
First car appeal
Any young buyers with a liking for the Country Tourer's looks will have to take a reality check. It just isn't a vehicle targeted at the first time car buyer. More suitable models can be found elsewhere in the Vauxhall range for less money, but that's not to say the Insignia isn't an easy car to drive. With light controls and good visibility it shouldn't present any major problems if used by a learner.
Quality and image
The Country Tourer only uses the better end of the scale of materials at Vauxhall's disposal. A more upmarket affair in terms of styling inside and out than Insignias of old, this revised interior builds on the excellent reception earned by the smaller Astra. Material quality is good and build quality seems solid, although the firm's results in reliability and owner satisfaction surveys are not great.
Accessibility
As a well proportioned car with broad door apertures, there are few issues with accessing the front or rear passenger sections of the Insignia. Front and rear headroom is also good, with adult passengers seeking refuge in the rear unlikely to feel uncomfortable. In Country Tourer form, the raised suspension helps to make the seats and the flat boot floor even easier to access.
Stereo and ICE (In car entertainment)
The Country Tourer shares Vauxhall's new ideology of simplification of the Insignia's various controls. Out has gone most of the switchgear in favour of a touchscreen - a pleasingly large one if you opt for upmarket models and the options list. Boasting clear graphics but a sometimes displaying a slight lag when responding to inputs, it's still a huge improvement. As you'd expect, all the usual sources are available, including DAB radio.
Colours and trim
For obvious reasons the Country Tourer's best colours follow the same pattern as the existing estate. Greys and reds look best, while darker shades can reflect the light awkwardly, making it look less handsome. The large alloy wheels of the upper trim levels suit the bulky design better than the smaller wheel options and augment the extended, but balanced proportions of the estate shape. The styling of the interior boasts leather and bright trim accents but there's too much hard plastic on display.
Parking
Parking is reasonably straightforward thanks to good all-round visibility - even when looking through the Country Tourer's rear window - and light yet accurate steering when at walking pace. The car's parking sensors take the pain out of the act, and the Insignia proves more agile than its size suggests, especially thanks to the slightly better view afforded by this model.
Spare wheel
Space saver fitted as standard.
Range information
Petrol engine options - 1.4-litre (140bhp); 1.8-litre (140bhp); 2.0-litre (250bhp); 2.8-litre (325bhp). Diesel engine options - 2.0-litre (120bhp, 130bhp, 140bhp, 163bhp, 195bhp). Transmission options: six-speed manual gearbox, six-speed automatic gearbox. Trim levels: Design, SRi, SRi VX-Line, SE, Tech Line, Elite, VXR Supersport.
Alternative cars
Audi A4 Allroad Well-executed styling and peerless interior materials quality
Skoda Octavia Scout No-nonsense raised-up Octavia estate is practical and unpretentious
Volkswagen Tiguan Compact SUV makes a good alternative to an estate
Dacia Logan MCV Cheap, almost disposable car takes rough and ready to new levels