July 2009
Vauxhall Corsa VXR Arctic Edition
The distinctive paintwork is unique to the model
July 2009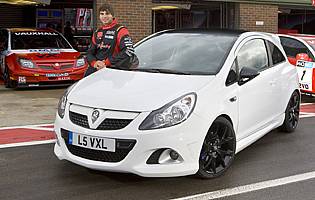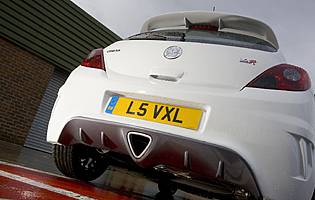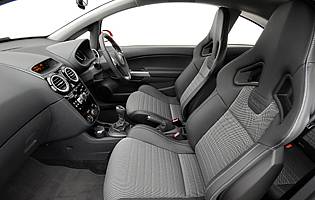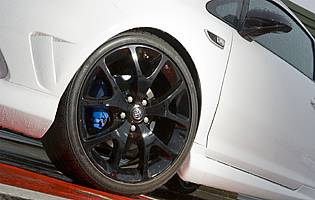 Overall rating

Likes:
Very distinctive styling
Tractable around town
Sharp turn in and stable cornering
Reasonably practical
Gripes:
Torque steer and wheel spin prove annoying
Garish interior
Exhaust is extremely intrusive
Hard ride and bucket seats combo not for all
Vauxhall's VXR range built up an impressive reputation among younger drivers and hot-hatch fans. The baby of the VXR range pulled few punches in its quest for youth appeal and a limited edition model takes things even further with a striking visage and more power.
The Vauxhall Corsa VXR is a model marketed as something of a free spirit. With its torquey 1.6-litre turbocharged engine and aggressive styling, it punches above its weight in terms of road presence.
Originally available only in red, blue or black, the Corsa VXR Arctic Edition, of which only 500 will be sold in the UK, narrows the options for drivers even further. Using a unique Glacier White paint option contrasted with black painted, 18-inch alloys wheels, a black roof and door mirrors plus dark tinted windows gives the special edition model a particularly menacing appeal.
Inside, with the exception of the numbered plaque denoting the model's limited edition status, the Arctic Edition shares its fittings with the regular VXR. That means sporty bucket seats and a chunky sports steering wheel and gear lever. The Arctic Edition does, however, benefit form a large sliding glass roof complete with blind.
As with the standard VXR, the powerful turbocharged engine plays an important role in proceedings. In the Arctic Edition, the use of a Remus Sports Exhaust system liberates anything up to 15bhp, giving the model a potential 204bhp. As well as adding power, the Remus exhaust is also considerably louder, giving the special edition model a very vocal presence and allowing it to crack and snarl between gear changes.
Our verdict on the Vauxhall Corsa VXR Arctic Edition
Fans of the Corsa VXR will be drawn to the distinctive Arctic Edition like a moth to a flame. It successfully exaggerates the ""in-your-face"" styling of the model and adds a healthy degree of extras plus limited edition status at reasonable cost. However, the Arctic power upgrade also exaggerates some of the VXR's flaws on the road, making it a less easy car to live with than the standard VXR model.
Costs
Treading a balanced line between performance and cost effectiveness, the standard Corsa VXR is capable of providing thrills without breaking the bank. With limited edition status and an impressive amount of additional equipment for a relatively small additional sum, the Arctic Edition boasts even greater value for money. Its turbocharged engine will be thirstier than most if driven hard and the low-profile tyres will not be cheap to replace, but it's still a good bang for bucks package.
Space and practicality
The Corsa's body can be extremely accommodating and folding the rear seats flat, a fairly simple operation, offers up an impressive amount of load space. The boot floor is a two-tier affair with secure storage under the removable panel. With the seats in place the boot is more than adequate for a car of this size.
Controls and display
The Corsa's controls conform to well executed Vauxhall standards with a well laid out centre console with large, easy to find knobs and buttons. Audio and cruise control buttons are located on the wheel. The driving position is quite low and shorter drivers may find the steering wheel cannot be lowered far enough, but reach adjustment makes up for that to a degree. Switch gear feels solid and dependable and the orange lit dials are clear, if a little gaudy.
Comfort
The Corsa VXR Arctic Edition's tuned chassis and suspension means the ride can be quite harsh, particularly on the large 18-inch alloy wheels, but it stops short of being jarring. The Recaro bucket seats are padded enough to absorb the worst, but they're not the most adjustable and can still be unforgiving over longer journeys. The rear seats feature a two-stage adjustable backrest, which is useful. Most noticeable is the boomy exhaust, however, which penetrates the cabin even at low rpm. Although distinctive it can be tiresomely loud, although the crackle and pop on the over-run remains entertaining.
Car security
An alarm and immobiliser setup is standard for the Corsa VXR Arctic Edition, and the range topping model naturally features remote central locking. Rear window tints are standard and a blind for the large sunroof also keeps prying eyes at bay.
Car safety
The Corsa VXR Arctic Edition is packed with the same active safety systems as the standard VXR model, including a full ESP programme with traction control. It's also well bolstered with airbags and features a tyre pressure monitoring system.
Driver appeal
With even more power available courtesy of the tuned Remus exhaust, the Corsa Arctic aims to build on the frenetic turbocharged performance of the standard 1.6-litre Corsa VXR. This it does to a limited degree, feeling marginally quicker than the standard model and being equally willing to rev. unfortunately it suffers from even greater torque steer when accelerating hard from lower speed, which remains off-putting when overtaking. The chassis also struggles to put the power down through the front wheels when exiting corners, resulting in wheel spin. Road holding is very impressive however, with an extremely planted feel and sharp turn-in. It's a useable car around town, with adaptive steering and a tractable nature at low speed.
Family car appeal
The VXR's three-door format and restricted access to the rear means it's not the finest choice of family car. A five-door version from the comprehensive range would be more suitable.
First car appeal
The Corsa is a good choice for a first car; however, the VXR version may not be the best choice for novice drivers. The Arctic Edition is marginally more unruly and as a reasonably fast car is probably better suited to those with a little experience behind the wheel. Regardless, its distinctive looks and limited edition appeal will appeal to first time buyers anyway.
Quality and image
Thanks to the success of Vauxhall's VXR performance range the Corsa VXR ranks as highly desirable among hot-hatch fans. With its limited edition status, the Arctic Edition holds even greater appeal for keen hot-hatch drivers. That said, its bold appearance and even bolder exhaust mean it may be a little too much for some. The car's harsh ride would certainly show up any discrepancies in build quality, and no major flaws appear evident.
Accessibility
Accessing the front of the Corsa VXR is relatively simple despite the lipped seats that are positioned quite low and long doors that require room to open fully. The rear is considerably more difficult to get into because of the bulky front seats and a release mechanism with a mind of its own. The boot is easy to get to though, with a neat but sizable hatch.
Stereo and ICE (In car entertainment)
The model's system is more than capable of filling the cabin with decent quality sound and the CD-changer and radio system is neatly incorporated into upper portion of the large centre console. The menu based system take some getting used to, but once familiar makes a lot of sense and is easily navigated. Turn-by-turn navigation is basic but functional and a bonus in a car in this class.
Colours and trim
A single colour option, the unique Glacier White, keeps things simple for prospective Arctic Edition customers. The model also comes with 18-inch black alloy wheels of a special design. Inside, with the exception of the numbered plaque denoting the individual model's order in the series of 500, the interior is the same as that of the Corsa VXR. That means slightly garish black plastic trim and a chunky, VXR embossed steering wheel along with bucket seats. The exterior boasts butch front and rear bumpers, side-skirts and a roof spoiler. The Arctic Edition also benefits from a large glass sunroof in its black painted roof.
Parking
The Corsa's compact size makes it reasonably easy to park, although rear visibility is not the best in class. The turning circle is good, but the large alloys are easily scratched and require caution near kerbs. Electric power steering is light at low speed.
Spare wheel
Emergency tyre inflation kit as standard.
Range information
Petrol engine options - 1.0-litre (59bhp); 1.2-litre (79bhp); 1.4-litre (89bhp); 1.6-litre (148bhp); 1.6-litre (189bhp); 1.6-litre (204bhp). Diesel engine options - 1.3-litre (74bhp); 1.3-litre (89bhp); 1.7-litre (123bhp). Transmission options: five-speed manual gearbox, six-speed manual gearbox, four-speed automatic gearbox, five-speed 'Easytronic' automated manual gearbox. Trim levels: Expression, Life, Club, Design, SXi, SRi, Ecoflex, VXR, VXR Arctic Edition.
Alternative cars
Renault Clio 200 Cup deals with the power more efficiently
Seat Ibiza Cupra looks good and is great fun
Mini Cooper S is quick but expensive
Fiat Grande Punto Abarth version boasts style and performance