Vauxhall Astra Sports Tourer SRi 1.6 CDTi 16v 110 ecoFLEX Start/Stop 5dr review
Exterior styling has aged well
June 2014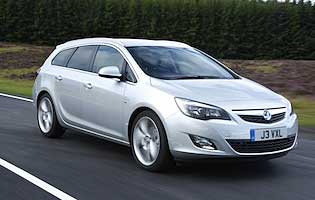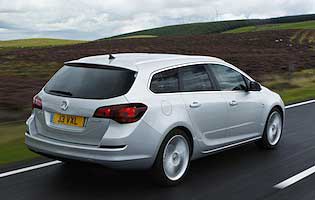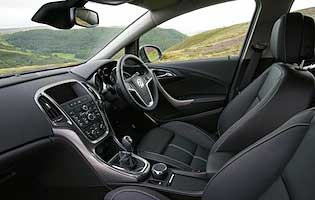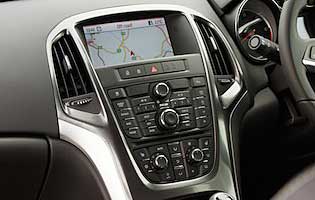 Overall rating

Likes:
Exterior styling has aged well
Upmarket interior feel remains a strong point
Impressive fuel economy from new engine
Good levels of refinement and performance
Gripes:
Button-heavy fascia could be more intuitive
Badge snobs will still likely prefer a German product
1.6 diesel a highlight - not all engines are this good
Sat-nav system looks and feels old in comparison to rival offerings
As Vauxhall continues to up its game, cars like its Astra have become more polished. From its sleek exterior to a cabin boasting a high-end quality ambience, the firm is genuinely taking the fight to more expensive and prestigious brands. This Astra Sports Tourer offers an added practical dimension, and is powered by a new family of frugal diesel engines.
Compact estate cars might form only a small proportion of sales but their added practicality shouldn't be dismissed. A case in point is Vauxhall's Astra Sports Tourer, a car boasting good levels of rear load space, an easy to manage seat folding system and an streamlined exterior - not something routinely associated with load-luggers.
A favourite of company car drivers, the Astra offers a good level of performance, space and refinement. In its latest generation 1.6-litre diesel guise, Vauxhall is adopting a greener approach to motoring with the engine's sub-100g/km CO2 performance. Available in 110 and 136 horsepower trim, the unit promises 70-plus mpg.
In the real world the 1.6-litre diesel Sports Tourer combination proves to be a solid offering from Vauxhall. Tested in 110 horsepower guise, the car is rarely lacking in outright performance, while the engine is pleasingly refined at all speeds. It's not a quick car, but it's easily capable of maintaining motorway speeds - an important attribute for mile-munching company car drivers.
The rest of the Astra is as you'd expect: well built, comfortable, easy on the eye. The car's cabin ergonomics could be better, and the 'busy' fascia is showing its age in comparison with rival cars. That said, Vauxhall is unashamedly targeting this 1.6-litre variant at the business community, with the result that it's well equipped for the asking price.
Our verdict on the Vauxhall Astra Sports Tourer SRi 1.6 CDTi 16v 110 ecoFLEX Start/Stop 5dr
Vauxhall could be accused of playing catch up with the introduction of a new family of cleaner, greener diesel engines, but the wait has been worth it. The Astra is a good home for this 1.6-litre diesel unit, as it will keep operating costs down for both fleets and drivers. That the unit is refined, quiet and willing is proof that Vauxhall doesn't lack the necessary skills, while opting for the Sports Tourer bodystyle ensures a welcome extra level of versatility.


Costs
Key to this particular Astra's appeal is its frugal diesel motor. Boasting a sub 100g/km rating will help when it comes to vehicle excise duty, and there's no denying that the 70-plus mpg official economy figure should endear the car to well travelled company car users.


Space and practicality
Vauxhall's Astra wagon has steadily grown in size over recent generations, yet it remains a manageable car to drive and park. The upshot is a car capable of swallowing a considerable amount of stuff, while the ease at which you can fold the rear seats further expands the car's versatility. Up front, in the cabin there's a good quantity of oddment storage areas.
Controls and display
In the main the Astra's controls and displays are good. The car's main dials are clear and intuitive, the manual gearshift and steering slick and communicative respectively. However, the car's main fascia appears to be a little button-heavy. Furthermore, there are better infotainment and sat-nav systems out there, boasting less complicated controls and onscreen menus.


Comfort
With its supportive front seats and adjustable driving position, those in the front should have a need to complain. The ride quality is very good, with the suspension coping well with rough road surfaces. Wind, engine and tyre noise are all muted from inside the cabin, which adds to the car's relaxed character.


Car security
Remote central locking via the key fob is expected in this sector and an immobiliser is also fitted. Covered storage in the cabin is adequate and items, while at the rear a sturdy parcel shelf does a good job of concealing your valuables.


Car safety
The Astra comes equipped with ESP as standard and also features numerous airbags and daytime running lights for extra visibility. Don't expect much in the way of intelligent systems as standard, although a quick glance at the options list will have you reaching for your wallet if you're seeking 'big car' features.


Driver appeal
In super frugal 1.6-litre diesel guise, this Astra isn't going to please keen drivers. It will, however, deliver a smooth, refined and relaxed driving experience. Even when pushed hard the engine remains composed, while all the major controls offer plenty of assistance. Ride comfort and cabin refinement are up with more expensive rivals, too.


Family car appeal
It might lack the outright versatility of, say, Vauxhall's own Zafira people carrier, but the Astra Sports Tourer still manages to score highly on family appeal thanks to its ease of use and, in wagon form, family-friendly flexibility. It's a strong contender for those not requiring MPV capability.


First car appeal
There's no reason why the Astra Sport Tourer couldn't be recommended as a first car if you need more space than what a typical supermini can deliver. In frugal diesel guise the car isn't going to be too powerful either, which will be bonus when sorting out insurance cover.


Quality and image
Build is robust and the finishing neat, with good quality materials used throughout the cabin. The Vauxhall badge does not hold quite the same appeal as that of the more premium car makers in this sector, but a modern range of stylish cars has helped Vauxhall's cause in this area in recent years.


Accessibility
In Sports Tourer form the Astra presents no problems for front seat occupants. The slightly raised seating position is a welcome bonus, while those in the back don't suffer the same hardship as some rivals. At the back the car's tailgate can be opened and closed with little effort, and reveals a useful low loading lip.


Stereo and ICE (In car entertainment)
The standard audio offering delivers a solid performance. Its centrally located display screen is useful, although the many buttons can prove a little confusing at first. The steering wheel mounted controls are more intuitive at first glance. Various inputs (USB, Bluetooth) are available but the sat-nav function looks and feels a little clunky.


Colours and trim
The Astra looks particularly good in solid colours such as red, white and black. Interiors are dark but not excessively gloomy. Alloy wheel options ensure the car looks smart when out on the road.


Parking
Being a car of moderate size parking shouldn't cause any problems. The Astra's steering is pleasingly light at low speeds, and all-round visibility is surprisingly good for a car with sizeable window pillars. Parking sensors make all the difference despite the Sport Tourer's good visibility.


Spare wheel
Space saver fitted as standard.


Range information
Petrol engine options - 1.4-litre (100bhp); 1.6-litre (115bhp, 180bhp). Diesel engine options - 1.6-litre (110bhp, 136bhp); 2.0-litre (165bhp, 195bhp). Transmission options: five-speed manual gearbox, six-speed manual gearbox. Six-speed automatic gearbox. Trim levels: Design, Tech Line, SRi, Elite, Bi Turbo.