Vauxhall Astra 1.7 CDTi Exclusiv 5dr review
Exterior styling is bold but not likely to alienate buyers
October 2009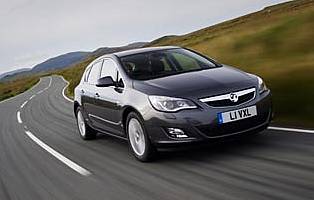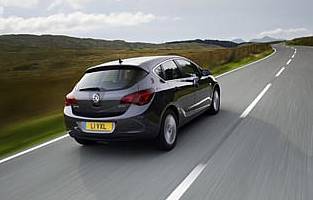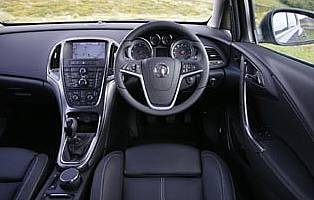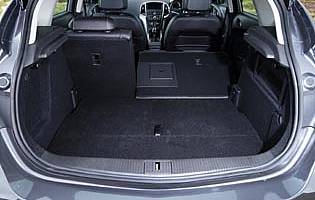 Overall rating

Likes:
Exterior styling is bold but not likely to alienate buyers
Supple ride makes urban motoring comfortable and stress-free
Rear seats fold easily to boost the car's carrying capacity
High quality interior is welcome step forward over its predecessor
Gripes:
Too many buttons clutter the central fascia
Save for dedicated eco models, economy performance isn't groundbreaking
Having both manual and electric handbrake options seems a little wasteful
High spec models with plenty of options can prove costly
Any new Astra is a big deal, and this Astra has been tasked with taking the brand upmarket. The trend for adding a greater amount of actual and perceived quality in mass market cars is now well and truly established. The Astra also boasts a more comfortable cabin, more interior space, a keener drive and greener engines.
Immediately obvious when you first catch sight of the Astra is its similarity with the larger Insigina. This is no coincidence but a deliberate attempt to push both cars - especially the Astra - further up the quality ladder. Mass volume cars from Skoda, Volkswagen, Honda, Toyota and the like have in recent years offered buyers near-executive levels of fit and finish for sensible money.
It's all very well having a car that's enjoyable to drive, but this attribute ranks a distant second place behind cabin quality these days - witness Volkswagen's success with the Golf. Fortunately Vauxhall's engineers focused on quality and the driving experience. The result is a pleasing blend of agility and comfort - think Ford Focus with the car's occasional over-firm edges rounded off.
Taken as a whole, this Astra earns the right to be called 'new'. Much effort has gone into increasing occupant space without adding wasteful extra kilos or centimeters. The chassis has been developed to deliver a sophisticated ride over a multitude of challenging surfaces - especially poorly surfaced British roads. Factor in a new or greatly improved range of petrol and diesel engines boasting enhanced green credentials and it's clear that the Astra is in a position to hold its own in the fiercely competitive family hatch market sector.
It's in the equally competitive company car market that the Astra is required to stand its ground. The consumer-orientated equipment (sat-nav, enhanced audio units, a plethora of trim options) are very nice, but the car must also make sense to demanding fleet managers. The aforementioned cleaner engines will certainly help the car's cause, as will the more comfortable cabin for when racking up the miles and proposed reduced running costs.
Our verdict on the Vauxhall Astra 1.7 CDTi Exclusiv 5dr
Tasked with making an all-rounder for both fleet and family customers, Vauxhall has transformed the once dowdy image of the Astra into something desirable and enjoyable to drive. This version offers a sensible middle ground in terms of comfort and handling dynamics, looks good from all angles and can be had with a vast array of useful standard and optional equipment. There's no denying that competition is stiff in the compact hatch sector, but this Astra is the best equipped yet to get the job done.
Costs
Like so many compact family cars, the Astra is unlikely to break the bank. With a range of new or improved engines boasting cleaner emissions and lower fuel consumption, tax and general running costs should be the same or better than its predecessor, while servicing will hopefully only of the scheduled kind.
Space and practicality
As a compact family car there are enough cabin storage areas for the usual assortment of drinks, mobile phones, maps and other related clutter. Occupant space is also good both fore and aft, while the Astra's boot is a good size and should easily swallow the weekly shop or luggage for a holiday. Fold the rear seats forward and there's enough room for the ubiquitous furniture flat-pack or two. picture of car from the rear Clean lines at the rear
Controls and display
In the main the Astra's controls and displays are first rate. The car's main dials are clear and intuitive, the gearshift and steering slick and communicative respectively. At first glance the car's main fascia appears to be a little button-heavy. Over time the various functions become more familiar but there are better solutions out there.
Comfort
With its supportive front seats and adjustable driving position, those in the front should have a need to complain. It's a similar situation in the back, plus the available headroom should ensure that adults are comfortable on long journeys. Under normal circumstances road and engine noise has been kept to a pleasing minimum.
Car security
There's nothing earth-shattering here; the standard remote central locking and immobiliser package is present, and in the real world is ideal for a car like the Astra. A sturdy parcel shelf hides belongings in the boot from prying eyes, while a steering lock can act as a low cost visible deterrent for the casual thief.
Car safety
No complaints here - the Astra is fully equipped with all manner of airbags and electronic stability aids. Vauxhall's engineers have been keen to stress that while the stability aids are a good thing, they've been tuned so as not to act like an overenthusiastic nanny - a good thing if you like driving.
Driver appeal
A noticeable change for the better over the previous model, this Astra is an altogether more 'sorted' experience. For the keen driver, Vauxhall concentrated hard on improving suspension and steering feel, while for everyone else the car's ride is supple and the engines are quiet unless provoked. The 1.7 CDTi range of diesel units perform well and have been designed to appeal to company car drivers. A new 1.4 turbo petrol engine offers low CO2 emissions plus a respectable turn of speed. picture of car interior Impressive quality levels and comfortable driving position
Family car appeal
Although Vauxhall's own Zafira or any other mid-size people carrier might be a better option, the Astra should prove acceptable for a growing family. There are no fancy folding seats or underfloor storage areas, but the basics are present: Isofix mounting points, ample oddment storage, affordable running costs.
First car appeal
It might not be as trendy as, say, a Mini, but Vauxhall's Astra is easy to drive and, assuming a low cost model is chosen, shouldn't prove expensive to run. Parking is straightforward and visibility is good, making the Astra a straightforward choice.
Quality and image
A stalwart of the motoring scene, Vauxhall products have experienced both highs and lows in popularity in recent years. This Astra, plus the Insigna, have been purposely designed to deliver a more upmarket experience. The work has largely paid off, with the Astra displays a cabin ambience and ride more akin to something from Toyota or Honda.
Accessibility
In five-door hatch form the Astra presents no problems for front seat occupants. The slightly raised seating position is a welcome bonus, while those in the back don't suffer the same hardship as some rivals - access and egress is surprisingly good. At the back, the car's tailgate proves easy to raise and lower.
Stereo and ICE (In car entertainment)
The standard offering delivers a solid performance. Its centrally located display screen is most useful, although the many buttons can prove a little confusing at first. Thankfully the steering wheel mounted controls are more intuitive at first glance. Various inputs (MP3 player, iPod, Bluetooth phone) are available depending on the model, as is an easy to use sat-nav system. picture of car in detail Spacious boot affords the Astra genuine family car status
Colours and trim
Surprisingly, for a volume produced car, there's little evidence of any colour sensitivity. Despite the Astra's bold appearance, all the available external hues flatter rather than cause any negative effect. In a bid to become better know as a producer of high quality cars, Vauxhall has given the Astra a dark cabin in a similar vein to its classy German rivals. Thankfully, the subtle trim accents help lift the somber ambience.
Parking
Being a car of a moderate size parking shouldn't cause any problems - even for novice drivers. The car's steering is pleasingly light at low speeds, and all-round visibility is surprisingly good for a car with sizeable window pillars. Where fitted, parking sensors make life even easier.
Spare wheel
Space saver fitted as standard.
Range information
Petrol engine options - 1.4-litre (87bhp, 100bhp, 140bhp); 1.6-litre (115bhp, 180bhp). Diesel engine options - 1.7-litre (110bhp, 125bhp); 2.0-litre (160bhp). Transmission options: five and six-speed manual gearbox plus six-speed auto depending on model. Trim levels: S, Exclusiv, SE, Elite, SRi.