Toyota GT86 Aero review
A car for the genuine enthusiast
April 2015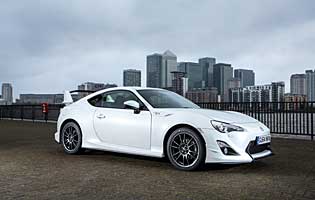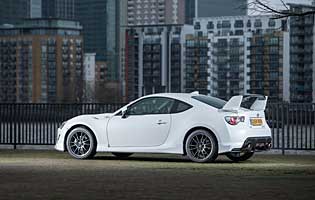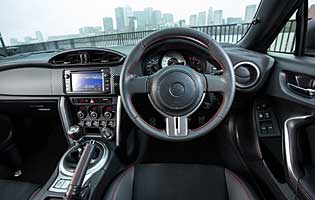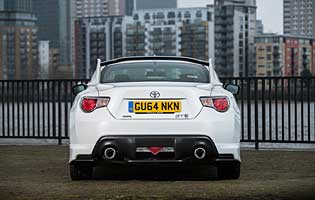 Overall rating

Likes:
A car for the genuine enthusiast
All key controls are responsive and well-weighted
Aero retains modest approach to power output
Increased range of options is welcome
Gripes:
Aero bodykit will not suit all tastes
Updates to cabin help but still a relatively plain environment
Usable every day but can become wearing on a long journey
Unrefined engine needs work to extract full potential
Toyota's most recent venture into the sports car world is the GT86, a 2+2 rear-wheel-drive coupe designed and built in conjunction with Subaru to give the brand a performance offering at an affordable price. Now Toyota has expanded the range which now includes the GT86 Aero, enhanced by a unique exterior design and a wider choice of options.
Toyota has enjoyed many years of success by offering a broad range of cars that are practical, efficient and easy to own, but the GT86 represents an important step for the company to enhance its credentials amongst the enthusiast market. The vehicle's development in conjunction with Subaru adds credibility too.
The joint venture between the two companies ensured plenty of technology and knowledge sharing, plus the bonus of Subaru of having its famous flat-four 2.0-litre petrol engine chosen as the sole power option. Unusually, turbocharging wasn't considered, meaning keen drivers are exposed to an 'old school' experience of being encouraged to use all the gears and all the revs.
As such, the GT86 is very much for the purist; its firm ride, rear-drive bias and engine that demands to be worked hard won't suit drivers spoilt by turbocharging, safe front-drive handling characteristics and a plush ride. The upside is an experience that's only as good as the effort you put in, meaning it can be quite a rewarding one.
Mechanically identical to the regular car, the GT86 Aero adds a bespoke bodykit including a substantial rear wing, side skirts, larger front bumper with bigger air vents and a revised rear bumper. The GT86 Aero also adds 18-inch OZ alloy wheels finished solely in anthracite, giving a visual boost compared to the standard car.
Our verdict on the Toyota GT86 Aero
The GT86 Aero brings a different visual approach compared to the standard car, and one that is entirely dependent on the buyer's preferences. Happily however the rest of the experience remains as before. The engine can sound harsh but is willing, while the enthusiasm and communication on offer through the steering and chassis is impressive, and makes this a genuine car for the enthusiast compared to key rivals.
Costs
The GT86 isn't a car you buy if saving money is important to you. The sporty Toyota's flat-four petrol motor needs to be worked hard for maximum enjoyment, which is guaranteed to have a negative effect on fuel consumption. Then there's the car's relatively high price in Aero guise when compared to the competition, which for some will be hard to justify but for others will add an air of exclusivity.
Space and practicality
For a sports coupe the GT86's cabin is reasonably practical. Oddment space is, as you'd expect, a little limited but front seat occupants have good head, leg and elbowroom. The rear will accept two adults for short journeys but really they are best suited to children. The boot however is pretty generous for a car of this size.
Controls and display
The layout of the GT86 is very straightforward, with a simple centre console housing large and clearly labelled switches. The instruments have relatively small script although in normal driving it's the digital speedometer which provides the quickest reading. The new Touch and Go system now available in the GT86 uses relatively simple graphics, but works very well.


Comfort
On the one hand the GT86 has good front seats which offer enhanced support, but to its detriment the ride is relatively firm and the noise levels from the engine can be intrusive at higher speeds. On balance it is acceptably comfortable but anyone seeking comfort and a sporting drive should look at alternatives.
Car security
As you'd expect, an alarm and immobiliser is fitted as standard, as is keyless start. Although there is a significant glass pane in the tailgate a sturdy cover keeps any items within safely out of sight.
Car safety
Aside from the standard complement of airbags and ABS, the GT86's stability control system has three settings, with fully on for maximum safety, a middle mode which gives a degree of slip with a safety net and fully off for those taking to the track in confidence.
Driver appeal
While the GT86 can be used as an everyday car it's not at its best when used in this way; instead it is best experienced on challenging roads with a driver who is keen to explore the handling and rev the engine. Do so and it reveals impressive balance, accurate steering and well-sorted suspensions. The GT86 Aero is quick rather than outright fast, but it has enough performance to balance the available grip.
Family car appeal
The GT86 could manage occasional family duties, but for daily use it would come up a little short on space as there's only one real spare seat and the hassle of getting in and out of the token rear seats would grate in time.
First car appeal
With its more outlandish looks the GT86 in Aero form might well be on the radar of younger new drivers but the reality is it will be too costly to buy and too expensive to insure for the vast majority of them. For novices it is a good way to learn about the subtly different driving characteristics of rear-wheel-drive however.
Quality and image
Image-wise the GT86 is right up there with the best of the current sports coupe crop. Toyota's return to this segment has been largely greeted with a positive response from fans. The GT86's does display a few rough edges though, with a cabin populated by too much dark, hard plastic and a dull engine note taking the edge off an otherwise promising experience.
Accessibility
With two long doors either side climbing aboard the GT86 isn't too much trouble, although it does sit low to the ground and so requires something of a drop down. One issue is that although the front seats tip and slide to allow easier access to the rear, they don't automatically return to their original position, making it awkward for the driver.
Stereo and ICE (In car entertainment)
The standard audio system is relatively basic with a CD/tuner and auxiliary and USB inputs, and although it sits high up on the dashboard for good visibility it does have an aftermarket feel about it. The optional Touch and Go system makes sat-nav easier to integrate, and the system is easy to use and understand.
Colours and trim
With a more eye-catching exterior design the GT86 Aero is likely to be best appreciated by its ideal buyers in louder paint colours. When finished in white it ties in with a motorsport feel, while bolder yellows or reds are sure to get noticed. On the inside the new carbon-fibre effect trim helps to lift the feel of quality and expense, although it still remains a functional cabin. 
Parking
Being a sports coupe, the GT86 sits low to the ground, and while the view out is good, over the shoulder is less impressive thanks to the thick rear pillars and small rear screen. However it is still a relatively compact car, which should make parking and basic manoeuvres straightforward with a bit of practice.
Spare wheel
Tyre repair kit fitted beneath the boot floor.
 
Range information
Petrol engine options - 2.0-litre (197bhp). Transmission options: six-speed manual standard, six-speed automatic an option. Trim levels: Prima, GT86, Aero, Giallo.