Toyota Corolla Verso 2.0 D-4D T Spirit review
Versatile seating will suit most lifestyles
April 2004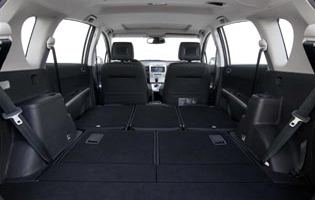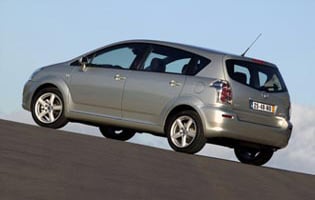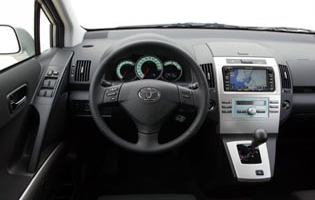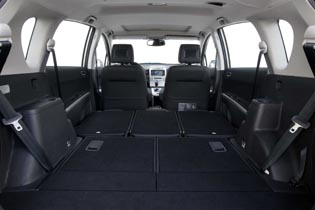 Overall rating

Likes:
Versatile seating will suit most lifestyles
Modern and stylish central console is pleasing to the eye
Optional Cornering Assist/Rear View Monitor system aids tricky manoeuvres
Mid-range acceleration of 2.0-litre D-4D allows for comfortable overtaking
Gripes:
Leather-effect plastic on dashboard cheapens the look of the interior
Diesel engine is vocal at idle
Some interior trim feels flimsy
Body roll invoked on tight corners
One of the first Toyotas to have been both designed and built outside Japan, the Corolla Verso MPV represents a new approach to how the firm does business. But how does this blend of Eastern philosophy and Western design fare against more established European models? Very well, since you ask.
Seats are fast becoming an insatiable commodity in the world of car designers and manufacturers. It seems that five are simply no longer enough and nowhere is this seat fetish more prevalent than in the MPV segment. Enter the Toyota Corolla Verso, the latest in a recent spate of seven seater vehicles to hit the market.
The Verso features 32 different seating combinations, all of which can be utilised with one touch of Toyota's clever tumble and fall folding mechanisms. So, for example, in the morning you can ferry about five adults and two children comfortably and then in the afternoon you can go back, fold down the rear five seats and move some furniture.
Doing battle with the Toyota we find Volkswagen's Touran and the Vauxhall Zafira, both worthy cars in their own right. While the Toyota has them both licked in the style department, it will be a far harder task to lure customers away from the Volkswagen badge's perceived quality and Vauxhall's value for money.
Toyota executives believe that the Verso is likely to be the cheapest car in the class to repair following an accident. 'Crash-box' sections, which have been fitted behind the front bumper, help reduce structural damage and keep down the cost of any repairs.
Our verdict on the Toyota Corolla Verso 2.0 D-4D T Spirit
This is an attractive vehicle that features many clever technological innovations. The interior is spacious and well laid out and the seats are extremely malleable. However, the rear two are cramped and cannot comfortably accommodate adult passengers.
Costs
The initial outlay for the Verso compares favourably to similarly equipped seven-seater MPVs. Insurance premiums should be affordable too, as will the fuel bills with the 2.0-litre D-4D returning 45.6mpg on the combined cycle. Servicing and repair costs should also be acceptable thanks to longer service intervals and the damage limiting 'crash box' sections behind the front bumper. The diesel's low emissions level (165g/km) will also mean good benefit in kind tax breaks.
Space and practicality
This is the Verso's forte. With all five rear seats folded into the floor you are presented with a cavernous void ready to be filled with furniture, bikes, pets or whatever you fancy. 779 litres of luggage capacity is impressive to say the least and will comfortably meet the needs of most buyers. Cabin stowage is also plentiful, with cubbyholes, glove boxes and the like adding an extra 108 litres of stowage.
Controls and display
The air conditioning switchgear is located on the eye-catching aluminium-effect centre console. It's rotational and feels well weighted. The stereo dials are to be found on either side of the satellite navigation screen higher up on the dash. Alternatively, you can make use of the discreet and uncluttered steering wheel-mounted controls. The instrument display takes the form of three aluminium
Comfort
An acoustic windscreen and good all-round sound deadening make the Verso a quiet and refined cruiser. The only aural intrusion is the noise of the diesel engine at idle, which can become slightly irritating. All seats are
Car security
Standard across the Verso range, buyers will find remote control central locking, a transponder key engine immobiliser, an electric steering lock and security window etching linked to a 24 hour help line. This is likely to be more than adequate, as this MPV isn't going to be that popular with joyriders and thieves
Car safety
Toyotas are renowned for excellent levels of safety and the Corolla Verso will do little to detract from this reputation. In fact, it may enhance it further thanks to its innovative knee airbag. This device is located in the lower part of the instrument panel and is designed to protect the lower part of the driver's legs. Eight other airbags come as standard as do seven three-point fastening seatbelts, a decoupling brake pedal mechanism, ABS and ISOFIX child seat anchors.
Driver appeal
Ordinarily, MPV designers are more interested in cup holders and wipe clean surfaces than precise handling and good levels of performance. The Verso, however, is marketed as the MPV for young, dynamic family groups who are still looking for a bit of fun from their car. To that end, Toyota has developed a new, more rigid platform on which to base the Verso. This, coupled with Avensis-sourced front suspension, contributes to the Toyota's surprisingly agile handling. The 2.0-litre D-4D's 114bhp and 205lb/ft of torque provide plenty of power for motorway manoeuvres and overtaking. Smaller 1.6-litre VVT-I units feel underpowered, though, particularly with a full load.
Family car appeal
Whether you have one child or five children, the Verso has a seating plan to suit you. Even if you only use the rear two seats once in a blue moon, the luggage space freed up once they are folded is perfect for shopping bags or suitcases. The headrest integrated DVD system will also help to suppress the cries of: 'Are we there yet?'
First car appeal
First 'family car' appeal rather than first car appeal is the name of the game here. Young single people aren't going to look twice at something like the Verso. Young family units will, however.
Quality and image
While Toyota may not be the trendiest of brands, it does have an impeccable reputation for quality, reliability and safety. The Verso looks and feels as though it possesses all of these qualities in spades and looks attractive, to boot. Versos are targeted at young, image conscious families and the clean, modern look is likely to appeal.
Accessibility
Gaining access to the Verso's forward five seats is made easy thanks to its large door openings and wide footwells. Head and legroom is ample and the front two seats are infinitely adjustable. The steering wheel too can be adjusted for both rake and reach. Things aren't quite so spacious in the third row, however, with each passenger allocated a paltry 65cms of personal space. This is better than some rivals, but over long distances it is likely to become irksome.
Stereo and ICE (In car entertainment)
T Spirit models feature a CD player and an in-car entertainment system with a DVD player and headrest-mounted screens. Satellite navigation is a cost option that isn't available on T2 and T3 models. The central console air conditioning controls are mounted on a chrome-effect section that looks modern and attractive. Steering wheel mounted stereo controls are neatly laid out and easy to reach. The six-speaker system sounds impressive, if not quite hi-fi and the quality of the DVD screens is excellent.
Colours and trim
There are eleven colours to choose from, including Regency Red, Stellar Blue and Storm Bronze. However, the Verso looks particularly fetching in Platinum and Granite. Buyers have the choice of three trim levels: T2, T3 and T Spirit.
Parking
The Verso's length and disappearing bonnet would make for awkward parking were it not for an elevated driving position and plenty of glass panels. The Hydraulic power steering also makes the Toyota light and manoeuvrable around town. However, if you are looking to make reverse parking and navigating city streets totally stress free, then the Cornering Assist and Rear View Monitor system is a must. Although it is an expensive option, this gadget promises to come in handy time and again. A prism lens pokes out from the grille and helps the driver to see round corners, while a camera at the back aids reversing.
Spare wheel
Space saver wheel fitted as standard.
Range information
There are two petrol engines available for the Toyota Corolla Verso MPV: a 1.6-litre VVT-i manual (109bhp) and a 1.8-litre VVT-i (127bhp) with the choice of either a manual or semi-automatic MMT gearbox. The 2.0-litre diesel engine (114bhp) is only available in manual form.