March 2012
Renault Megane Renaultsport 265
Megane Renaultsport looks especially striking in yellow
March 2012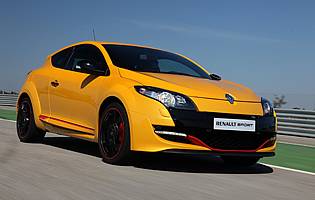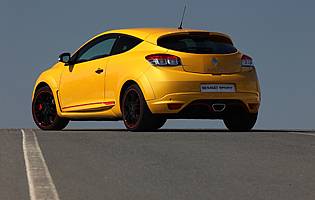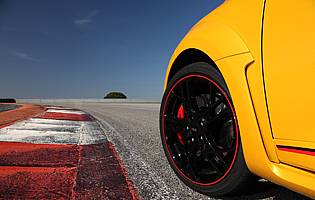 Overall rating

Likes:
Exterior design is relatively subtle but sporty
Superb handling and grip, remarkable poise for a front-wheel drive car
Engine is powerful, flexible and more pleasurable to listen to
Supportive Recaro seats as standard
Gripes:
Small rear window reduces visibility
Ride can be harsh on poor surfaces
Much of the cabin looks too similar to regular Megane models
No five-door option unlike many rivals
For 2012 Renault has implemented a number of upgrades to its Megane range, covering the hatchback, Coupe and Sport Tourer models. At the top of the range the Renaultsport Meganes have also benefitted from many of these enhancements designed to keep its hot hatch in contention with its numerous rivals.
The Renaultsport Megane 265 is a subtle evolution of the previous Megane 250, and is therefore instantly recognisable as such. Based on the Coupe version of the Megane only, it has a high tail, a small rear window and purposeful bulges around the wheelarches to hint at the performance on offer. Alongside the existing bodykit, the Megane 265 now benefits from LED daytime running lights and an additional style pack adds red detailing around the rear diffuser and front bumper.
The all-important power-plant will be familiar to fans of the previous generation Renaultsport Megane. The biggest change to the engine is the adoption of a Sport button, which as well as reducing the shackles of the ESP system also increases power output to the headline figure of 265 horsepower, as well as allowing the full amount of torque to be delivered. In addition this allows more exhaust noise to come from the car, enhancing the sporty performance.
Amid a raft of visual enhancements for the interior and exterior on top of the specially designed body kit that comes as standard, drivers can opt for 19-inch alloy wheels, leather Recaro sports seats and a range of electronic upgrades. Perhaps the most interesting option however, is the Cup chassis. Aimed at drivers keen to exploit the model's performance on track, the Cup chassis equipped models are marginally less expensive, feature less standard equipment but boast firmer dampers, stiffer anti-roll bars and a limited-slip differential. Both chassis variants boast three-stage ESP (normal, sport and off modes) and a racing start system for speedy getaways.
The focus on delivering sports performance is also evident from the level of attention paid to Renaultsport 265's hub assemblies. A special design uses complicated geometry to reduce unsprung weight - improving the car's handling and allowing larger brakes to be fitted. Like the standard Megane Coupe range, the Renaultsport 265 also benefits from an excellent safety record with impressive crash test results, and generous standard safety equipment.
Our verdict on the Renault Megane Renaultsport 265
The previous car wasn't exactly a bad performer, yet Renault's updates to its flagship hot hatch have done much to push the car further up the desirability ladder. Delivering breathtaking performance plus a combination of everyday refinement and practicality, the Megane Renaultsport 265 is a stand-out machine.
Costs
Insurance is likely to be higher than else where in the range, and tyres developed specifically for the model are likely to be expensive if wearing them out routinely. That said, the turbocharged petrol engine has the potential to be reasonably fuel efficient if driven sensibly. Purchase price offers a great deal of performance and equipment for the money, but optional extras are numerous and potentially expensive.
Space and practicality
Borrowing much from the regular five-door Megane, the Coupe's interior is familiar. The result is a good level of space for people and oddments. The rear section is less accommodating, purely because this is a three-door car with a sloping roof. It's perfectly useable, but tall adults won't want to travel long distances. At the back the boot offers ample space for what is a car biased more towards style, although the rear hatch is small and positioned rather high.
Controls and display
The Megane's cabin works well and is more intuitive than some rival offerings while managing to combine usability with design flair. A case in point is the main cluster's mix of analogue and digital displays. Elsewhere, the likes of remote audio controls on the steering column are a welcome addition and separate controls for the sat-nav, where specified, are useful. A yellow rev counter is a neat touch for the sports range-topper and an audible buzzer warns when its time to change gear. Steering, pedals and gear change are excellent, and well suited to a more aggressive driving style.
Comfort
Striking a sound balance between sporting behaviour and comfort, the Megane Coupe is a relaxing vehicle to ride in. Road noise is pleasingly low in all situations, plus the cabin is big enough for two adults up front to not feel cramped. You'll need to be more accommodating if you're sitting in the back, however. Decent equipment levels help in the comfort stakes, too. The standard Recaro seats are superbly supportive and very comfortable.
Car security
An alarm and immobiliser are fitted as standard on all Megane Renaultsports, but outside these expected items there is no extra security provision, something that could well be worthwhile on a car that is this desirable.
Car safety
Alongside the usual kit like standard ESP and a full complement of airbags the updated Megane can now also be specified with lane-departure warning system and automatic high/low beam headlight adjustment, all adding to the high overall level of safety.
Driver appeal
For hardcore drivers and track fans the Cup version comes with a limited-slip differential, but the standard version still offers plenty of thrills with a responsive chassis, nicely weighted steering with plenty of feedback and a powerful engine. Despite its speed and impressive handling characteristics, the new model feels refined on the motorway and the ride is firm, possibly too firm for some so an extended test drive is recommended.
Family car appeal
There's a reason the five-door Megane exists - it's a better choice than the three-door model. Rear seat access isn't fantastic in the latter, something you'll notice when attempting to belt in small children, even though the rear seats have Isofix mounting points for secure installation.
First car appeal
Easy to drive and smartly styled, the Megane Coupe is not a bad choice as a first car. The Renaultsport 265 version may be a little too powerful for the novice driver, however, and insurance may prove a sticking point in a performance vehicle.
Quality and image
For years Renault was not highly regarded due to patchy build and reliability issues. Things have changed enormously, plus the designs are now much more attractive. Those factors alone have ensured a more positive response from the public while great strides have been made on the durability front. The Renaultsport models have proved particularly popular. Backed by on track Formula One successes, recent Renaultsport models have proved themselves to be worthy of recognition from serious drivers.
Accessibility
For a three-door car the Megane Coupe is a relatively straightforward machine to access. Like any coupe its doors are big, so you might need to exercise caution when in tight spaces. Front seat access is fine, while you'll need to be reasonably agile to access the rear seats - it's easier to get in than out, mainly due to the larger Recaro seats. At the back the car's tailgate doesn't require much effort to raise or lower, but is small. The interior door handles are positioned too far forward, meaning more effort is required to close the door or hold it steady in a gust of wind.
Stereo and ICE (In car entertainment)
An updated audio system has a much more user-friendly interface; the main controls have larger buttons and are clearly labeled while the audio interface is now a USB and auxiliary input rather than the uncommon co-axial input of old. The column-mounted controls are still present and make life much easier for the driver, allowing a great deal of control with both hands still on the wheel.
Colours and trim
Renaultsport fans will be pleased to learn that the Sport yellow paint option is retained, and is even available on the seatbelts and door inserts for fans of a loud interior. Elsewhere the Renaultsport model gets all the additional kit you might expect of the range topping sports model; alloy pedals, leather wheel and gear knob, standard 18-inch alloy wheels (bespoke 19-inch wheels are an option), an F1 style rear diffuser and tweaked bumpers.
Parking
Despite the Megane's low-slung driving position forward visibility is good. Rear visibility is less impressive due to hunched shoulders and a narrow, angular rear screen. Accurate steering with plenty of assistance certainly helps matters, while parking sensors make a world of difference.
Spare wheel
Space saver fitted as standard.
Range information
Petrol engine options - 1.2-litre (115bhp); 1.6-litre (110bhp); 2.0-litre (265bhp). Diesel engine options - 1.5-litre (86bhp, 106bhp); 1.6-litre (130bhp); 2.0-litre (160bhp). Transmission options: five and six-speed manual gearbox depending on model, plus CVT auto gearbox (2.0-litre 140bhp petrol only). Trim levels: Expression+, Dynamique TomTom, GT Line.
Alternative cars
Volkswagen Golf GTI Classy, capable and usable every day
Skoda Octavia vRS Good cabin space, fine balance between performance and value, good value too
Alfa Romeo Giulietta Cloverleaf Attractive design although more subtle compared to rivals
Mazda 3 MPS Five-door only, fast and capable