April 2012
Renault Megane Hatch 110dCi Dynamique
Despite changes the Megane will be instantly recognised as such
April 2012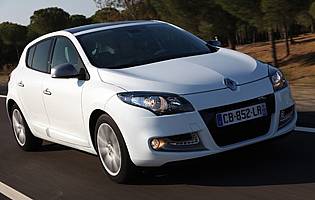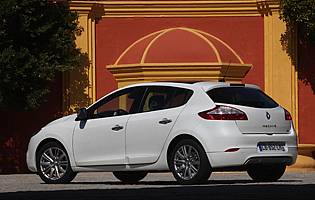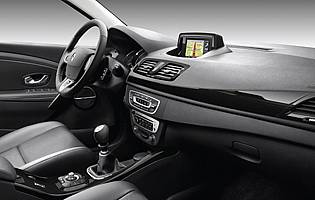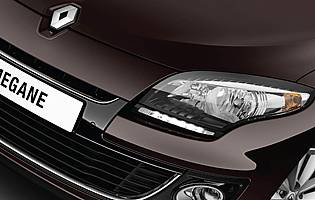 Overall rating

Likes:
Space efficiency good across all bodystyles
Specifications enhancements are welcome
New engines are impressive, particularly the 1.6-litre diesel
Very low emissions on many models
Gripes:
Driving experience is competent and safe but not very engaging
Instrument layout and controls can be confusing at first
Exterior looks improved but still likely to be unpopular with some
1.6-litre petrol remains inefficient compared to rest of engine range
No manufacturer competing in the compact hatch segment can afford to rest on their laurels. Such is the breadth of competition that it is easy to be left behind, hence Renault has undertaken a comprehensive revision of its popular Megane model, both in hatchback and coupe forms.
The Megane has been one of Renault's most important models, competing in one the most fierce market sectors across three bodystyles. The current generation Megane was introduced in 2008 and brought an all-new exterior and interior, new engines and increased technology. Now the Megane has been refreshed for the 2012 model year with a number of detail changes rather than major alterations.
Visually the Megane is broadly similar to the existing car - the most obvious changes are at the front of the car where gloss black bumper inserts have been added with chrome highlighting. Dynamique TomTom models and above also get LED daytime running lights, which are becoming a popular feature and give the front of the Megane more distinction and personality. A broader range of alloy wheels are now also available.
More importantly the Megane benefits from a wider range of engines, including some new units that claim to offer much improved efficiency and performance. A 1.2-litre turbocharged petrol, a revised 1.5-litre diesel and a new 1.6-litre diesel all feature stop/start systems and energy recovery technology in order to maximise efficiency.
There have also been some changes to the Megane's specification and trim designations for a wider choice. There is a new entry-level model dubbed Expression+ which benefits from an improved audio system and Bluetooth connectivity as standard, while at the other end of the range the GT Line TomTom gains features like an automatic parking brake and a reversing camera as standard.
Our verdict on the Renault Megane Hatch 110dCi Dynamique
All of the changes made to the Megane improve it in some way; specification enhancements are worthwhile and the new engines are highly efficient and good to drive. Overall the Megane provides a highly competent package, but not one that is hugely engaging to drive or to own. Some rivals do a better job of combining value and efficiency with driving pleasure.
Costs
With the right engine choice the Megane can be a very cheap car to run. The most frugal 1.5-litre diesel unit claims to be the most economical compact car on the market, which should result in spectacularly low fuel bills as well as zero vehicle excise duty.
Space and practicality
The Megane makes the most of its footprint, providing plenty of cabin space both front and rear, plus a generous boot. There are useful storage areas in the cabin plus a generous glovebox, and the Megane is therefore well-equipped to cope with various combinations of passengers and luggage.
Controls and display
Thanks to a few changes in respect of the audio system the Megane's cabin is easy to read and simpler to use. The combination of analogue and digital instruments remains which may not be to all tastes, but the main controls on the fascia are easy to understand. Ditching the turn-and-push control knob that controlled many of the audio and preference settings has also improved its usability significantly.
Comfort
All the engine options available in the Megane offer impressively low noise levels, and with a cabin that is well-insulated from exterior noise the overall comfort levels are good. The only demerits are an increase in wind noise at higher speeds and models with sports suspension do deliver a harsher ride.
Car security
Famous for its unusual keycard substitute for a conventional key, depending on the model selected you can take this a step further with complete 'keyless go' by keeping the card in your pocket at all times. Anyone returning to the car in dark, unfamiliar surroundings will appreciate this feature. Combined with the predictable immobiliser package, this is all you will ever need. And being an estate car, the luggage cover is a sturdy one that should have no difficulty keeping out prying eyes.
Car safety
Renault has worked hard to cultivate its impressive safety reputation, and this Megane is another fine example of what can be done in this sector. With no shortage of airbags front and rear, the standard fit electronic stability aids help keep things in check when conditions are less than ideal.
Driver appeal
The key appeal of the Megane's driving experience is that it strikes a respectable balance between comfort and sharp handling. Driven in a normal fashion the smooth and relatively torquey 1.5-litre diesel engine makes life easy for the driver, with consistent and accurate responses from the major controls. When pressed, the Megane is a willing machine and grips well, but the fine control and dynamics of the Renaultsport versions isn't quite so apparent in the more humble versions.
Family car appeal
Meganes will inevitably see family duties and are well-equipped to cope. As long as a dark cabin colour is specified the materials are tough enough to cope with children of all ages and the well-sized boot will happily swallow the bulkiest of pushchairs.
First car appeal
Many first-car buyers will probably have modest budgets which the Megane might fall outside, but in all other respects it would make a fine choice as a first car thanks to its easy-going nature.
Quality and image
Renault has claimed a great deal of attention has been given to quality, and from the inside at least the Megane feels well constructed. The perceived quality of the materials appears to be up to the class standard but not exceptional, with a uniformly dark finish on most surfaces. Image-wise the Megane is seen as very much middle of the road, although the impressive Renaultsport models do help to boost its credentials.
Accessibility
The five-door only hatchback Megane allows easy access for passengers front and rear, with generously-sized pull handles on all the doors and large apertures through which to climb. The same goes for the boot, which has a large tailgate and a well-placed handle both inside and out.
Stereo and ICE (In car entertainment)
A new control panel for the Megane's audio system does much to improve the usability. A USB slot now sits on the front of the unit and the three-way phono inputs have been abandoned in favour of a much simpler auxiliary-in slot. The turn-and-push control knob has also been ditched, making it easier to use while the upgraded power and speaker count all contribute to a better overall experience.
Colours and trim
Very minor changes inside the Megane's cabin have centred on an increased choice of trims, which do boost the cabin's appeal if chosen wisely. A new leather option includes pale cream leather, which although attractive may not suit the typical life of a family hatchback. Two additional exterior colours also make the most of the car's looks, with brighter shades helping to give a visual lift to the shape.
Parking
The Megane's rear window is relatively shallow but apart from this parking is a straightforward affair. The reversing camera fitted as standard to GT Line TomTom models is a very useful addition, and in this guise there is no excuse for struggling to get the Megane parked in any suitable space.
Spare wheel
Emergency tyre repair kit fitted beneath the boot floor.
Range information
Petrol engine options - 1.2 TCe (115bhp); 1.6-litre (110bhp); 2.0-litre (256bhp). Diesel engine options - 1.5-litre (90bhp, 110bhp); 1.6-litre (130bhp); 2.0-litre (160bhp). Transmission options: five and six-speed manual gearbox depending on model, plus CVT auto gearbox (1.6-litre petrol only). Trim levels: Expression+, Dynamique TomTom, GT Line TomTom.
Alternative cars
Ford Focus Class leader is good looking, fun to drive and has clever engines
Vauxhall Astra Divisive looks but a good all-rounder with strong engine range
Skoda Octavia Ageing but still appealing hatchback, excellent value and spacious
Peugeot 308 Spacious and comfortable competitor, looks may not suit all