December 2012
Porsche Cayenne Diesel S
Second-generation model considerably more handsome than the original
December 2012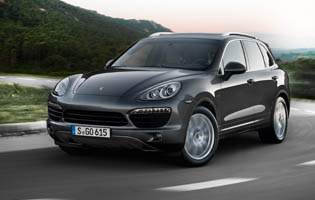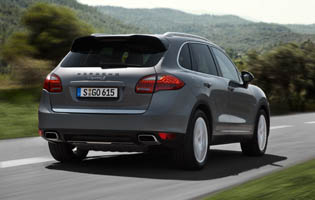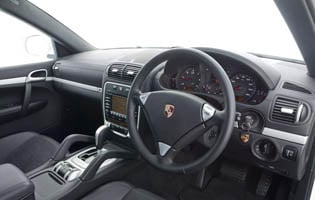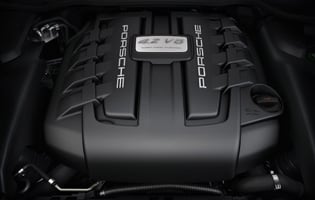 Overall rating

Likes:
Vast, flexible performance from a fine engine
Hugely impressive blend of comfort and handling for such a big car
Spacious, practical and luxurious cabin
Kudos of the Porsche badge
Gripes:
Handles impeccably but still feels big on the road
Exterior design much improved but may still put some buyers off
Menu-based infotainment system requires acclimatisation
Although frugal for the performance it will still cost money to run
Porsche broke the mould when it created the Cayenne, not only in terms of branching out into a segment previously unexplored by the manufacturer but also the first to offer genuine high performance and sportscar-like handling. The second generation version has been expanded with petrol, hybrid and diesel versions and now there is a high performance Diesel S version for even greater choice.
The latest generation of the Cayenne answered all the criticisms of the original car to create an SUV that was genuinely exciting to drive and desirable yet still as practical and comfortable as any other. Despite the focus on performance the Cayenne has been offered with a variety of engine choices, broadly matching those of the Panamera grand tourer.
The existing V6 diesel engine continues as before, but the new Diesel S model debuts a V8 diesel unit. With twin turbochargers it is hugely powerful and vastly torquey, and offers comparable performance to the naturally-aspirated petrol V8 of the Cayenne S model. Despite the huge performance it retains some of the typical diesel frugality - economy and emissions are far superior to the equivalently-fast petrol model, helped by features such as automatic stop/start.
This massive performance is wrapped up in what is still a full-size SUV. The Cayenne has seating for five rather than seven, but those lucky occupants benefit from a cabin that is both luxurious and spacious. Porsche built the Cayenne to satisfy Porsche customers who wanted more space and practicality than any traditional Porsche coupe could offer, and its hard to argue with the logic.
Crucially, the diesel engine fails to take the edge off what has traditionally been the Cayenne's key quality; a hugely capable and engaging driving experience. Allied to Porsche's eight-speed automatic Tiptronic S transmission, the Diesel S also offers an adaptable suspension system that can offer comfort and sport settings. A sport option also alters the steering and throttle response for greater thrills.
Our verdict on the Porsche Cayenne Diesel S
The extra performance of the Diesel S is a huge step forward over the regular Diesel model, and genuinely transforms it into a version of the Cayenne you'd buy outright for its performance rather than just the economy. It's as quiet and and comfortable as a petrol, just as fast, more economical and comparable on price. Arguably it is the best all-round version of the Cayenne to date.
Costs
Great strides have been made regarding engine efficiency and the Diesel S offers impressive returns for a vehicle of its size and performance, aided by the smooth start-stop system. Lower running costs and tax bills will result, but the Cayenne is still a premium model and will require considerable investment to own. Optional extra's can prove costly at the purchasing stage, too.
Space and practicality
The Cayenne's spacious cabin can easily accommodate five adults and rear legroom, headroom and shoulder-room is great. Rear seats can be moved fore and aft, which helps when fully loaded. There is plenty of oddment storage in the cabin and the boot is a good size, although the floor is quite high making heavy objects a struggle to lift in. With a spare wheel absent, more space can be found beneath the boot floor.
Controls and display
Despite boasting an in-depth menu based system for operating a lot of the controls, the Cayenne still features a large spread of buttons around the cockpit. These are required because of the variety of systems fitted to the car, but prove easy to operate thanks to a sensible layout on the whole. The off-road controls are easy to understand and, due to their layout, give you an instant status update for the suspension and transmission settings. One of the instrument binnacle dials can also shift functions, serving as a trip computer with a number of options or additional sat-nav screen.
Comfort
Even on 21-inch alloy wheels the Cayenne's ride is cosseting. A comfort setting on the adaptable damper system proves very good for motorway use with an airy, wafting ride quality. Normal and Sport settings provide a little more feel through the chassis. The eight-speed transmission's changes are very smooth and on-road refinement is excellent, with the diesel engine only noticeable audibly when cold. The stop-start system is impressive too, failing to hurt refinement or drivability. The interior is designed with driver and passenger comfort in mind. Leather seats are supportive and shapely and rear seat passengers have their own ventilation controls.
Car security
An immobiliser, alarm and tracking system are fitted as standard, which will prove reassuring as the Cayenne is a highly desirable car. Plenty of internal storage will keep valuables hidden from sight and the space beneath the boot floor could also prove useful for hidden storage. Naturally, remote central locking is standard, but not keyless entry. Lights can be set to remain on for a designated period after locking for additional personal security.
Car safety
With all the airbags and electronic stability systems you could ever need, the Cayenne is well equipped in this department. The car's all-wheel drive system is, obviously, a major asset in itself as are piercing Halogen headlamps.
Driver appeal
The new engine in the Diesel S completely dominates the driving experience, and enhances it significantly over the standard diesel model. In normal driving the slick transmission and big torque reserves make it especially relaxing to drive, requiring very little effort by the driver to make progress. On the other hand when the full performance is exercised the Diesel S is an astonishingly rapid car. It can accelerate rapidly for almost any speed, accompanied by a pleasurable V8 rumble. All that speed is translated easily to the road thanks to four-wheel drive and the very composed chassis.
Family car appeal
For all the Cayenne's performance credentials, the car is also a great addition to the family. Offering generous accommodation and high levels of comfort, the added bonus is that the Cayenne is fun to drive when the whole family is not aboard.
First car appeal
It might be an easy car to drive at modest speeds, but the Cayenne is hardly an appropriate first car, due in the main to its performance and running costs.
Quality and image
The Cayenne brand has had its ups and downs over the years. Its looks divided opinion from launch, although a mid-life facelift greatly improved things and the current model looks sharp and contemporary. There's no question over the car's abilities on or off-road, though. And there's the badge, which still carries a lot of weight. The Cayenne is a vehicle that commands respect.
Accessibility
Being one of the more low-slung SUVs on the market, cabin access should be straightforward for most agile people and accessing the rear seats is easy through large doors. It's still possible to muddy trousers against the sills when exiting, however. Opt for a car with a powered tailgate if you're of short stature and all your problems will be solved, otherwise it'll be a bit of stretch to reach.
Stereo and ICE (In car entertainment)
All of the Cayenne's major infotainment features are easily accessible through the touchscreen system, although some of the unit's exhaustive functions are buried deep in the menu-based system and require some familiarisation. Audio quality is excellent even with the base system and connections are present for a variety of portable devices. An integrated mobile phone SIM card reader is a useful option and saves on battery draining Bluetooth over long journeys. A large colour screen is used for all functions including the excellent sat-nav.
Colours and trim
Silvers and dark shades work best on the Cayenne's sizable body while the chromework and new details such as piercing LED running lamps bring the best out of the shape. The model is easily capable of swallowing up optional 21-inch alloy wheels and twin exhausts mean the diesel powered version gives nothing away to the petrol models. Standard leather inside befits the premium status.
Parking
Despite the Cayenne's size, there are few issues when it comes to parking. An excellent turning circle belies the four-wheel drive configuration and manoeuvring is relatively easy. Even though the Cayenne's exterior mirrors look small, their position and size are fine for parking and a parking sensor system complete with on-screen colour radar display helps enormously. It remains a sizeable vehicle, however, so spaces must be chosen with care.
Spare wheel
Emergency tyre inflation kit stored beneath boot floor.
Range information
Petrol engine options: 3.6-litre (300bhp); 3.3-litre hybrid (308bhp combined); 4.8-litre (400bhp and 500bhp turbocharged). Diesel engine options: 3.0-litre (245bhp); 4.2-litre (382bhp). Six-speed manual gear box, eight-speed automatic gearbox. Trim levels: Cayenne, S, S Hybrid, Diesel, Diesel S and Cayenne Turbo.
Alternative cars
Infiniti FX FX30d boasts startling looks and decent economy
Range Rover Sport V6 diesel is a good all-rounder
BMW X5 Genre-defining model is quick in XDrive 30d form
Audi Q7 3.0TDI offers decent economy for such a large vehicle