April 2011
Porsche 911 Turbo S
Large air scoops pick out the Turbo from standard 911s
Auust 2013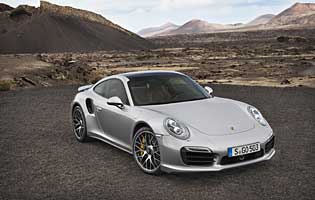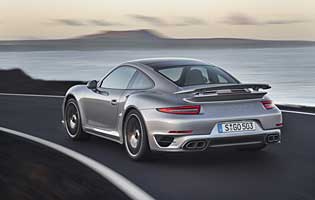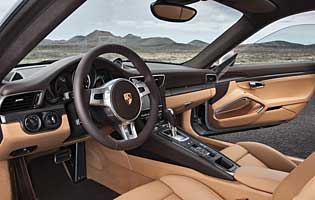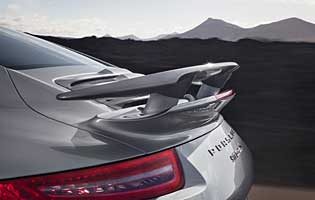 Overall rating

Likes:
Hugely powerful, responsive and flexible engine
Seamless and intelligent PDK transmission
Comfortable cabin is easy to use
Impressive balance, reassuring handling yet decent ride
Gripes:
An expensive car to buy, insure and run
Although better than previous Turbos, still not as pretty as Carrera models
Even top-spec Turbo S has a long options list
No manual option
The 991-series Porsche 911 range has been expanding in all the usual directions, with the original Carrera and Carrera S models followed swiftly by the Cabriolet and Carrera 4 versions. To virtually complete the set the German firm has introduced the Turbo version, complete with an even faster Turbo S variant at the same time.
Although the basic template of the Porsche 911 is relatively simple - and has remained largely unchanged for decades - one of the secrets to its success has been the number of variants spun off the original theme. One of the most successful has been the Turbo model, which in many iterations has been the fastest 911 variant of them all.
This latest 991-series Turbo also follows a familiar template of its own; since 1994? 911 Turbos have harnessed ever-spiralling power outputs with four-wheel drive and since the last generation have also been fitted with the PDK dual-clutch transmission as standard.
The 991-series Turbo benefits from all the enhancements that the standard Carrera models get over their predecessors; namely the longer wheelbase, more spacious cabin, higher quality materials and lighter weight. However there are a number of model-specific features such as active aerodynamic aids, 'virtual' intermediate gears and active rear steering.
In previous iterations Porsche has also followed the introduction of the Turbo model with a more extreme Turbo S variant at a later date, but with the 991-series cars the decision has been made to introduce both at the same time. As well as an increased power output Turbo S models gain the highly desirable carbon-ceramic brake package as standard.
Our verdict on the Porsche 911 Turbo S
The 911 Turbo S is undoubtedly an expensive car, but in truth it is something of a bargain considering its capabilities. It offers genuine supercar-levels of performance and handling - at considerably less than supercar rivals - but gives nothing away in respect of the comfort and usability that makes all 911s viable everyday cars. It is a car for the lucky few, but is devastatingly effective.
Costs
Despite fuel efficiency improvements and reductions in some running costs like road tax, the 911 is still a very expensive car to own. Predictions of close to 30mpg are beyond reach for the vast majority of buyers, but over 20mpg is realistic. Depreciation is among the lowest of any sports car thanks to its reputation for balancing quality and performance.
Space and practicality
Increased safety requirements initially led to a reduction in the size of the storage area under the bonnet, but the chassis dimension changes allowed this model to retain the same amount of luggage space as the one it replaces. It's not a great deal but with careful packing it's enough for a weekend away or a trip to the shops. Considering the 911's performance and image, though, it's relatively practical.
Controls and display
The main cluster gauges offers a thorough assessment of the car's condition, not just the normal aspects like oil and coolant temperature. A digital readout gives a wide choice of information to display, like the next sat-nav instruction, average fuel economy or even an instant G-force meter.
Comfort
For a car so fast and capable it seems unlikely that it could be comfortable too, but the 911 Turbo S manages it. The seats are excellent, with a huge range of adjustment depending on the exact specification, while when driven in the most friendly mode the engine is quiet, gearshifts smooth and the ride perfectly acceptable.
Car security
All 911s are secured with an advanced immobiliser with an in-key transponder, an alarm and a radar-based interior movement detection system. Together they secure the doors, bonnet, ignition lock and passenger area to make sure any intrusion or use of force sets off the system. There's also a tracking system available on the options list which can locate the car in most European countries.
Car safety
In many respects the Carrera 4 is the safest 911 of them all, blessed as it is with additional traction from the four-wheel drive system, Porsche Active Stability Management, big brakes and wide, grippy tyres. Should the worst happen a strong passenger cell and an assortment of airbags are in place to intervene.
Driver appeal
Often seen as more of a high-speed device than the more charismatic Carreras or the track-focused GT3, the Turbo S is more complete than ever before. The addition of the latest torque vectoring system, slick PDK gearbox and active stability management result in a car that is playful but controlled and reassuring. The huge performance can be utilised with ease and security, while the standard ceramic brakes on the Turbo S are seemingly fade-free.
Family car appeal
As a two-plus-two with child seat mounting points, Porsche clearly designed it to be used as a family car if an owner chose to do so. The long doors allow access to the rear seats more easily than might be expected, and the amount of legroom once seated is plenty for young children.
First car appeal
Docile though it is when driven with restraint, no new driver would ever successfully arrange insurance on such a fast and expensive car.
Quality and image
The 911 is a remarkably successful car and has built up a large fan base worldwide, mainly due to the strong lineage of models over the decades and the purity of the final product. Its quality is beyond dispute, however, with luxurious materials and finishes throughout the cabin and the kind of precision engineering under the skin that you'd expect Porsche to give to its flagship.
Accessibility
Although it's more practical than many supercars on the market, the 911 is still a low-slung car and is not ideal for people who aren't that flexible. Getting in and out requires people to negotiate their way past a prominent seat back side bolster that gets in the way, particularly on entering the car. Long doors also require an ample amount of space beside the car to be opened wide enough.
Stereo and ICE (In car entertainment)
As befits such an expensive car the standard stereo is very good and includes CD, radio, auxiliary and USB inputs. For extra power and a fuller, more balanced audio experience there is an optional Bose surround sound hi-fi system. Porsche's Communication Management system includes satellite navigation and built-in telephone operation, and the system works very well.
Colours and trim
The 911 is bought by people from all sorts of backgrounds with a variety of tastes, and as such there is a wide selection of colours from the very obvious to the very subtle. Several solid finish choices are joined by metallic and 'special' paints, which cost extra. Inside the trim choices span an equally wide spectrum, thankfully more subtle shades are plentiful.
Parking
The variable power steering lightens enough to allow very easy manoeuvring, but the high dashboard, rear window and door shoulders reduce visibility. Excellent wing mirrors help when reversing, but long doors sometimes make it difficult to get in and out of the car in bay spaces.
Spare wheel
Tyre inflation kit fitted as standard.
Range information
Petrol engine options - 3.4-litre (345bhp); 3.8-litre (395bhp, 523bhp and 552bhp). Transmission options: seven-speed manual as standard, seven-speed PDK twin-clutch automatic - standard on Turbo and Turbo S models. No specific trim levels.
Alternative cars
Nissan GT-R Very close to the 911 in many respects but considerably cheaper
McLaren 12C A technical masterpiece and a genuine supercar but much more money
Ferrari 458 Italia A scintillating full-house supercar with a price tag to match
Lamborghini Gallardo Still fast and attractive but soon to be replaced