December 2014
Porsche 911 Carrera GTS
Carrera GTS is arguably the best looking 911 of them all
December 2014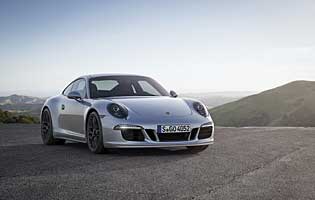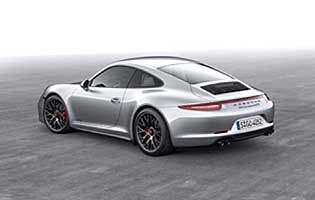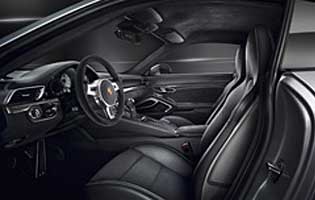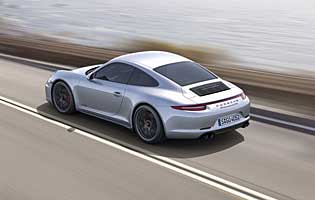 Overall rating

Likes:
Small visual tweaks enhance exterior appearance
Makes sense on paper compared to 911 Carrera S
Beautiful balance of performance, handling and grip
Unburstable feel
Gripes:
Increasing 911 model proliferation could be viewed as unnecessary
Fewer options to tailor the exterior compared to regular Carrera
Despite its performance, GTS variant isn't exactly cheap even by Porsche standards
Can be hard to visually distinguish from regular car at a distance
Few sports cars are available in as many guises as the 911, with two and four-wheel-drive options, coupes, cabriolets and Targas as well as a variety of engines and transmissions. However it is the GTS tag that has been introduced elsewhere in the Porsche range to designate increased performance and handling, and now the 911 has got the treatment.
This latest 991-generation 911 has won numerous plaudits as a modern interpretation of this iconic car. As well as its elegant design consistent technical innovation has made it as forward-looking as much as it looks to the past for inspiration, and the 991 is available in more variants and configurations than any previous model.
The GTS model is positioned above the Carrera and Carrera S but below the GT3 in the range of naturally aspirated models, essentially designed as a high specification road version as opposed to the track-oriented GT3. The GTS uses the wide-body that appears on the four-wheel drive Carrera 4 model, giving it a 44mm wider body and an increased track, whether two or four-wheel-drive is specified.
Visually the GTS is distinguished from other 911s through a number of small but significant differences. The most obvious of these is the deeper Turbo-look front bumper and the attractive 20-inch centre-locking wheels finished in satin black. Discreet GTS badges are also added, while four-wheel-drive models also have the distinctive full-width reflector at the rear.
The mechanical changes to the GTS are more significant than in the previous generation too. It is based around the Powerkit, an expensive option on the Carrera S model that brings additional power through substantial engine upgrades and also includes a sports exhaust, active engine mounts and the Sports Chrono pack. To this the GTS also gains a unique suspension tune including active suspension management and Bi-xenon headlights.
Our verdict on the Porsche 911 Carrera GTS
It's hard to imagine that anyone could find a 911 Carrera S lacking in power or drama, but the GTS makes a strong case for itself. Purely in financial terms it offers a significant boost in specification for less than the cost of the Powerkit alone on a Carrera S. Yet it is much more than that, managing to offer a compelling drive on road or track and yet be sufficiently manageable on the road.
Costs
Running costs for the 911 are likely to be high. Fuel economy is low in actual terms although choosing the PDK gearbox does help to achieve good figures compared to rivals. Insurance and running costs will be at the higher end of the scale, while servicing isn't cheap on a car like this, but inevitably so on a car of this nature.
Space and practicality
Front seat passengers have plenty of room in all directions, and are unlikely to have any quibbles. In the rear space is in short supply, although children could use the seats for modest journeys. Storage space in the cabin is relatively good, although the front boot is only suitable for carrying a couple of soft bags.
Controls and display
The cabin layout of all 911s has become more sophisticated as the specification has improved, but in incorporating necessities such as sat-nav, telephone and high-spec audio something of the simplicity has been lost. The dial layout remains crystal clear and attractive however.
Comfort
The GTS does a good job of delivering respectable comfort levels. The seats are excellent with some electric adjustment and very supportive even over long distances. Noise levels are quite restrained, the engine subsiding when on a light throttle. The standard sports exhaust comes with a dash-mounted button to increase sound levels when required too. The ride is firm, but not uncomfortably so, only the worst potholes causing a disturbance in the cabin.
Car security
All Porsche 911 vehicles are fitted with a tracking system as standard, making it very difficult for the car to be successfully stolen. In addition it has an immobiliser and alarm as standard, all of which are entirely necessary for a car of this desirability.
Car safety
Alongside the usual suite of electronic safety systems and airbags, the GTS adds Porsche Active Suspension Management as standard, and has the option of carbon-ceramic brakes for improved stopping power.
Driver appeal
The GTS is second only to the GT3 in terms of naturally aspirated power, and with the more sporting set up to the suspension it is perhaps a good compromise for a road-biased but very sporting car. The flexible six-cylinder engine is as pleasurable as always to use, and with the optional of conventional paddles for the PDK gearbox rather than the previous awkward button arrangement the driver can concentrate on enjoying the powerful engine, strong brakes and sensitive steering. It can also tick along in heavy traffic without demanding much or tiring out the driver, which is something the more highly-strung GT3 model might not be capable of.
Family car appeal
The 911 is not an ideal family car, although it could carry two adults and children. Insufficient boot space would be the key issue, as is access to the rear seats.
First car appeal
The 911 is much too powerful and expensive for a first car, even in versions less powerful than this GTS.
Quality and image
The 911's reputation is founded on high quality, and almost without exception it delivers. It feels thoroughly engineered throughout and robust, with the only demerit being the slightly flimsy nature of some of the minor switches. The 911's image is even stronger, remaining one of the most desirable sports cars ever despite strong competition, and its reputation as a superb performance car is well known.
Accessibility
For a sports car, the 911 is relatively easy to get into. The doors are long and open wide, though the seats have high sides and are low set. The rear seats are small and only really suitable for children, although uniquely on the GTS they can be deleted to leave a space for luggage.
Stereo and ICE (In car entertainment)
As befits such an expensive car the standard stereo is very good and includes CD, radio, auxiliary and USB inputs. For extra power and a fuller, more balanced audio experience there is an optional Bose surround sound hi-fi system. Porsche's Communication Management system includes satellite navigation and built-in telephone operation, and the system works very well.
Colours and trim
The GTS is available in all of the colours available on other 911s, but because of the standard satin black wheels it is worth giving the paint shade extra consideration. Several solid finish choices are joined by metallic and 'special' paints, which cost extra. Inside the trim choices span an equally wide spectrum, thankfully more subtle shades are plentiful.
Parking
Because of its unique shape, parking the 911 can be a little tricky. Visibility all round is generally good, but the sloping rear can make it difficult to judge. Parking sensors are a worthwhile investment for peace of mind.
Spare wheel
Tyre inflation kit fitted as standard.
Range information
Petrol engine options - 3.4-litre (345bhp); 3.8-litre (395bhp, 430bhp, 475hp, 523bhp and 552bhp). Transmission options: seven-speed manual as standard, seven-speed PDK twin-clutch automatic. Trim levels are Carrera, Carrera S, Carrera GTS, Turbo, Turbo S and GT3.
Alternative cars
Ferrari California Fast and desirable, questionable looks, less of an everyday car
Lamborghini Huracan Most usable Lamborghini ever is highly competent
Aston Martin V8 Vantage Attractive and good to drive British offering
Maserati Gran Turismo Visual and aural feast, less of a sports car