September 2005
Peugeot 607 SE 2.2 HDi
Revised front end includes new bumpers and larger Peugeot badge
September 2005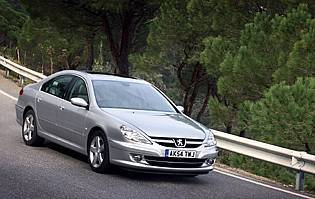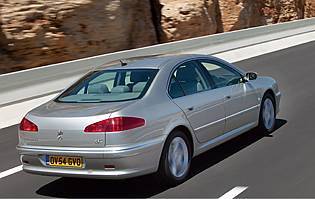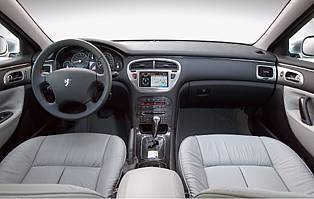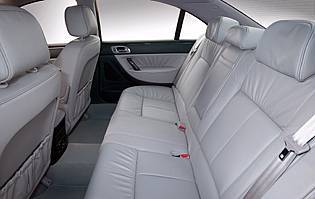 Overall rating

Likes:
Roomy and airy interior is relaxing on long journeys
Automatic gearbox is slick and easy to use
High level of standard specification
Large boot is practical and electric operation is useful
Gripes:
Engine feels inadequate and sometimes noisy
Seats are shallow and lack proper support
Ride is not as comfortable as some lesser cars
Main control for audio, navigation and trip computer is fiddly to use
French firm Peugeot made its name with a series of successful small cars, and its revised 607 saloon aims to repeat that success in the executive car market. Rather than competing directly with premium brands, the 607 aims to satisfy buyers looking for a lot of car for their money.
The 607 is a comparatively rare sight in the UK. This is largely due to the numbers of private buyers looking for a car of this size and price bracket. There has also been a shift away from conventional saloons from the mass market manufacturers, but Peugeot is one of the few remaining companies to offer a car in this segment. It aims to offer traditional big car values of space, comfort and luxury at a keen price.
2005 model year revisions have concentrated on improving the exterior styling while adding extra standard equipment. The overall length of the car has been increased by 30mm, while at the front a restyled bumper and grille arrangement has added extra character. All models now also get attractive 17-inch alloy wheels as standard.
Inside the big change has been the adoption of new instruments with a central information display, plus the large colour screen in the centre of the dashboard to control the operation of the audio, navigation and telephone systems. Additional equipment fitted includes cruise control with a speed limiter, allowing the driver to set a speed that can only be exceeded in an emergency, plus an improved parking sensor system with front detectors and an on-screen graphic.
Mechanical changes have included the adoption of a six-speed automatic gearbox on the petrol V6 model, plus retuned suspension using larger shock absorbers. All models also benefit from larger front disc brakes and the latest generation ABS software for improved stopping power and safety. This amounts to a substantial number of changes across the range, adding value and increasing the appeal of the 607.
Our verdict on the Peugeot 607 SE 2.2 HDi
In a diminishing marketplace, the 607 does offer a spacious and comfortable saloon with a long list of standard equipment for buyers who are not looking for a premium badge. There are some failings however, as the driving experience is under whelming and the performance is only adequate considering the engine's output. However, for many buyers the value for money angle will be enough to persuade them, although the 607 is even better when bought second hand.
Costs
Despite the initial purchase price, the 607 would be a relatively inexpensive car to maintain. Even with the automatic gearbox, it can return a reasonable combined cycle economy figure, and has service intervals up to 20,000 miles apart. Insurance grouping are at the expensive end of the scale, but for a car this size it would prove to be a cost-effective choice.
Space and practicality
Few cars offer as much space as the 607 does at this price. Even the tallest of rear seat passengers will have plenty of leg and headroom, regardless of how far back the front seats are. Few cars could carry four adults over six feet tall with ease, but the 607 is one of them. The boot capacity is also a useful 509 litres, although the rear seats don't fold forwards. There are a number of useful storage areas in the cabin too, including a generous air-conditioned glovebox, although the door pockets are too slim for bulky items.
Controls and display
The 607 gets attractive instruments, finished in cream with illuminated needles. Between them is an information display that usually shows the automatic gearbox selection, but can also show information from the trip computer. In the centre of the dashboard is the main control unit that operates the audio system, satellite navigation, trip computer and telephone. The display is large and clear, but many of the buttons are small and fiddly. A single rotary knob can also be used to navigate the numerous menus, but there is a degree of lag in its operation, making it all to easy to scroll past the item wanted. Many of the systems can be operated using voice commands however, and while this may take time to set up it would be quicker than using the rotary control.
Comfort
Front seat passengers get electrically adjustable seats as standard on the SE model, allowing occupants to achieve a good seating position. The seats themselves however are rather flat, giving the impression that they are being sat on rather than in. Despite this they provide good levels of comfort. Rear passengers can also enjoy comfortable seating.
Car security
Completing the comprehensive list of standard equipment is a good range of security devices, including an alarm and immobiliser that are Thatcham 1 and 2 approved respectively. The electronic boot release also makes it much more difficult for thieves to gain access, as do the automatic door locks which operate when the vehicle travels over 6mph.
Car safety
All 607s come with a long list of standard safety equipment, including eight airbags with a deactivation switch for the front passenger seat, ABS and ESP. It also benefits from good visibility front and rear, which contributes to reducing the risk of an accident. Other useful features include Isofix mounting points, automatic headlights and three-point seat belts across all the rear seats.
Driver appeal
With a narrow target market, the 607 does not need to have as broad a range of abilities as a family hatchback. Its primary role is to deliver comfortable travel, and for the most part it does this with success. On smooth roads and motorways it travels serenely. On urban or broken roads however, the ride deteriorates relatively quickly, feeling somewhat disjointed. At the same time, the 607 is not an ideal car for an enthusiastic driver. The 2.2-litre diesel may have a strong torque output, but it rarely feels quick, and the steering is not as sharp as some cars of it size. To enjoy the 607 at its best is to take it on long journeys, where it will cover great distances with relative ease and with little disturbance to its occupants.
Family car appeal
The 607 is clearly better suited to a family car role, with its large cabin ideal for carrying passengers on long journeys. Useful features include AV sockets in the glovebox, allowing digital cameras to display images and movies on the dashboard screen, and the rear electric sunblind. The only downside is the fixed rear seats, which may leave too little luggage space for a large family.
First car appeal
The 607 is likely to be too large for a first car buyer, although it is an easy car to drive and park, thanks to the automatic gearbox and standard fit parking sensors. Insurance may be an issue, though in most other respects it would make a perfectly adequate first car. Few new drivers however would be looking for a car with this much space, equipment or comfort.
Quality and image
Although not renowned for producing luxury cars, the 607 does provide a quality feel from the inside. The interior is well finished, and the optional leather gives a welcome quality boost. Some of the surfaces use lower quality plastic, but the finish is such that these are only noticeable by touch rather than sight. More of a problem is the Peugeot's image, as few mass market manufacturers have the clout to compete with a car of this size. Its unusual styling and rarity help its cause, but the big issue is that many buyers would rather choose a smaller car from another brand than buying the large Peugeot.
Accessibility
This is one area where the 607's size is a key advantage. Its long body and large doors make entering the rear seats just as easy as the front, while gaining access to the boot is simple thanks to the very low loading lip and electronic activation of the boot lid.
Stereo and ICE (In car entertainment)
Standard fitment on the SE model is a JBL hi-fi system with a six CD autochanger. The sound quality is of a good standard, using the same eight speakers as on the S model but powered through a 240-watt amplifier. The main control unit can be fiddly to use, but the remote controls mounted on the steering column are far simpler and easy to use on the move.
Colours and trim
Although the interior colour of the 607 is mostly black when fitted with the optional leather trim, splashes of chrome on the doors and dashboard prevent it from feeling too dark. The leather itself is of good quality, and most surfaces within the cabin are pleasant to touch. The door handles are chrome and feel pleasingly substantial when exiting the car.
Parking
Despite the 607's length, parking is a painless affair thanks to parking sensors fitted as standard. As well as an audible signal, a graphic appears when manoeuvring at low speed that gives a visual representation of the vehicle's distance from any objects. Combined with light power steering, the 607 is as easy to park as much smaller cars.
Spare wheel
A full size spare wheel is mounted beneath the boot floor.
Range information
Four engine options - 2.2-litre petrol (160bhp), 3.0-litre V6 petrol (211bhp), 2.0-litre HDi (110bhp) and 2.2-litre HDi (136bhp). Four gearbox options available - 5-speed manual on 2.2-litre petrol and 2.0-litre HDi, 6-speed manual on 2.2-litre HDi, four-speed automatic on 2.2-litre petrol and 2.2-litre HDi, and 6-speed automatic only available on 3.0-litre V6 petrol. Trim level is S, SE and V6.
Alternative cars
Vauxhall Signum Generous proportions and equipment, average driving experience
Volvo S80 Solid and comfortable, but ageing and diesel version expensive
Skoda Superb Respectable looks, good build quality and excellent value for money
Hyundai Sonata Big value and long equipment list, but poor to drive