February 2006
Peugeot 206 1.4 Sport 5dr
Peugeot 206 is attractive even in five-door form
February 2006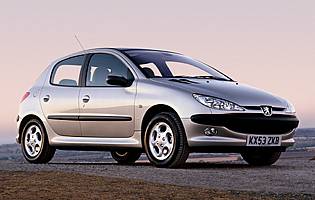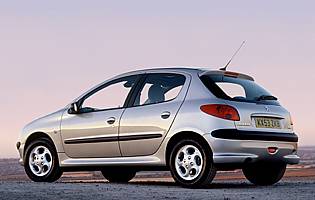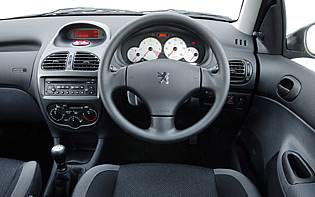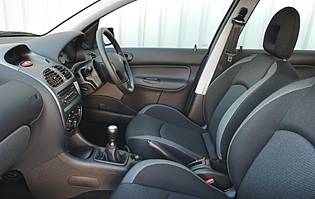 Overall rating

Likes:
Fun to drive in or out of town
Styling remains attractive even in five-door form
1.4-litre engine is frugal yet keen
Good specification for modest price
Gripes:
Interior space is lagging behind rivals
Driving position is poor and may cause discomfort
Dashboard design feels dated and of average quality in places
Five-door body offers only a slight improvement in rear access
One of the most popular cars in the supermini segment, the Peugeot 206 has been amongst the top sellers in the UK throughout its life. Less common however is the five-door version, which offers increased practicality without diminishing its typical strengths.
Even in five-door form the 206 is an attractive hatchback. Its unusual shape is enhanced by the bold front grille, sleek headlamps and smart details like the matt black bonnet vents. Body coloured bumpers are also an attractive feature on all but the base model, while in Sport guise tested here the addition of 15-inch alloy wheels as standard are welcome in terms of looks as well as handling.
Inside the 206 suffers slightly as a result of its age. More modern superminis are moving towards larger interior and exterior dimensions, resulting in improved passenger accommodation. The 206 feels relatively small in comparison, and although the five door version makes accessing the rear seats a little easier, taller passengers may find the rear seats to be too cramped. Front seat passengers fare better, but the driving position is also compromised which may lead to discomfort.
The 1.4-litre 16v petrol engine is a good compromise between size, performance and economy. Ideally suited to a mix of city and higher speed driving, the small petrol unit is sufficiently smooth, and remains relatively quiet except at very high revs. Performance is also respectable, even with the additional weight penalty with the extra rear doors.
One of the key strengths of the 206 has always been its impressive mix of comfortable ride and good handling, and even compared with more modern superminis the baby Peugeot fares well. Only the toughest of urban potholes upset its ride, while good steering and well-sorted suspension make the 206 a good deal of fun to drive on twisty roads.
Our verdict on the Peugeot 206 1.4 Sport 5dr
Despite its age, the 206 still has a good deal to recommend it. It is still a fun car to drive, even through city streets, thanks to the good ride, sharp steering and easy controls. It is also well specified for a small car, and good value. The lack of space and the poor driving position count against it however, and newer competitors can offer the same and more for similar money.
Costs
An economical petrol engine in a car of this size ensures good running costs, with low fuel and insurance bills likely. The initial purchase price will also be relatively low, making the 206 a cost effective car.
Space and practicality
Within relatively compact exterior dimensions the 206 provides decent levels of space. Front seat passengers have decent head and legroom, although the standard sports seats do take up a surprising amount of room. In the rear, the lack of legroom is an issue, but there is sufficient room for shorter distance journeys.
Controls and display
Red instrument markings are a sporty touch inside the 206, and are a smart alternative to the standard items. The remaining controls are as with a regular 206; straightforward and easy to use. Another smart feature is the trip computer and radio display in the centre of the dashboard, which is easy to read and unobtrusive.
Comfort
Front seat passengers will have little trouble getting comfortable, although some drivers may find that the lack of steering reach adjustment makes the driving position uncomfortable over long distances. Rear seat passengers are less well catered for however, with relatively cramped conditions in comparison. The low levels of wind and road noise do contribute to the overall level of comfort.
Car security
Remote central locking is standard on all 206 models, while the Sport version tested here benefits from automatic locking when the car is driven off, reducing the chances of unwanted entry to the vehicle once on the move.
Car safety
The 206 boasts a comprehensive array of safety equipment, including twin front airbags, side airbags on higher specification models and standard ABS brakes. A further safety advantage is the car's sharp handling, which should make it easier to avoid an accident in the first place.
Driver appeal
The fun factor is big part of the 206's appeal, and in 1.4-litre Sport form there's an excellent balance between fun and usability. The petrol unit is keen and responds well to the accelerator, yet is refined enough to make long motorway trips bearable. The suspension successfully copes with most potholes and bumps, yet when driven with enthusiasm it responds well, with good grip and sharp responses.
Family car appeal
The small rear seats hamper the 206's ability to function as a family car, as taller children may find the lack of legroom a problem. The front passenger seat has Isofix child seat mountings, though this would force any adults into the back seats.
First car appeal
The 206 has a lot going for it as a first time car. Its size and ease of driving would be advantageous to inexperienced drivers, and the low running costs would also help. With plenty of models, new and used, to choose from it should be near the top of a first time buyer's list.
Quality and image
Although the original 206 is one of the oldest cars in its class, it maintains a sense of style, which explains its appeal amongst car buyers. Although some elements appear a little dated, they still function well and feel as if they are well constructed. Only the average quality of some cabin materials let it down.
Accessibility
A big improvement over the three-door model, the five door makes it easier to gain access to the rear seats, although there is not a huge amount of space available once settled. Front seat passengers fare just as well, and access to the boot space is easy thanks to a reasonably low loading lip.
Stereo and ICE (In car entertainment)
Standard fit on the Sport model is a single CD and radio system, with eight speakers. It is simple to operate with a useful display at the base of the windscreen and intuitive steering column controls. Sound quality is good with a relatively powerful output too.
Colours and trim
Sport models are distinguished by red fabric trim, with a choice of seven exterior and three interior colours. The majority of the dashboard remains black regardless of the trim colour, so with the additional red trim it gives a classier feel to the interior, rather than an all-black dash, seats and door trim. Some of the trim plastics feel hard and unyielding in comparison with newer rivals.
Parking
Manoeuvring the 206 is easy, with good all-round vision bar the thickness of the rear pillars. The power steering and respectable turning circle also contribute to the ease of parking.
Spare wheel
Full size spare wheel fitted underneath the car.
Range information
Petrol engines: 1.4-litre 8v (75bhp), 1.4-litre 16v (90bhp), 1.6-litre 16v (110bhp). Diesel engines: 1.4-litre (68bhp) and 1.6-litre (110bhp). All models are fitted with a five-speed manual gearbox, with a four-speed tiptronic automatic transmission available on the 1.6-litre petrol engine. Trim levels are Urban, Verve and Sport, with higher specification models distinguished by the addition of body styling rather than interior equipment.
Alternative cars
Ford Fiesta Even more fun to drive, not spacious but good value
Honda Jazz Spacious, practical and strong reputation for reliability
Vauxhall Corsa Cheap to buy and run but lacks flair and ageing rapidly
Volkswagen Polo Dependable but staid styling and uninspiring to drive