July 2014
Mini Countryman Cooper SD
Styling divides opinion but is certainly distinctive
July 2014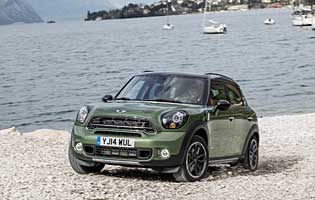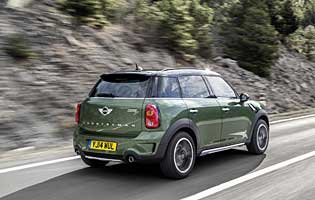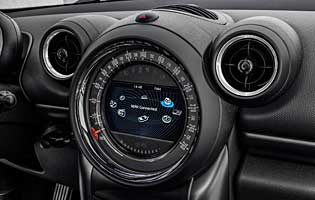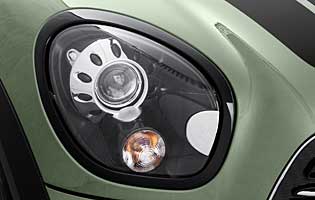 Overall rating

Likes:
Excellent body control helps create a composed and stable ride
Plenty of legroom for four adults
Instantly recognisable shape and balanced proportions
Torque-rich diesel engine provides relaxed progress
Gripes:
Inconsistent steering feel at the start of turn-in
High purchase prices for the car and its options
Seats offer little in the way of thigh support
Boot still small compared to rivals
Years after its debut the Countryman remains as big a seller as ever. It's the Mini with a little more Mini about it, boasting more interior space, five doors and a bigger boot. Its size, shape and layout make it the most practical Mini on offer, so many are owned by those who were previously seduced by the hatchback's charms.
Just as it did for the 2013 model year, Mini has added new updates that have become available in the preceding 12 months. The bulk of the car is still much the same as it ever was, which is deliberately maintaining the Countryman's winning formula. If it isn't broken, don't fix it. The changes for the 2014 car are quite minor.
Lighter alloy wheels have been developed, to help the car's suspension do as good a job as possible of smoothing out cracked and broken surfaces - with which UK drivers are normally quite familiar. There is also a slightly different design of headlight cluster, which aims to give the Countryman a more unique light signature.
This market sector has exploded in popularity since the Countryman was designed, and there are now much stiffer competitors looming around the big Mini's position. The company still regards this as the only premium compact crossover, although it uses its own terminology to describe it.
Sporting pretensions are important to all Mini models, regardless of the distance between motorsport and their actual design. The firm wants handling and a sporty drive on demand to be defining factors for the Countryman as the likes of Ford and Seat look at building direct rivals, and includes features dedicated to driving fun.
Our verdict on the Mini Countryman Cooper SD
The Countryman is a niche product that just happens to suit a lot of people. Its practicality lags behind some rivals, its price is high for what you get and the options are costly, too. But strong residual values, appealing design and successful marketing will continue to work in its favour when it comes to the showroom. For young families without significant luggage to stow away, it's a good choice.
Costs
In terms of costs there's a series of negatives underpinned by a redeeming positive. Don't expect to get anywhere near the stratospheric 'official' fuel economy figures, because even cruising gently on the motorway won't see that happen. The Countryman is expensive to buy, too, especially once key optional extras are factored in. The bright side is that resale values are strong, meaning that owners should get more back when it comes to selling it on than with a rival offering.
Space and practicality
Although this largest of Minis can cope with a modest amount of luggage, storage space is not exceptional. Typical compact family hatchbacks offer more outright luggage space, but at least the seating options allow the amount of available space to be fully optimised. The high roof also helps if it comes to carrying especially large items like furniture.
Controls and display
The layout of the Countryman is still based on the previous-generation Mini hatchback, so features a giant central speedometer at the heart of the console. However, including an information screen and sat-nav in the centre of that has relegated the actual speed information to a uselessly narrow strip on the outside of the dial, making the auxiliary readout in the instrument essential. All other switchgear performs as you'd expect.
Comfort
Mini's engineers have struck a good balance between absorbing the lumps and bumps of the road and minimising uncomfortable body roll, so everyone on board the Countryman should be happy for short or long distances. Cabin space is sufficient for four adults to travel in reasonable comfort, and the only factor that becomes evident after an extended drive is the lack of under-thigh support on all the seats.
Car security
All Countryman models come with an alarm and immobiliser as standard, while an electronic key and remote central locking ensure a high level of security. Privacy glass is included on some models to help keep items on the back seat hidden - although it's not entirely effective.
Car safety
Among its safety features are a full complement of airbags, anti-lock brakes, stability control and, on some models, collision warning systems. Wide tyres provide lots of grip, and faster-than-average steering response means drivers could potentially steer out of trouble more easily in an emergency.
Driver appeal
There is a mix of appealing driving aspects. While it's hardly imbibed with the 'go-kart handling' Mini claims, it does have uncommonly good body control for a car of this type and that helps it to feel stable and sure-footed. The diesel engine is quite heavy, but offers a satisfying surge of torque against a slightly gruff set of noises from under the bonnet. There is a curious, artificial resistance in the steering around the straight-ahead, but once past that it becomes direct and accurate.
Family car appeal
As long as there's no need to transport a pair of pushchairs along with a large bag of child-related paraphernalia and picnic supplies, or another similar load, the Countryman can handle family life with ease. It also has the kind of visual appeal and kudos to be a hit with children. Buyers should make sure they test the size of the boot thoroughly and be sure to go by your own instincts, not the words of a salesman.
First car appeal
Size is the only real reason why a novice driver might not be able to handle this car, because its diesel engine and relatively lightweight controls are not in the least bit intimidating. The Countryman is larger and less cute than the three-door hatchback, though, and those are key factors in many first-time car buyers' minds - especially for women, to whom Mini cars sell in high volumes.
Quality and image
While as many people seem to dislike it as like it, the modern Mini image is almost untouchable, recalling the original 1960s original but offering modern convenience and reliability. The high degree of personalization also allows buyers to create a car that feels individual, which is a major image boost. The Countryman is the Mini that opened the brand up to a whole new market that continues to embrace it.
Accessibility
Thanks to four well-sized doors, a high roof and the increased ride height, getting on board the Countryman is easy. The same can generally be said for the boot, with a good-sized tailgate and low loading lip to aid access. The only caveat to that is that the boot lid requires a substantial swing upwards, so those with shorter arms will need to take a step or two back as it opens.
Stereo and ICE (In car entertainment)
As per the increasing norm, Bluetooth and USB connections are standard. All models are fitted with a radio and CD player as standard, operated by a mix of buttons and on-screen dialogue. Sound quality is respectable, with the speedometer displaying audio information. Upgraded systems are available increasing output and quality, plus the ability to connect phones and MP3 players is a welcome bonus. Where fitted, the sat-nav unit is easy to use.
Colours and trim
Neat, balanced proportions hide behind the Countryman's opinion-splitting features, and like a good catwalk model most colours work well on it. The one notable exception is white, which should be avoided. The interior is, like on other Mini models, a mish-mash of shapes and finishes that to some people look fantastic and to others look like an unpleasant mis-match.
Parking
Visibility is pretty good in all directions out of the Countryman, so parking it comes easily. It's while parking it that its compact dimensions become most obvious, because at most other times it can feel rather large. The addition of parking sensors and a reversing camera removes all the stress of getting into a space.
Spare wheel
Emergency tyre repair kit supplied as standard.
Range information
Petrol engine options - 1.6-litre (98bhp, 122bhp); 2.0-litre (190bhp, 218bhp). Diesel engine options - 1.6-litre (90bhp, 112bhp); 2.0-litre (143bhp). Transmission options: six-speed manual gearbox, plus six-speed auto. Trim levels: One, Cooper, Cooper S, Cooper D, Cooper SD, John Cooper Works.
Alternative cars
Suzuki SX4 S-Cross Practical, well-equipped and keenly priced, the S-Cross is an underrated alternative
Nissan Qashqai High-quality interior and comfortable ride are important on this larger option
Seat Leon ST Estate version of the impressive hatchback is among the best compact family cars
Fiat 500L High riding and highly customisable, the 500L treads on Mini's own territory