October 2015
Mini Clubman Cooper S
Rounded lights feature on a typical Mini 'face'
October 2015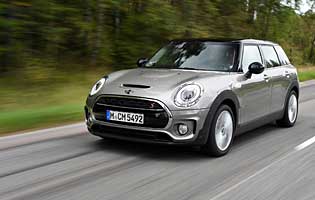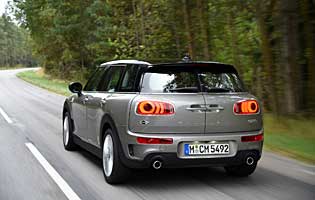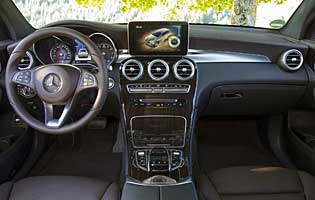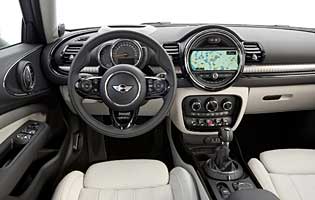 Overall rating

Likes:
Genuine capacity to act as a family car
Adjustable rear seat back brackets allow more boot space
Supportive and comfortable seats
Unique Mini interior ambiance
Gripes:
Rear side-hinged doors take some getting used to
Restricted visibility due to A-pillars and mirror positions
Dull engine noise in relation to performance
Needs many costly options to reach full potential
Mini has moved the Clubman into more orthodox territory, giving it a conventional four passenger doors instead of the odd and - for the UK, at least - relatively useless single one on the right hand side. It retains the vertically split boot doors, though, and takes them forward as a unique selling point against volume-selling opposition.
The Clubman can now consider itself a direct rival for compact family cars at the premium end of that market, so the likes of the Volkswagen Golf, the DS 4 and the Audi A3 all have a new rival. Its main differentiating factor is at the tailgate, where two doors open horizontally outwards from the middle.
It is targeted at young families, so there's much more legroom and personal space inside than there is in the two Mini hatchback models. Its long and low profile makes it look quite heavily stretched; a factor exacerbated by the oval fuel filler cover.
Mini has decided to target more mainstream parts of the market instead of the endless niches of yesteryear. Instead of the Coupe, the Roadster and so on the Clubman is an attempt to bring Mini style to buyers who might have previously ignored it on practicality grounds.
Buyers will, as with any Mini, have an extensive range of options and upgrades to choose from, and this car's appeal is similarly dependant on specification chosen. At the basic price the package struggles to compete with other, similarly-sized hatchbacks, but at the premium end of things it offers something more stylish and unusual without being unintuitive.
Our verdict on the Mini Clubman Cooper S
With enough money spent on the specification, the Clubman is a welcome and upbeat alternative to rivals that have become a little too predictable. It doesn't offer the best value for money as a result, though, which will be an important factor for some. The arrival of genuine everyday practicality is very welcome, though, and die-hard Mini fans will rejoice at this cheaper alternative to the high-riding Countryman.
Costs
The Cooper S is the thirstiest Clubman in terms of fuel and also costs the most in road tax. Its purchase price is similar to the lower-spec but more economical Cooper D, though, so offers a lot more performance for the price. It may not hold its value as well as diesel models do, but there is traditionally a very strong demand for used Minis regardless of engine choice, reducing the impact of depreciation.
Space and practicality
The car's relative emphasis on practicality includes front door pocket bins that can hold 1.5- and one-litre bottles of liquid at the same time. The boot, at 360 litres, is smaller than that of the Golf, but can be expanded by leaning the rear seat backs forwards on special locking brackets. Automatic windscreen wipers and headlights are standard and can be supplemented with a heated front screen for a cost.
Controls and display
The uniquely Mini interior is a significant factor in why people prefer this brand to others. Rounded and circular shapes are used wherever possible, including for the outer frame for the main colour screen. The main interface is controlled via an iDrive dial on the lower centre console, similar to the one in BMWs. The indicator stalk does not stay clicked up or down when in use, instead returning to centre immediately while the bulbs keep flashing. Historically this has caused confusion but becomes second nature quickly.
Comfort
Shapely seats do an excellent job of providing back support and comfort. They fit and support backs and sides well for slimmer people, but larger frames might find them a bit too narrow. There is ample legroom for rear seat passengers of less than six feet and with no more than average length legs, but the taller will struggle to stay comfortable for long.
Car security
The Clubman has a Thatcham Category One alarm system and an immobiliser. Depending on the model and the options ordered, privacy glass is available around the rear half of the car. It could be argued that the Mini is a more noticeable car than many of its rivals, though. A red light on the roof-mounted radio fin, which flashes when the car is locked, is meant to serve as a warning but could instead draw unwanted attention.
Car safety
A tyre pressure monitoring system is one of the Clubman's advanced safety features. Another is the automatic braking function integrated into the active cruise control system. For a fee buyers can add a head-up display that works well enough but, being projected onto a fold-up plastic screen, can block the forward view a little too much. Upgrading to run-flat tyres will prevent an owner being stranded at the side of the road due to a puncture.
Driver appeal
The latest generation of Mini chassis lacks the greater part of the verve and liveliness of those that have gone before. It's more stable and settled, which is good for the less powerful models and the diesels, but the Cooper S loses a large part of what set it apart from the mainstream. It feels mature and composed to drive, but not playful. The ride is a little harsh on large alloy wheels, but they are necessary to complete the car's look.
Family car appeal
For young families the Clubman would make a stylish second car. It's not really big enough for pushchairs or buggies and it won't swallow a family of four's holiday luggage for a duration longer than a weekend. It does have Isofix child seat mounts, though, which makes the fitment of compatible seats easier, and the extra rear door now makes it simpler to load a child seat from the pavement.
First car appeal
It is more likely that a first-time car buyer will look at the smaller cars in Mini's range, namely the three- or even five-door hatchbacks. The Clubman is definitively a small family car, so unless an older driver is buying their first car later than most would, such a pairing is unlikely. There are also very many Mini hatchbacks on the second-hand market that will appeal to budget-conscious buyers more than a brand new Clubman.
Quality and image
Against direct rivals the Mini does harbour a slightly more special feel, at least in the high-spec guise of the test car. It also benefits from the inherited stardom of the highly successful hatchback, which many Clubman buyers may already know or even own. This car gives drivers who are outgrowing their hatchback something similar but larger to turn to. Its status as a highly customisable Mini will boost its image in a stoic market segment.
Accessibility
Reverting to a conventional layout of two doors per side has given the Clubman a new lease of life in the UK. Previously the car's extra door was on the wrong side, and you had to open the front door to release it anyway. Now, the up to three rear passengers can exit on either side as they see fit - including to the pavement side. The doors are light enough for easy handling and the unique boot door design means that headroom is never an issue when loading heavy objects.
Stereo and ICE (In car entertainment)
There is a suite of connectivity options, from USB and FM radio to DAB digital radio and CDs. The standard stereo features a 'visual boost' feature via the main screen, but for a price the system can be upgraded to a Harman Kardon alternative with more power, if not more functionality. Mini's more basic navigation software is standard on this Cooper S model, but again, it can be upgraded.
Colours and trim
With a broad range of colours and the option of a contrasting roof in black or white, the Clubman is as customisable as the hatchback. All look equally good on the car's rounded shape, so buyers can pick according to their taste without fear of making a mistake. On the inside there are some fantastic-looking upholstery and trim options, but most are optional for an extra cost.
Parking
The long body and thick rear window pillars don't affect parking visibility as much as with some other cars, and because the rear end is so flat it's easy to judge where the bumper will be. That's a good thing because parking sensors are not fitted as standard. Upgrades are available at a cost. The Clubman's width is slightly against it for bay parking. At 1.8 metres wide it's slightly broader than most rival cars. The tailgate doors require a lot of space to be left behind the car, though.
Spare wheel
Tyre repair kit supplied as standard, run-flat tyres optional.
Range information
Petrol engine options - 1.5-litre (134bhp); 2.0-litre (189bhp). Diesel engine options - 2.0-litre (148bhp, 187bhp). Transmission options: six-speed manual gearbox, plus auto gearbox. Trim levels: Cooper, Cooper D, Cooper S, Cooper SD.
Alternative cars
Volkswagen Golf Superb all-rounder but not especially interesting
Audi A3 Conservative looks hide a quality cabin
DS4 Left-field choice offers god value for money and higher driving position
Mercedes A-Class Sporty hatchback suffers from noisy diesel engines