July 2004
Mercedes SLK-Class 200 Kompressor
Rakish nose of SLK illustrates perfectly Mercedes' new design direction
July 2004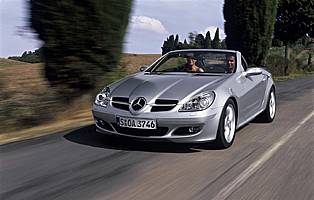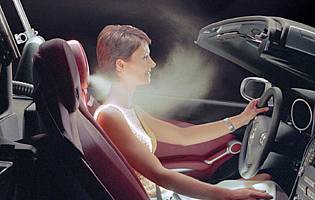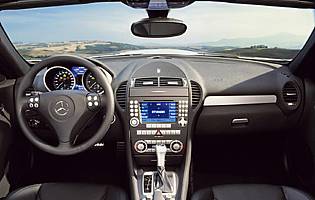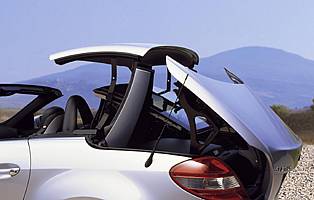 Overall rating

Likes:
Feeling of security greatly enhanced by presence of folding metal roof
Manual gearshift is light years ahead of previous Mercedes efforts
Roof-down refinement is very good - even at speed
Sporty bias of SLK chassis is a welcome improvement over predecessor
Gripes:
Some options should be standard fit at this price point
Despite doing a good job, wind deflector looks second rate
Questionable need for a seven-speed auto gearbox as V6 SLK possesses an abundance of torque
Close inspection of cabin reveals patchy levels of trim quality
Keen to move away from accusations that it caters exclusively for the mature end of the buying spectrum, Mercedes' second generation SLK caters more to the enthusiastic driver than its predecessor. In fact, the change is so dramatic that critics are often tempted to compare the car favourably to Porsche's Boxster. Completing the transformation is noticeably more youthful exterior styling - proving that Mercedes means business in the premium roadster market.
It may still come with its maker's infamous folding metal roof, and it might still only seat two people, but everything you thought you ever knew about Mercedes' SLK should be thrown out of the window.
Dramatic stuff? Well, the second generation SLK is a dramatic improvement on the company's pioneering first generation car. If there was one fault with the original SLK it was that it never satisfied the enthusiastic driver. 'All show and no go' would have been a reasonable assessment, if it were not for the presence of a brisk V6 and rapid AMG-tuned variants. Even so, it was no driver's car - a situation that Mercedes engineers have remedied.
The transformation is significant; the second-generation car can be driven with enthusiasm, it positively relishes being driven hard and even the entry-level SLK 200 Kompressor feels quick despite its modest power output.
In true Mercedes fashion the whole gamut of modern technology has been thrown at the car, with everything from the latest safety devices to cutting edge creature comforts present in the car or the options list. A case in point is Mercedes' optional 'Airscarf' system, which comprises a vent about neck height in a seat that emits warm air. Its purpose is obvious, but you've got to wonder how the competition missed out on this innovation.
It's also good to see Mercedes paying heed to recent criticisms over the cost cutting programmes that have left some cars looking and feeling less than special. Although the SLK isn't perfect, cabin plastics are noticeably better than in previous generation cars, while the SLK's list of standard equipment can hardly be called miserly.
Our verdict on the Mercedes SLK-Class 200 Kompressor
The SLK is the first affordable sporting car to come out of Stuttgart for a long time. Enthusiasts can rejoice in the knowledge that this car performs as well as it looks - and it looks stunning. The car's original and compelling feature - it's folding metal roof - remains, but everything else has changed for the better.
Costs
The good news is that the SLK is destined to be a sought-after car for many years, which should ensure that residual values and your investment remain strong for a long time. The bad news is that the car's list price is high, but that never stopped anyone from purchasing its predecessor. Overall cost of ownership is never going to dip into the supermini league, making it churlish to complain when the time comes to pay the first servicing bill. Once you understand that the more enthusiastically you drive the more often you'll have to stop at a petrol station, these costs will pale compared to the enjoyment the SLK will generate.
Space and practicality
For a two-seat convertible the SLK's cabin is surprisingly roomy. Adults of average build will find few problems getting comfortable, but it would be wise not to take too much in the way of luggage if you plan a driving holiday as the car's boot noticeably decreases in capacity with the roof down. Cabin stowage space is also modest, with the door side pockets useful for little more than the odd map. The centre armrest redeems things somewhat, but the glovebox cannot be relied upon to store more than a few bags of mints for the journey - especially when the optional CD changer is specified.
Controls and display
With the SLK now positioned as a serious sports car, it's hardly surprising that the car's main instruments should be housed in a race car-style binnacle. The dials are large and clear, with a supplementary display in the centre helpfully duplicating trip computer information and the operating mode of the car's stereo. The centre console is occupied by said radio, the climate control panel and minor switches such as those for the heated seats, traction control and optional Airscarf seat ventilation. All switchgear responds well to inputs and falls easily to hand. The only downsides are the fiddly nature of the stereo, which often requires numerous key presses to reach a desired function, and the fact that direct sunlight can obscure its display - not good in an open top car.
Comfort
For a car designed with a deliberate bias towards the keen driver, the SLK's ride is surprisingly supple in standard trim. Getting into and out of an SLK is not the work of a moment if you're a little stiff, so be prepared to suffer if you want to look good on the high street. Once inside, the car's seats are of the figure-hugging variety, which is fine if you have a figure-hugging-sized frame. Despite the snugness of the SLK's cabin there's enough room for two generously dimensioned adults, although tall occupants will have to compromise legroom for headroom with the roof up as the seats possess only a modest amount of rearward movement. Comfort in a convertible also relates to wind noise, and the SLK does a good job of minimising aural intrusion with the roof down. The fabric wind deflector may look cheap but it works well and conversation is possible even at motorway speeds.
Car security
All the usual features are present in the SLK, from the convenience of remote central locking to an alarm and immobiliser boasting interior protection. It's just as well, because the SLK is a car that stands out for all the right - and, regrettably, the wrong - ones in the eyes of the thief. Hopefully these measures will force a keen-eyed criminal to walk past your pride and joy having viewed it as 'too much hassle'.
Car safety
As you would expect from a company such as Mercedes, the SLK comes with a raft of passive and active safety features. From the most basic - anti-lock brakes - to electronic stability controls and brake assist programmes, the SLK has been designed to do its utmost to keep you out of trouble. If all else fails, the car's cabin is equipped with twin front and side airbags, plus rollover protection courtesy of the stylish but purposeful roll hoops behind the seats.
Driver appeal
A significant effort has been made to make the second generation SLK appeal to the keen driver, and the results are extremely good. Steering is precise, chassis response is impressive and the car's ability to chart a confident course through a series of challenging bends will be a revelation for owners of the original car and anyone considering its rivals - especially Porsche's Boxster. While often considered as the benchmark in this sector, the Boxster can no longer claim to be head and shoulders above the competition when the SLK 350's is such an accomplished performer.
Family car appeal
Predictably the SLK doesn't cut it as a family car. A strict two-seater, the Merc roadster is designed for fun - not family outings. Even if you were to take a child on a day trip, boot space is modest, which would mean thinking twice about taking a pushchair or a bag of toys. Even as a second car to the family estate, taking the SLK shopping would mean leaving the roof up if you wanted to fill the boot with provisions.
First car appeal
In the real world the SLK is hardly first car material. If you possess pots of money and can stomach the odd scratch that will stem from a novice mistakes, then fine. Otherwise, your best bet would be a less powerful family hatch, supermini or, if you have to have a roadster, a Ford Streetka. Running costs will, predictably, be high as insurance won't be cheap for a car like the SLK. Add its thirst for fuel and the price you will pay for the privilege of getting it serviced at a Mercedes dealer and it would be difficult to recommend the SLK to anyone but the seriously rich.
Quality and image
Surprisingly, the SLK brand does suffer with an image problem. First generation cars were rarely taken seriously by enthusiastic drivers, who saw them as too feminine and lacking in enjoyment. Mercedes appears to have addressed both issues at a stroke, as the second generation car sports a more aggressively-styled nose and delivers a driving experience that comes impressively close to that of Porsche's Boxster. With the issues over image resolved, Mercedes has also done well to reverse the less than satisfactory quality perception it has gained in recent years. Although certain aspects of the SLK cabin are less than perfect, significant progress has been made.
Accessibility
If you're reasonably agile you should have no trouble sinking down into the SLK's supportive seats. If not, then hauling yourself back out of the seat could be a struggle thanks to the combination of the SLK's low-slung stance and lack of grab rails - as per a conventional tin-top car. This complaint is aimed at all convertibles, and it's not all bad news. Once sat in the car, the driving position can be adjusted easily to your liking and all the major controls are within easy reach.
Stereo and ICE (In car entertainment)
Long gone are the days when even a basic stereo in a Mercedes was an optional extra. The standard-fit unit in the 200 K variant sounds good and offers a wide range of adjustment, although its display screen can be rendered unreadable in direct sunlight. Move up to the optional systems and you're greeted by a much better colour screen. Unfortunately the various menus require more key presses than are absolutely necessary, while the basic sat-nav screen is on the small side. At least the important controls are duplicated on the SLK's steering wheel.
Colours and trim
It should come as no surprise to learn that the SLK looks its best in Silver - the apparent colour of choice for all premium level cars. That said, bold hues - not a usual Mercedes strongpoint - all do the SLK justice, as if to reinforce the company's decision to pitch the car at a more youthful audience. With that in mind, the SLK's interior is in stark contrast with its exterior, what with its dark fascia and andd cabin plastics. All it not what it seems though as the appearance is more techno-savvy that staid, with the interior looking more like that of an expensive, minimalist hi-fi. It's a look that works well.
Parking
Despite sitting low in the SLK, it is relatively easy to judge the car's extremities after a few minutes of acclimatisation. The car's external mirrors are electrically adjustable and offer a good rearward view, which makes up for the interior mirror's obstructed view thanks to the wind deflector. Steering is pleasingly light at low speeds and, in manual specification, the clutch is easy to modulate when shunting backwards and forwards. The only obstruction when parking is caused by the car's roof, which creates a noticeable over-the-shoulder blind spot. This is, or course, remedied when the roof is retracted.
Spare wheel
Space saver fitted as standard.
Range
Two mainstream options - 200 K and 350. Former is 1.8-litre supercharged (163bhp) petrol; later is 3.5-litre (272bhp) petrol. Both come as standard with 6-speed manual gearbox, with a five- and seven-speed auto optional respectively. High performance SLK 55 AMG boasts a 5.4-litre (360bhp) petrol engine with Mercedes seven-speed auto as standard. With no distinct trim levels, standard equipment levels are largely dependent on engine choice.
Alternative cars
BMW Z4 Rakish looks of Z4 hide a car that's close to SLK in terms of performance
Volvo C70 Dated C70 can't match SLK for performance but is good value and stylish
Porsche Boxster In 350 spec the SLK is a match for the sector's performance benchmark but lacks the Boxster's excellent steering and image
Chrysler Crossfire Convertible Although more cruiser than bruiser, Crossfire is a head turner and less common sight