March 2011
Mercedes-Benz R-Class R350 CDI L
Subtle changes give R-Class family look
March 2011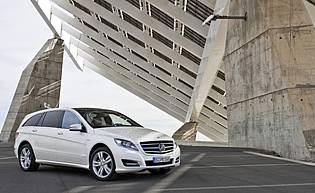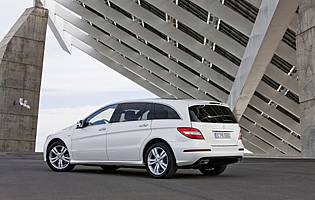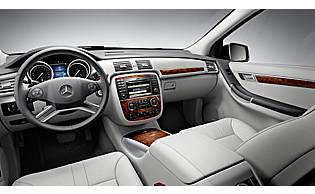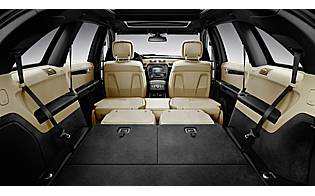 Overall rating

Likes:
Vast, flexible cabin space
Impressive efficiency and performance
Comfort for all occupants
Four-wheel drive as standard on long-wheelbase version
Gripes:
A car this size can be difficult to maneuver
Styling updates can't hide visual bulk
Questionable advantages over MPV and SUV rivals
Relatively high running costs due to size
Sitting virtually in a class of its own, the R-Class is a Mercedes-Benz take on a luxury MPV. Catering to customers who want the space of a large SUV but without the height as well as those who don't find a luxury saloon practical enough. Recent revisions have updated the R-Class to increase its appeal.
With an undoubted commitment to luxury motoring the Mercedes-Benz range of cars covers a variety of niches and mainstream segments with great success. The R-Class however sits somewhat outside a conventional sector template: with seven-seats it clearly qualifies as an MPV, yet it is long rather than especially tall and few MPVs offer such high levels of luxury.
The R-Class is also relatively unconventional in its appearance. At almost 5.2 meters the R350 CDI long-wheelbase is just a fraction shorter than the LWB S-Class saloon, and so has an impressive stance on the road. Behind the long nose there is a generous passenger area finishing with a near vertical estate-like tailgate. Exterior revisions have included a front grille and headlight arrangement to bring it in line with look of more recent Mercedes models.
Beneath the exterior the R-Class offers individual seating for seven with so-called 'captain's chairs' for six, giving each occupant a range of seat adjustment and plenty of space. The second and third rows are fully flexible too, and can be moved fore and aft to give either greater legroom or more boot space. All the seats can be folded to give a vast load area too: a mammoth 2,385 litres in the long wheelbase version.
The mechanical set up of the R-Class is also a little unusual. As with most Mercedes-Benz products there is a rear-wheel drive entry-level version fitted with the smaller diesel engine, but the top-specification long wheelbase R350 CDI comes with four-wheel drive as standard.
Our verdict on the Mercedes-Benz R-Class R350 CDI L
The R-Class is unquestionably something of a niche product and it is up to the buyer to decide if they would choose one over an SUV or a high-spec conventional MPV. However the R-Class is very good at what it does, providing high levels of comfort for all passengers, a strong luxury feel throughout and acceptable running costs for a car of this size. Few rivals can carry so many in comfort.
Costs
The higher output diesel engine results in increased fuel consumption, although new efficiency measures brought in with the recent update keep consumption and emissions down to respectable levels, particularly in light of the vehicle's size. Nevertheless, this will be a relatively expensive vehicle to run.
Space and practicality
Undoubtedly the R-Class's strongest area, there is a huge amount of space on offer that can be tailored to suit a variety of circumstances. Changing from seven-seater mode to a two-seater van takes just a few moments, and with all the seats folded it has space comparable with the largest MPVs on the market.
Controls and display
From the driver's seat the layout is broadly similar to the older products in the Mercedes-Benz range, with the centre console dominated by the COMAND controls which operate most of the audio, telephone and navigation settings. The layout takes a little getting used to with symbols rather than labels on most of the buttons, but once it becomes familiar it works well and offers a wealth of information.
Comfort
Few cars if any can carry seven passengers with as much comfort as the R-Class, although it is perhaps at its best carrying six, or four with lots of luggage. Comfortable seats, low noise levels and a good ride all contribute, while the high specification adds to the relaxing demeanour.
Car security
An alarm and immobiliser are fitted as standard on all R-Class models, while features such as deadlocking and tinted rear windows all contribute to a high overall standard of security.
Car safety
The updated R-Class now offers the impressive Pre-Safe system which monitors the vehicle for potential accidents scenarios and prepares the vehicle in case of imminent collision. There will be few safer vehicles to carry this number of passengers in.
Driver appeal
The R-Class may appear designed to simply carry occupants rather than offer anything for the driver, but taking that into consideration it delivers a little more than expected. The higher-output diesel engine has huge reserves of torque and therefore effortless acceleration, well managed by the excellent automatic gearbox. Depending on the driving style it can work better in Sport mode to avoid a keenness to change up too early. The four-wheel drive system means all the power can be applied to the road virtually regardless of conditions, and the steering is accurate if relatively low-geared. The only demerit is the relatively soft suspension inevitably means body roll when pressed, but it will rarely be driven in such a manner.
Family car appeal
The needs of a typical family would be catered for comfortably by the R-Class, and unlike most family vehicles it has more comfort and a luxurious cabin to keep its occupants happy.
First car appeal
The R-Class is unlikely to be on the wish lists of new drivers, particularly given its expense and practical focus.
Quality and image
Like any modern Mercedes-Benz the R-Class is clearly a quality product with a high standard of fit and finish throughout. The cabin oozes luxury and delivers a feel-good factor to those riding inside. The image of the R-Class is broadly similar to the rest of the range: one of good taste and success without being flashy, although the relative rarity of the R-Class means it doesn't have quite the impact of an S-Class or a CLS.
Accessibility
Unsurprisingly the vast doors and clever seating arrangement makes it easy to climb aboard regardless of the seat. The relatively high roofline helps here too, while the big rear tailgate offers easy access to the boot. Remote tailgate operation and the ability to lower the rear suspensions makes loading easier still.
Stereo and ICE (In car entertainment)
The standard fit audio system provides a CD/tuner with auxiliary capability with excellent sound quality. There are numerous upgrade options too, including rear seat entertainment so that all the passengers can benefit.
Colours and trim
Bright colours do not suit a car of this size, although black isn't best suited as the result can be a car that looks a little bit like a hearse. Inside leather is standard which gives a strong luxury feel, and a lighter trim material helps to keep the cabin airy.
Parking
Finding a space for the full-length R-Class can be a challenge, but the actual parking sequence is relatively straightforward. Standard parking sensors and a good view out all round certainly help.
Spare wheel
Emergency tyre repair kit as standard with option of full size spare.
Range information
Diesel engine options - 3.0-litre (187bhp and 261bhp). Transmission options: Seven-speed automatic as standard. Trim levels: 300CDI Blue Efficiency and 350 CDI long-wheelbase only.
Alternative cars
Renault Grand Espace Less desirable badge but huge amount of space on offer
BMW X5 Comfortably, refined and sporty SUV remains popular
Land Rover Discovery Attractive, robust and with seven seats
Audi Q7 Full size SUV with quality and kerb appeal