August 2006
Mercedes-Benz GL-Class GL 420 CDI
There's no question that the GL boasts a sizeable road presence
August 2006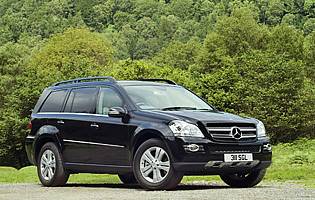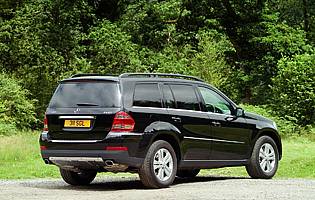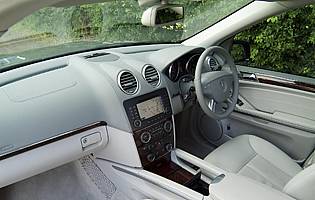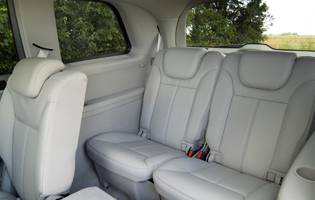 Overall rating

Likes:
Solid build quality and a premium feel in the cabin
Interior space is well above average
Off-road performance is on a par with products from Land Rover
With the third row folded, boot space is generous
Gripes:
GL is a large car and can prove tricky to manoeuvre around town
You need to be agile to get to the third row of seats
The options list is long and potentially expensive - and some items really should be standard
Although well built, the fascia design is too similar to less expensive models
Not content with having 'just' a five-seat 4x4 in its range, Mercedes added a seven-seat vehicle in 2006 to meet the demands of affluent families wishing to move up from conventional people carriers and estate cars. The GL-Class model is certainly accommodating; it's no wider than its smaller ML relative, but it's longer thanks to the third row of seats. Everything else is pure Mercedes - from the quality of the cabin and impressive engine range to the GL's go-anywhere abilities.
The sports utility vehicle (SUV) has evolved: first came basic vehicles that would go anywhere but lacked passenger refinement. Then came a mix of both, while now we have cars that boast executive saloon levels of luxury plus the ability to rival stripped-out 4x4s for their off-roading credentials.
This is where the Mercedes-Benz GL comes in. Although it shares the basic premium SUV concept with products from the Range Rover stable, it's different precisely because it's not a Range Rover. At the upper reaches of the car buying spectrum, many people are fiercely brand loyal, and when they want to upgrade they look to what else their favourite maker can offer.
Until very recently, Mercedes had an average SUV in the shape of the first generation ML - a car routinely beaten by BMW's X5. With that balance now redressed, the GL aims to rival the likes of the Range Rover and Audi's Q7. The crucial selling point is the inclusion of a third row of seats, taking the tally to seven. You might not always need them but, according to the marketing people, they're what everyone's been asking for.
Seven seats aside, the GL really is a Range Rover with a three-pointed star on its bonnet. Cabin ambience is a blend of R and E-Class, with the ML contributing much in the way of the car's instrumentation. The full-on 4x4 transmission (permanent all-wheel drive, locking diffs, low ratio gearbox) allows the GL to take no prisoners when off road, and the engine range is up to the usual standards and includes a powerful V8 diesel.
Our verdict on the Mercedes-Benz GL-Class GL 420 CDI
Although clearly a car targeted at the luxury SUV-obsessed American market it is big, and that's the price you'll pay for a seven-seat Range Rover rival. Its size makes it one of the most versatile cars around in its price bracket, which will no doubt make it attractive to large, active families moving up from premium estate cars or smaller SUVs. Some European roads and parking spaces don't quite feel big enough for the GL, but that's the only compromise you'll ever have to make.
Costs
The GL is anything but an inexpensive car to buy, but if you're in the market for an all-weather people carrier and activity vehicle no car of this size will come cheap. You can lessen the financial impact by opting for a diesel variant and exercising discipline over the optional extras list. With quality issues said to be resolved, servicing should be of the routine type only, although you'll still be paying premium rates.
Space and practicality
With both the rear rows of seats folded flat, the GL does a very convincing posh van impersonation. And with just the third row folded, there's plenty of room for family belongings and weekend activity clobber. The rear load lip is, despite the car's size, at a sensible height, although reaching an item in the boot's far corners will require a bit if a stretch. Elsewhere, the GL's spacious cabin is home to numerous storage areas, with the centre console and doors the most practical. And given the car's size, it's fair to say that no passenger is going to feel cramped - even in the third row of seats.
Controls and display
Recent years have seen Mercedes standardise many of its displays and controls - its audio unit has been slimmed down, for example. The GL borrows heavily from the R and ML-Class models, with the result that the main dials and centre console will be familiar to owners of the aforementioned cars. This is no bad thing, as the current systems are both easy to read and, in the main, intuitive. The GL's column-mounted gearshift is easy to operate, the ventilation controls are within easy reach and the steering wheel controls for the audio unit, trip computer and phone are a welcome addition. Only the car's COMAND unit, combining audio and sat-nav can prove fiddly to use thanks to its many small buttons.
Comfort
Plush seats, a lack of engine and road noise plus well set up suspension all conspire to give occupants in the GL an experience akin to that of a conventional luxury saloon. As you'd expect from a car of this size, head, leg and elbow room is very good in the first two rows, and not far behind in the third row.
Car security
A desirable car like the GL will always attract attention, but at least you get the full security package in terms of alarm and immobiliser. Remote central locking is, of course, standard. A sturdy cover keeps prying eyes away from the GL's rear load space, many of the cabin storage spaces have lids or covers. For added peace of mind, it might be worth investing in a tracking device in the event of vehicle theft.
Car safety
There's no shortage of systems to keep you safe in the GL. Aside from the front, side and curtain airbags, there's a host of electronic traction and stability gadgets to help prevent or lessen the impact of a collision. There's even the option of electronic assistance when towing, meaning the sometimes unpredictable movements of a caravan or trailer can be kept in check by keeping the car stable if the road conditions prove tricky.
Driver appeal
While larger than the more agile ML, the GL doesn't disgrace itself out on the road. The air suspension copes well with poorly surfaced urban roads, and there's only a small amount of roll when the tall GL is cornered briskly. This can be reduced by suspension's 'sport' setting. The GL's steering feels precise but a little lacking in feedback, while it's hard to find fault with the car's engine line-up. The big petrol V8 (GL 500) sounds good and is never short of power all through the rev range. The diesels are the real winners, with the 420 CDI a superb all-rounder. The unit's considerable torque means on road driving is relaxing, with off-roading a pleasantly stress-free experience. This is helped by the inclusion of a low range gearbox and locking rear and centre differentials - items not fitted as standard on the smaller ML.
Family car appeal
Cars with three rows of seats - be they 4x4s or people carriers - are more common then they used to be. Buyers with families and active lifestyles expect a certain level of versatility, and luckily for them the GL is pretty versatile. You won't find individual, adjustable seats as fitted to some high-end people carriers, but the GL's three regular rows should still be enough to satisfy a demanding family. Access to the second and third rows is good, as is cabin storage space. Boot space is no less impressive, but the car's plush interior might suffer at the hands of pets and very small children.
First car appeal
It's unlikely that the GL will appeal to novice drivers. Even if funds are available, the car is large by current standards and will likely prove too cumbersome around town. An already nervous driver is not going to want to park something like the GL in a hurry. That's not to say the GL is a hard car to drive, it's just not an ideal choice.
Quality and image
A number of high profile quality issues haven't failed to dent the car maker's image. That said, the main problems - electrical glitches and poor quality cabin materials - have largely been resolved. Recent models such as the R, S, CLS and ML-Class cars are noticeably better in all areas. The GL follows this trend, and feels as good as its price tag is expensive.
Accessibility
Front seat occupants will have little problem accessing the GL's cabin, as long as they don't mind the modest step up required to sit in the plush seats. Rear seat passengers face the same slight obstacle, but it's nothing that a healthy adult can't manage. Access to the third row is made straightforward thanks to the ability to easily tip the second row seats forward. The third row can be folded into the floor at the press of a button, while the GL's considerable tailgate can also be electrically powered. Although even without assistance, it's no hardship to open and close.
Stereo and ICE (In car entertainment)
The basic set-up in the GL is a good one, and delivers a high quality experience. Predictably there are numerous upgrade paths, including CD changers, full colour sat-nav, hands free telephone facility and headrest mounted screens for rear seat passengers. Basic audio controls are duplicated on the car's steering wheel.
Colours and trim
As with the rest of the Mercedes fleet, the GL looks best when chosen in a dark or sombre colour. Not only does this imply that the car is expensive, which it is, but also flatters due to its considerable size. Inside it's a different matter, as light coloured trim and upholstery help promote an airy, spacious ambience.
Parking
Although a big car, accurate low speed manoeuvring is made easy thanks to the car's standard fit auto gearbox, large side mirrors, light steering and parking sensors. Rearward visibility will also be dependent on how many passengers are obscuring your view, but there's plenty of window space to help with positioning the car.
Spare wheel
Space saver fitted as standard.
Range information
Petrol engine - GL 500 (388bhp). Diesel engine options - GL 320 CDI (224bhp); GL 420 CDI (306bhp). All cars come with a seven-speed auto gearbox. No trim levels, equipment levels dictated by engine choice.
Alternative cars
Land Rover Discovery 3 Better off road but not as impressive on road or in the cabin
Audi Q7 More sporty on road but lacking any hard-core off-roading talent
Jeep Grand Cherokee Cheaper than present company but the trade off is a few rough edges. Great off road, though
Volvo XC90 More a high-rise family estate than pure off-roader. Better on road than off