May 2012
Mercedes-Benz C-Class C 63 AMG Coupe
Bulging bonnet and muscular stance are key AMG trademarks
May 2012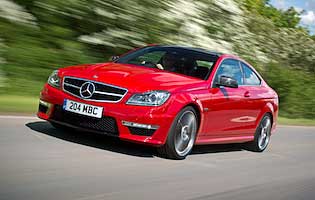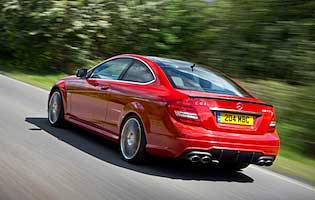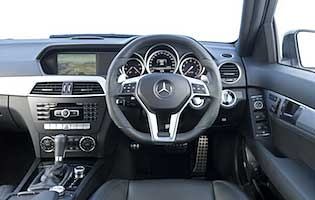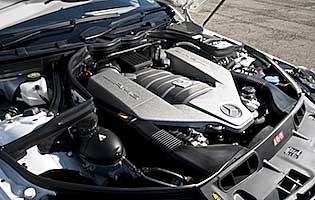 Overall rating

Likes:
Muscular V8 engine is impressive performance - from the drive to the noise
High quality cabin delivers refinement commensurate with the price tag
Stable ride even at motorway speeds
Various gearbox settings help match the conditions and your driving style
Gripes:
You might not always want to be heard before you're seen
Ride can be too firm in urban settings
Still plenty of scope to spend lots of money on options
Real-world fuel economy unlikely to top 20mpg
In recent years Mercedes has built up an enviable reputation with the production of an increasing number of high performance, AMG-tuned cars. This C 63 Coupe is just one of those capable of putting a high-octane smile on your face.
Once an independent tuner and now an integral, in-house part of the Mercedes empire, AMG produces a range of performance enhancements that result in a considerable step change in a particular car's abilities.
The cornerstone of an AMG-tuned car is the engine, and the 6.2-litre V8 petrol engine does without turbocharging to produce in excess of 400 horsepower. In a car the size of a C-Class Coupe that's a potent mix of power and torque, and one that transforms the otherwise mild mannered coupe.
Factor in tuned brakes, suspension and steering and you've got a car that takes the description 'hot hatch' to a new level. While the cabin displays only subtle hints as to the car's potential, turning the key results is a vocal response from the engine, and one that sets the tone for the ownership experience.
Forget Mercedes' mild mannered and conservative character, as the C 63 Coupe delivers sledgehammer-like acceleration and demands that you pay attention at all times. Its rear-wheel drive layout and short wheelbase combine to make the car a little 'frisky' but keen drivers will revel in the challenge.
Our verdict on the Mercedes-Benz C-Class C 63 AMG Coupe
A mild mannered cruiser one minute and crazy, tail-happy coupe the next, the C 63 Coupe is part of a long line of AMG-tuned cars capable of delivering a split personality driving experience. This is not a criticism though, as it's refreshing that you can still by a premium coupe with such a raw, edgy personality. It's not going to be for everyone, but that's also part of the car's appeal.
Costs
You don't by an AMG-powered Mercedes and then complain about the fuel economy. If driven enthusiastically you'll be lucky to see 20mpg. Expect tyres and other consumables to cost that bit more than normal too, while insurance and fuel won't come cheap either over the course of a year.
Space and practicality
As it's based on the C-Class Coupe, this C 63 variant is no less practical. There is ample room for two adults up front - two in the back would be a squeeze - and the boot is a generous size too, despite the coupe layout.
Controls and display
Some people love Mercedes' COMAND control system while others struggle to warm to its quirks as navigating its many functions can be something of an acquired taste. The display screen, however, is clear and easy to read. The traditional dials for speed, engine revs, fuel and temperature are clear.
Comfort
Thanks to supportive leather seats, the C 63 Coupe is comfortable on smooth roads. It can fall down a little over rougher surfaces and motorways though, where its low profile tyres contribute to a relatively firm ride. It's a compromise worth tolerating for the lack of pitch and roll when pressing on, however.
Car security
As you'd expect on such a high value car, the basic security features are covered with an alarm and immobilizer. For added peace of mind you might want to consider a tracking system. Given the car's value it might also be a condition of some insurance policies.
Car safety
Traditionally a Mercedes strong suit, the C 63 Coupe doesn't disappoint. From the mechanical elements including powerful AMG brakes and numerous airbags, to the various electronic stability aids your well taken care of.
Driver appeal
There's no question that the star performer here is the C 63's engine. A powerful, muscular and vocal unit, it delivers big slugs of power and torque on demand, allowing you to waft effortlessly or sprint from corner to corner at a rapid rate - it's your choice. The ride is firm but composed and the steering accurate. Only the slow responses from the auto gearbox occasionally prove frustrating.
Family car appeal
There's little chance of the C 63 Coupe finding favour with a family. Access to the rear seats is limited and the car's boot is a modest size by family car standards.
First car appeal
It's unlikely that any young or inexperienced driver would be able to obtain affordable insurance on a car as expensive and powerful as this. Even if they could, such a car would likely be a lesson in restraint in the hands of a novice.
Quality and image
AMG variants of various Mercedes models always prove popular, and the sporty brand image is hard to beat. On the whole, quality matches the price tag, although the C-Class cabin tends feel terribly special despite its injection of AMG power.
Accessibility
In two-door coupe guise the car boasts long, wide-opening doors that prove great for access but can be a hindrance when you've parked in a tight space. Predictably it's also a squeeze to reach the back seats, although they're hardly designed for everyday use anyway. Thankfully the boot aperture is large enough to get most bags in and out of easily.
Stereo and ICE (In car entertainment)
The standard audio unit is powerful and suits modern music well. Mercedes' COMAND system controls navigation of the sat nav and the other features. Cables are included for connecting MP3 players.
Colours and trim
Both bold and subdued exterior colours suit the car well, although you need to be careful if choosing black wheels as they don't go with every option. In the cabin, black leather and brushed aluminium trim are standard but the interior can be customised at extra cost if you wish.
Parking
With the optional reversing camera, the slightly restricted rear visibility of the high backed coupe isn't an issue. The left-hand wing mirror automatically angles itself downwards when reverse gear is engaged, to make parallel parking easier. Parking sensors front and rear give you an audible warning when you're too close to an obstacle.
Spare wheel
Tyre repair kit in lieu of spare wheel.
Range information
Petrol engine options - 1.6-litre (156bhp); 1.8-litre (204bhp); 3.5-litre (306bhp); 6.2-litre (457bhp). Diesel engine options - 2.1-litre (170bhp, 204bhp). Transmission options: 6-speed manual or 7-speed auto. Trim levels: Executive SE, AMG Sport, AMG Sport Plus, AMG (6.2-litre petrol only).
Alternative cars
BMW M3 Better handling but less power, the M3 is the keen driver's choice
Audi RS5 Four-wheel-drive offers superior traction, but the RS5 is less fun to drive
Lexus IS F Powerful, fast and refined, the IS F is an excellent all-rounder but lacks character
Jaguar XFR The British alternative; supercharged V8 gives plenty of punch