April 2011
Mercedes-Benz C-Class C220 CDI SE saloon
Subtle exterior revisions hint at a more rounded package under the skin
April 2011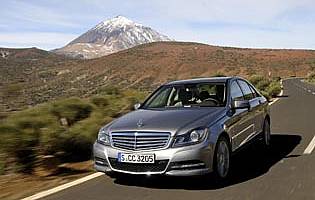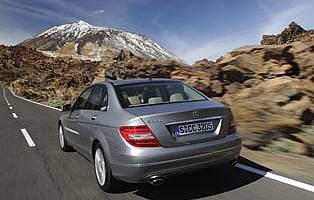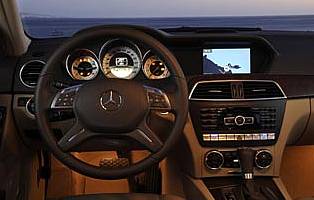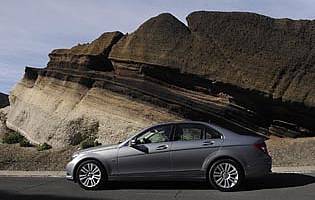 Overall rating

Likes:
Reassuring standard safety package
Strongly resembles benchmark E-Class
Sophisticated ride
Polished engine range
Gripes:
When driving it can feel slightly remote at times
Cheaper cars have less hard plastic on show
Sometimes awkward to close boot lid
Crowded market ensures tough competition
Recent years have seen Mercedes' C-Class matched, by the BMW 3 Series and Audi A4. The latest C-Class aims to re-establish the car's pre-eminence and largely succeeds. Although this is essentially a revision and not all-new, the improved refinement, additional safety technology and cleaner, more powerful engines combine to form an impressive package.
Not everyone can afford an E-Class, so Mercedes has made the C-Class into essentially a smaller, cheaper E-Class. From some angles it even looks like an E-Class, it drives a bit like an E-Class and from the driving seat it even feels like an E-Class. Indeed the car itself has grown in size and the wheelbase is less than 10cm shorter than the larger saloon.
This revised car displays the orderly, quality feel that any Mercedes buyer has a right to expect. There's neither the proliferation of buttons and menus that you encounter in some Audis, nor the pared-down minimalism of a modern BMW. Previous owners will feel at home, and new owners will feel that the car is contemporary enough to suit modern tastes.
Available with a range of improved engines, the fuel economy and low emissions of the diesels should make them the smart choice among business users. Mercedes' petrol units are renowned for their smoothness and still have plenty of adherents. They're also cleaner but not at the expense of performance.
On the road this C-Class might lack the keen edge of an Audi or BMW, but Sport variants cleverly balance entertainment with comfort. The car's door-mounted seat controls remain a Mercedes trademark and are far easier to adjust than under-seat controls. Once you've found your comfort zone, the miles slide by effortlessly and once again it feels as if you're in a shrunken E-Class.
Our verdict on the Mercedes-Benz C-Class C220 CDI SE saloon
For drivers who pound the motorways or prefer to take it easy, the C-Class will be a fine choice. A Lexus might get you more for your money, but the three-pointed star still seems to be worth paying a premium for. The almost uniform quality displayed throughout the vehicle shows that Mercedes has lost none of its ability to blend refinement with an engaging driving experience. The promised low running costs and greater choice of intelligent safety kit are also welcome.
Costs
It's easy to add thousands to the list price by cutting loose on the options list, but careful model selection should ensure that most of what you want comes as standard. Opting for diesel power could cut your tax and fuel bill, but the increasingly efficient petrol engines shouldn't be dismissed.
Space and practicality
There's no doubt that passenger space is great in front and is even pretty good in the rear seats. Bootspace is even better and easily capable of swallowing even the most oversized golf bags. Cabin oddment storage areas are sensibly located, too.
Controls and display
The car's dials and instruments retain a largely conventional layout. Instead of the intricacies of BMW's notorious iDrive system, Mercedes provides some simple, clearly marked shortcut buttons for radio, sat nav and so on along with an easier to use rotary controller. Ditching the predecessor's retracting navigation screen for a fixed item is also welcome.
Comfort
Noise is well suppressed and vibration almost completely absent. There's little hint of any tyre noise, either. All in all this C-Class is a welcome leap forward and closer to an E-Class than its predecessor.
Car security
The C-Class could attract unwanted attention from thieves and - more likely - the simply jealous. An immobiliser system is part of the package but an extra tracking system or at least safe garaging is highly recommended.
Car safety
Mercedes has made a concerted effort to provide a comprehensive package for the C-Class. The presence of crash-responsive head restraints and numerous airbags is welcome, but many other key features can only be had at extra cost, most notably the various active systems such as the auto brake function. It's good that they are available on a relatively inexpensive luxury car, though.
Driver appeal
The car's steering might be a little too light for keen drivers, but it's otherwise a match for the BMW 3 Series and Audi A4. Sport variants boast a more direct feel, and the various engines - petrol and diesel - are willing and refined. Even the standard fit manual gearbox is impressive, which was never always the case in the past.
Family car appeal
The saloon body style is hardly the best choice for a growing family. Today there are much better options available, and within the company it's cars like the hatchback B-Class that would better serve a demanding family. You can fit plenty in the C-Class? boot, but avoiding leather seats would be advisable for obvious reasons.
First car appeal
While youngsters may appreciate the aspirational qualities of the brand, their interest is unlikely to stretch into a genuine buying decision thanks to the car's 'grown-up' asking price and running costs.
Quality and image
In some ways, opting for a Mercedes can be a predictable choice. The C-Class can just about justify its asking price, but it won't necessarily make you stand out from the crowd. It is - and so is the firm's expanding line-up - a much better and more polished proposition than one from a decade ago.
Accessibility
This is probably one of the more accessible saloons, certainly more so than BMW's 3 Series. The nature of such saloons means the rear door aperture remains a modest one, while access to the rear load space is straightforward.
Stereo and ICE (In car entertainment)
The car's entertainment package is a combination of familiar items seen elsewhere in the Mercedes line-up. One change is the switch from a retractable screen to one fixed lower down in the fascia. You'll have to pay extra for the most sophisticated add-ons. Of particular note is the voice recognition system, plus the easy to use navigation function.
Colours and trim
Mercedes has split its offerings into two distinct streams: traditional Elegance and modern Sport, Sport models have widely-spaced slats and a huge grille badge, like the SLK, while Elegance has a modern take on the old-fashioned chrome grille. It goes without saying that dark exterior colours work best.
Parking
The C-Class might be a fairly short car, but the rear window's lower edge is quite high, so care still needs to be taken when reversing although sensors are optional. That aside it's an easy car to slot into a parking space.
Spare wheel
Emergency repair system comes as standard.
Range information
Petrol engine options - C180 1.8-litre (156bhp, 204bhp); C350 3.5-litre (306bhp). Diesel engine options - C200 CDI 2.2-litre (136bhp); C220 CDI 2.2-litre (170bhp); C250 CDI (204bhp. Standard six-speed manual transmission, seven-speed auto available on selected models. Trim levels: SE, Elegance and Sport.
Alternative cars
BMW 3 Series Benchmark driver's choice, hugely satisfying to own
Audi A4 Best in class interior and very refined
Lexus IS Lots of extra kit as standard but not as engaging as its rivals
Skoda Superb Different class and price but exceptional value for money alternative