August 2012
Lotus Exige S Coupe
Low stance and compact dimensions are big clues to performance potential
August 2012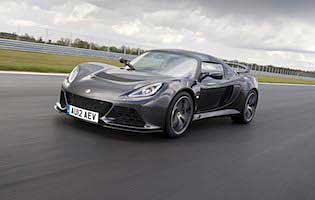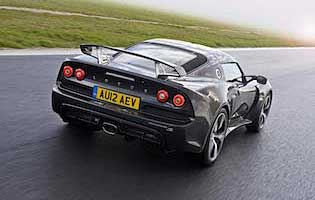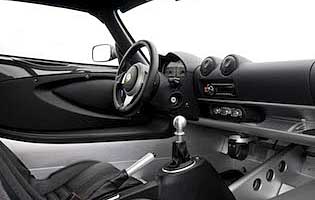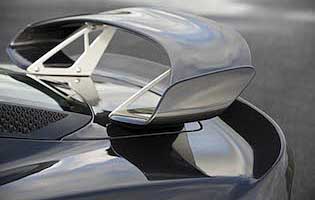 Overall rating

Likes:
Genuine supercar performance
Tractable engine is hugely responsive
Dramatic exterior styling guaranteed to turn heads
Surprisingly useable despite the car's stripped-out character
Gripes:
Noise levels are high at motorway speeds
Firm ride and heavy steering can be intimidating for inexperienced drivers
Cabin entry and exit are difficult, even for shorter passengers
Storage room is at a premium
Any modern day product from Lotus has, understandably, been perceived by many as an uncompromising alternative to the many more refined and rounded alternatives available from the volume-producing manufacturers. The Exige S aims to challenge those views while serving up a cut price supercar experience into the bargain.
The Exige is a well-established model within the modest Lotus line-up. A considerable step up over the entry-level Elise, some will say it's a 'full fat' Lotus capable making a credible challenge to the likes of Porsche, the ranks of niche sports car makers and even used versions of popular Ferraris when it comes to outright pace.
Backing up its maker's claims, the Exige S packs a tuned 3.5-litre V6 from Toyota, complete with 345 horsepower and a supercharger for good measure. In a car weighing under 1,200kg it's easy to imaging the potential for embarrassing more established rivals.
Still, for some there remains the thorny issue of usability. The Exige S might not realistically be a credible day-to-day car, but its cabin is sufficiently comfortable to make even long journeys more than bearable.
Of course, key to the car's appeal is the fact that it's a loud and occasionally gritty driving experience. Its low weight, direct steering and firm suspension demand your full attention, but the rewards are considerable once you've mastered the characteristics of rear-wheel drive chassis.
Our verdict on the Lotus Exige S Coupe
It only takes one look at the Exige S complete with purposeful aero package to know that it's a little bit special. Forget the inconvenience of contorting yourself to get in and out of the Spartan cabin, as the driving experience is worth every penny of the Exige's asking price. If you want surround sound infotainment and climate control look elsewhere. For a thrilling ownership experience the Exige S should be top of your shopping list.
Costs
Given the car's considerable potential, running costs thankfully don't stray too close to genuine supercar territory. The donor Toyota V6 boasts a solid reputation, and it's only if the car is routinely pushed hard will you incur regular wallet-bending outlays for tyres, fuel and out of schedule servicing.
Space and practicality
The compact dimensions and intimate nature of the Exige's cabin leave little room for anything other than the two occupants. Once inside head and legroom is decent, though. A small storage area behind the seats and a boot behind the engine do give some room for luggage, but nothing larger than a soft sports bag will fit.
Controls and display
The centre console houses only the ventilation controls which are stylish aluminium rotary knobs, although they are deep set which makes it difficult to see the top of the graduations. A small series of simple push buttons to the right of the steering wheel controls the lights, while the speedometer and tachometer are simple and elegant. It's fair to say that the car's low key fascia layout allows you to direct all your attention to the road ahead.
Comfort
Although clearly not built for comfort, journeys of even a considerable length can prove reasonable. The suspension might be firm but it's also compliant over all but the worst surface imperfections. Predictably it's noise - engine, exhaust, wind, tyre roar - that dominates the cabin.
Car security
With a standard fit alarm including remote central locking and an immobiliser, there is a good level of security for what is a desirable car. Anyone serious about theft prevention should consider an aftermarket tracking device as a secondary line of defence -a device your insurer might even demand as part of a policy agreement.
Car safety
With outstanding grip, acceleration and braking performance, the Exige has an impressive level of active safety. Traction control is available, and proves to be a remarkable responsive system capable of adapting to a variety of road conditions and driver inputs. Just don't expect the car to overcome the laws of physics if you run out of talent.
Driver appeal
No question, the Exige S isn't for the faint-hearted. That much is obvious from the car's purposeful and distinctive package of spoilers and splitters. And unlike many sports cars, these devices actually serve a purpose. And so does the car's 345 horsepower, supercharged V6 motor, which propels the lightweight Exige S with a force that's rare at this price point. Factor in a fully adjustable chassis via the throttle, rear-wheel drive plus direct steering and you've got a car that commands your full attention but rewards you with an engaging, visceral and supercar-rivaling driving experience.
Family car appeal
As the second car in the household a family may enjoy the Exige's performance, but in all other respects a two-seat car such as this won't serve the needs of a family.
First car appeal
It's pretty obvious the Exige S is an unwise choice for the novice driver. Its high performance, sensitive steering, generally poor rearward visibility make it a car for experienced drivers only.
Quality and image
The lightweight construction of the Exige makes it more susceptible to rattles and noises that may be attributed to a lack of quality, but it is actually well finished from good materials. The image of the Exige is impressive, trading on its reputation as a superb car on or off the racetrack, and few rivals can match the cache of its badge.
Accessibility
Getting in and out of the Exige is quite a challenge and requires practice, as the door aperture is narrow and the car is very low to the ground. Also, the roof is at waist height on most people. Once mastered it is less difficult, but still much more taxing than an ordinary car. Access to the boot is simple, although the aperture is much smaller than the boot itself.
Stereo and ICE (In car entertainment)
You don't buy this Exige to marvel at the audio unit's performance - there's too much in the way of competing noise for starters. The aftermarket unit of your choosing is located on the passenger side of the facia, which could prove annoying, though.
Colours and trim
Bold colours are worth the effort, especially as they contrast well with the car's many aerodynamic appendages. There's not much in the cabin of an Exige, but the general fit, finish and choice of admittedly basic materials do help justify the car's price tag.
Parking
The Exige presents a number of problems when parking, most notably the poor rearward vision. Forward vision is much better, but the steering is heavy at parking speeds, and that can make manoeuvres quite taxing for the driver.
Spare wheel
Emergency repair kit supplied.
Range information
Petrol engine options - 3.5-litre (345bhp). Transmission options: six-speed manual gearbox as standard. No specific trim levels.
Alternative cars
Caterham CSR Even more stripped down, delivers incredible driving experience
Ariel Atom Raw performance delivered by a stripped out racer for the road
Porsche Cayman Exceptional driving experience. Exceptionally refined in this company
BAC Mono Wild and exotic track-focused special that's only for the truly dedicated