April 2015
Land Rover Range Rover Sport SVR
Bigger front bumper with more air intakes gives the SVR serious presence
April 2015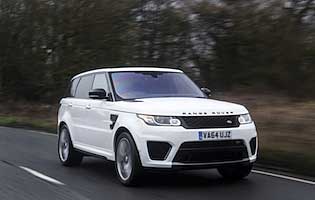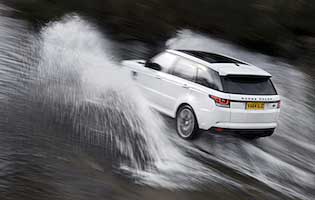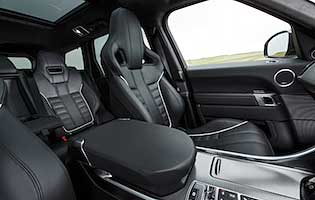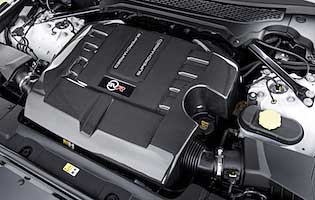 Overall rating

Likes:
Thunderous performance and soundtrack
Highly impressive handling given its size and weight
Comfortable and spacious cabin
Eye-catching exterior gives significant presence
Gripes:
Even in darker colours the SVR is not a car for anyone seeking discretion
Significant funds are required to purchase and run
Lesser V8 and diesel models offer much of the experience for less money
Some cabin trim has an aftermarket feel
Land Rover is continuing to expand its vehicle range and has set up a new Special Vehicle Operations division to create vehicles for a more select audience. The first Land Rover product to be produced by SVO is the Range Rover Sport SVR, a high performance version designed to compete with fast German rivals.
Land Rover's Range Rover Sport is a crucial model for the company, representing the mid-point of the Range Rover line up and a car that has a loyal following thanks to its combination of sharp looks, practicality and all-important image. Although the diesel versions are the most popular the previous range-topping version uses the characterful and powerful supercharged V8 unit.
The SVR takes this model as its basis, but in keeping with the high performance goal it benefits from a series of significant upgrades. Most crucially the supercharged V8 receives a substantial hike in power, bringing it in line with the same engine offered in high performance Jaguar models. Making the most of the new engine, an enhanced exhaust system delivers more engine noise when required.
On the outside the SVR is easy to tell apart from the standard Range Rover Sport, with larger air intakes at the front, bigger side vents, larger alloy wheels with the option to upgrade to huge 21-inch versions and a sizeable rear spoiler. There are upgrades inside too; a re-designed rear seat and new sports front seats for better support with unique leather trim.
Other mechanical changes are more modest, with retuned steering for sharper responses, and revised damper settings. The same brakes from the regular Supercharged are used but with increased cooling through the bumper to ensure reliable stopping,
Our verdict on the Land Rover Range Rover Sport SVR
The Range Rover Sport SVR is a niche product by any measure but its appeal is hard to ignore. Although its looks are potentially divisive it has great presence on the road, and whether being driven normally or at speed it is comfortable, capable and entertaining. Expensive to buy and expensive to run, it is nonetheless very impressive and desirable.
Costs
Choosing the V8 petrol over the diesel means a financial commitment has been made, so the additional fuel costs for the SVR will probably make little difference. However the SVR is substantially more expensive and will cost a little more to insure too.
Space and practicality
The key change for the SVR is that the rear seat has been optimised for the two people - it is still capable of carrying three, but one fewer ensures optimum comfort. Oddment storage isn't in short supply, and the car's boot is also a good size and at a decent height for loading.
Controls and display
In second-gen form the Range Rover Sport has fully embraced the digital age with a high-tech main instrument display that can display a multitude of information clearly and quickly. Familiar switchgear still exists, yet the button count is pleasingly low. In contrast the main infotainment screen and its user interface is showing its age, yet remains intuitive in use.
Comfort
Even though the sporting aspect of the car has been enhanced it remains comfortable, although the ride is a little firm than a regular Sport. Noise levels - other than the loud - exhaust - are restrained and it is still a relaxing car to drive, as long as restraint is exercised.
Car security
The Sport's keyless locking and ignition features are most useful, and take the hassle out of fumbling for a key in the dark. A comprehensive anti-theft system should provide maximum peace of mind, although a GPS tracker and physical measures such as extra locks where you park the vehicle could do much to reduce the insurance premium of what is a highly desirable car.
Car safety
As you'd expect, the Range Rover Sport is loaded with safety systems and equipment. Airbags, big brakes, and numerous electronic systems are standard. The off-road technology available is just as impressive and, crucially, ease to use.
Driver appeal
Anyone familiar with a regular Range Rover Sport Supercharged will find the SVR to be a similar drive just with everything turned up to the maximum, while anyone not used to the idea of a 542bhp SUV will be stunned. Bearing in mind a kerbweight in excess of two tonnes the SVR is exceptionally fast, with a sensational exhaust note to accompany it. The handling is also remarkably resolved, balancing bump absorption with limiting body roll.
Family car appeal
There's no question that the SVR is a smart, safe and entertaining way to shift a family from A to B. The car's plush interior might position it as more suitable for an older family, but there's no disputing its versatility. With enough space and all-weather capabilities, it's an impressive old-rounder.
First car appeal
It might be easier to drive than a supercar but the SVR is still a very powerful and sizeable machine that needs a careful and experienced hand, never mind the high costs involved.
Quality and image
Riding on a high after many years of sales success, as a brand Land Rover is a highly regarded company. Its cars are desirable and competent, and presently show signs of benefiting from technology to make them more economical and reliable. The SVR is effectively a new sub-brand but it seems likely that it will become a desirable one.
Accessibility
The Range Rover Sport SVR is a good height to step in and out of with ease, while good size doors provide plenty of easy access fore and aft. The rear hatch is easy to open as it can be powered, although it can be a stretch to reach to furthest corners of the boot if you're not particularly tall.
Stereo and ICE (In car entertainment)
Located high and central in the car's fascia, the standard Land Rover touchscreen system offers a wealth of features. Digital radio to CD and MP3 player connectivity the user is well served and the latest updated graphics help the user experience.
Colours and trim
The SVR comes with its own set of colour schemes ranging from the relatively subtle to the unmissable; which suits it best is a matter of personal taste. The same goes for the interior, which has re-trimmed seats featuring colour-keyed detailing. With some colours this looks good but with others it can look a little cheap - even though it isn't.
Parking
Front and rear parking sensors are most welcome in a car of this size, while the high driving position and big mirrors make the SVR surprisingly easy to slot into spaces. Super-light steering makes easy work of multi-point turns, and if you select the various camera-based viewpoints parking can be made even easier.
Spare wheel
Full size spare fitted under the boot floor.
Range information
Petrol engine options - 5.0-litre (510bhp, 542bhp). Diesel engine options - 3.0-litre (258bhp, 292bhp); 4.4-litre (339hp). Transmission options: eight-speed automatic gearbox with manual override, low ratio transfer box and permanent four-wheel drive. Trim levels: SE, HSE, HSE Dynamic, Autobiography, Autobiography Dynamic, SVR.
Alternative cars
Porsche Cayenne Turbo V8 and Turbo are rapid, yet diesel variants also offer an engaging drive
BMW X5M Similar in-your-face attitude, very capable with it
Mercedes ML63 AMG Impressive mix of performance and refinement, but chassis is safe rather than exciting
Audi SQ5 Diesel-only performance model, much cheaper as a result