January 2015
Land Rover Discovery Sport HSE 2.2 SD4 (7 seats)
From the front the Discovery Sport is very similar to the Range Rover Evoque
January 2015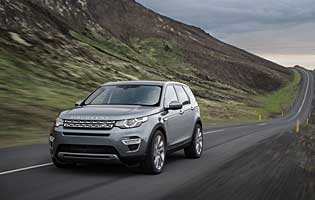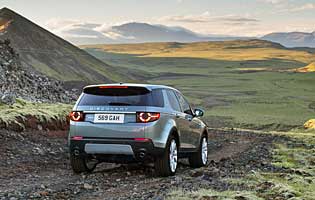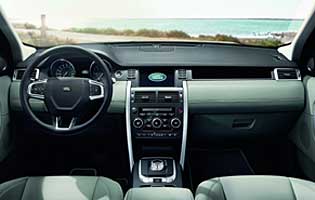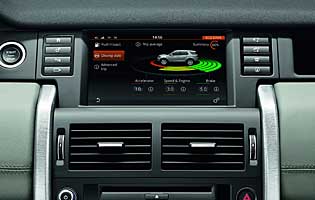 Overall rating

Likes:
Spacious interior for all passengers, and rear occupants aren't squeezed too heavily
Compact dimensions provide a surprisingly nimble and manoeuvrable feel on the road
Genuine off-road ability tested in line with Land Rover heritage
Intuitive controls and interfaces
Gripes:
Lacks the distinct style and desirability of the cheaper Range Rover Evoque
Expensive compared to some larger seven-seat MPVs
Certain engines have fallen behind the best and lacks refinement, especially when linked to a manual gearbox
Reliability has yet to be proven among closely related cars
Land Rover is already enjoying plenty of success at the point that the all-new Discovery Sport comes to market. It is the first addition to what will eventually become a Discovery sub-brand; a growing range in similar fashion to the existing Range Rover marque. Both brands have attracted much success in recent years, with the Discovery an enduring star.
Combining two of its most obvious triumphs in the full-size Discovery and the Range Rover Evoque may have been among Land Rover's plans for some time, and indeed many of its creative packaging solutions needed plenty of research and development time. Key to its existence is the option for seven seats in a vehicle little longer than a compact family hatchback.
Two versions will be built; one with seven seats and a space-saver spare wheel and another with only five seats but a full-size spare rim. Land Rover insiders insist that a spare wheel is essential. Despite a bias towards lifestyle buyers who will not venture off the beaten path, the Discovery Sport has been designed to tackle true off-roading.
In a marketplace that has become increasingly crowded with pseudo-4x4s and 'crossovers', the Discovery Sport has defined for itself a niche that offers buyers the chance to secure a seven-seat SUV without the normal compromises in sheer exterior bulk or price. Large, family-targeted SUVs are usually very large and often expensive.
Land Rover's latest iteration of the complex Terrain Response system is installed as standard, accounting for sand, snow, gravel, mud and more. It adjusts the traction control and engine management to maximise traction on different surfaces, giving it an instant advantage when snow falls heavily, for example, or for towing trailers across wet fields.
Our verdict on the Land Rover Discovery Sport HSE 2.2 SD4 (7 seats)
While the Discovery Sport might surprise potential buyers by being even more expensive than the Range Rover Evoque, and by some margin, it is the only compact SUV to offer this much practicality. It matches or betters much larger alternatives in that regard and offers a genuine option to buyers looking for seven seats but disinterested in large MPVs. The Discovery Sport is a clever car, cleverly marketed.
Costs
It is disappointing to learn that this model is notably more expensive than an equivalent Range Rover Evoque, which admittedly sacrifices practicality but wears a more desirable badge. People looking for a five-seat Discovery Sport may well be tempted by an Evoque instead if their need for boot space is not great. Fuel economy could be better, too, with less than 40mpg a likely real-world estimate until a more efficient ED4 version arrives.
Space and practicality
More than 34.5 litres of storage space is spread around the cabin, according to Land Rover. On top of that, the third row of seats in the seven-seater can be folded down to offer a large boot. With those seats folded up, luggage space is inescapably limited and suitable for smaller soft baggage of a bundle of winter coats. Practicality is enhanced by a towing capacity of 2.2 tonnes, but the seven-seat model requires a special tow bar whose price after fitting sails into four figures.
Controls and display
The new main colour screen is perhaps not the biggest among the Land Rover's rivals, but it does use excellent graphics to make its use as intuitive and self-explanatory as possible. The screen is big enough, sharp enough and splashes plenty of colour throughout its menus. It responds to touch easily and without lag, too. Elsewhere, the steering has a hint of weight about it to emphasise the Discovery Sport's SUV status, but the controls are chunky and easy to use.
Comfort
The Discovery Sport is quite wide and that is of great benefit when it comes to comfort. The seats that will be used most often are chunky and comfortable for long journeys, although some people may wish they were a bit softer and more cosseting for shorter hops. There is plenty of legroom in the front five seats, and with the benefit of the sliding middle row the seats can be arranged to give ample room for five adults and two young teenagers.
Car security
More expensive Land Rovers have a reputation for being bought by wealthier buyers, so can be targeted more often in the hope that owners may have left valuables inside. While an alarm and immobiliser setup is standard, darkened privacy glass can help reduce prying eyes' ability to see into the car and covered storage gives occupants the chance to keep valuables out of sight.
Car safety
The Discovery Sport has already been recognised with a high-profile UK-based award for safety thanks to its standard pre-emptive emergency braking system, exterior pedestrian airbag and further plethora of active safety systems. The testers as Euro NCAP gave the car one of the highest overall scores of any car tested in 2014, so buyers can rely on the car to keep them and their families as safe as possible.
Driver appeal
The 2.2-litre engine, which by Land Rover's own admission is quite old, still does a good job overall. It is undoubtedly better in conjunction with the nine-speed automatic gearbox and feels somewhat lacklustre when left to partner the six-speed manual. Quieter, more efficient engines are rumoured to be joining the range later. Wind noise is minimal and comfort is good, although it definitely benefits from chunkier, more compliant tyres. Fitting larger wheels with lower-profile tyres does introduce a firm edge to the ride that some buyers may be disappointed with.
Family car appeal
Any seven-seat car must have family values at its heart and the Discovery Sport is no exception. The two rear seats were, according to the firm, designed around the average 13-year-old, making them more spacious than many buyers might fear. The ability to slide the middle row of seats forward and back means families with up to five children can make sure everyone has plenty of space. Up to seven USB ports can be added as options, so that everyone can charge a device.
First car appeal
There is little chance that a young or first-time buyer would target the Discovery Sport as their first car. It is too big, too expensive and too difficult to insure, despite the fact that its many cool gadgets and off-road potential might appeal to an aspiring green-laner. Practicalities aside, this isn't a terribly difficult car to drive, with a confidence-inspiring driving position, light enough steering and parking aids to help avoid the bumps that come with inexperience.
Quality and image
Land Rover has struck gold with its current formula of effortless off-roaders that appeal more to 'lifestyle' buyers. A Land Rover is a desirable object, and, having hit on a balance that works, the firm is set to continue to benefit. The Discovery Sport feels solid but will have to prove itself.
Accessibility
For an adult of ordinary mobility the Discovery Sport requires just a slight stretch across the footplate. Older people with restricted movement might find it too tall, or the seats too far away from the door aperture. Higher trim grades have electrically powered boot lids, which is a big help when you are about to load luggage. The doors are wide enough and the roof high enough to allow easy entry, and when the middle row of seats is moved forwards and tilted forwards, it isn't too difficult to access the two rearmost seats.
Stereo and ICE (In car entertainment)
A new touch screen allows easier use of the stereo and displays audio data. The standard system on the HSE model features 11 speakers, one of which is a bass-enhancing subwoofer. It can receive and play audio files from numerous sources including Bluetooth, DAB digital radio and MP3 player inputs. There is a CD player in the centre console, too. A rear seat entertainment system is an option, adding eight-inch screens in the rears of both of the front headrests as well as headphones and a dedicated remote control.
Colours and trim
12 exterior colours were offered at the car's launch, covering the darker, subtler ends of green, grey and blue, as well as the compulsory white, silver and black. White is the only free choice. There is also a bolder red, with a superb metallic orange borrowed from the Evoque at the top of the chart for a not insignificant premium. The interior closely follows Land Rover design tradition, with rectangular shapes dominating an expanse of grey. For improved aesthetics, some surfaces can be upgraded to leather.
Parking
Rear parking sensors are standard, while SE Tech trim adds front parking sensors. A full semi-automated parking assist programme is on the options list and can cope with parking the car into bays and parallel spaces - and can also get the Discovery Sport out again with only throttle, brake and gear lever inputs. It's parking where most drivers might suddenly realise how modestly sized the vehicle actually is. Its length is entirely ordinary, but it is on the wide side at over two metres with the mirrors folded.
Spare wheel
Space-saver (seven-seat model) or full-size (five-seat model) spare wheel supplied as standard.
Range information
Diesel engine options - 2.2-litre (187bhp). Transmission options: six-speed manual gearbox and nine-speed automatic. Trim levels: SE, SE Tech, HSE, HSE Luxury.
Alternative cars
Hyundai Santa Fe Spacious, refined and capable of light off-roading, the Santa Fe is a good, budget choice
Nissan X-Trail Big and confident, the X-Trail is a chunky option with some off-road ability
Porsche Macan A smaller, sportier choice. Lacks a seven seat option
BMW X3 Stylish alternative biased towards on-road performance. Not the last word in cabin versatility