July 2005
Jaguar X-Type Saloon 2.2D Sport
More powerful diesel X-Type easily takes the fight to the German opposition
July 2005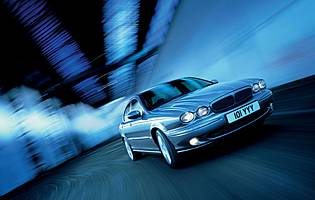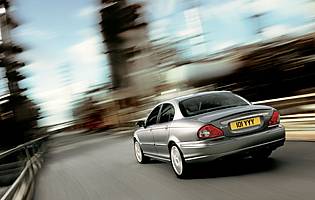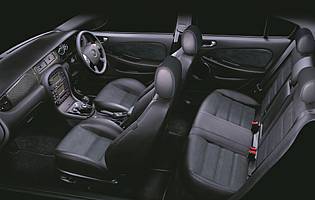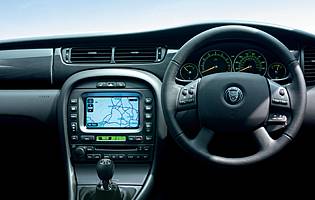 Overall rating

Likes:
Traditional yet stylish exterior
Diesel performance is impressive
Standard equipment levels are good
Driving experience should please enthusiasts
Gripes:
Rear legroom is modest at best
Boot aperture could be wider
Petrol models display a surprising thirst for fuel
Ride is overly firm on Sport models
Pitched as the 'baby Jag', the X-Type was originally devised to lure younger potential buyers away from the likes of Audi, Mercedes and BMW. But while that plan has not brought Jaguar the success it hoped for, there's still a lot going for the compact executive.
Competing against premium saloons such as the Audi A4, BMW 3 Series and Volvo S40, the X-Type was always going to find the business of tempting buyers tough. However, for fans of the marque that found Jaguar's other products too big or too expensive, the X-Type hit the spot.
Everything is not what it seems, though. More than the odd component is shared with Ford's Mondeo - Ford owns Jaguar. Powertrain, basic chassis layout and certain systems you can't see have either been borrowed from the Ford parts bin or modified to suit.
The result is far from a slap-dash collection of ill-fitting parts. While the first cars launched were petrol only and suffered a little in terms of cabin build quality, later cars benefited from improved interiors and an all-important diesel engine. The original oil burner was later joined by a more powerful 2.2-litre unit, and it's this engine that puts the X-Type on a par with its German rivals for performance and economy.
In truth, the X-Type is not a bad car, it's just been unfortunate to suffer at the hands of badge snobs and early teething troubles. It handles well, looks distinctive and is easily recognisable as a Jaguar. If anything it is the car you buy if you're turned off by the clinical efficiency of similar offerings from Germany.
Our verdict on the Jaguar X-Type Saloon 2.2D Sport
Ignore what the critics have said about the early cars - the current X-Type is no longer the brittle and lacklustre product it used to be. Since a recent programme of revisions, the car's cabin feels more luxurious and better appointed, while the inclusion of a pair of diesel engines has filled an important gap in the line-up.
Costs
The X-Type might have become better value since its launch thanks to improved equipment levels, but nothing with a 'premium' tag will be cheap to run. Be mindful that running and insurance costs are higher than for a mainstream saloon, although opting for a diesel will help matters.
Space and practicality
Compact saloon by name, compact saloon by nature. The X-Type won't spoil you with space, but for most people it should be fine. The main gripe is the modest amount of rear legroom, as adult passengers might feel the pinch on long journeys. It's also a little sung up front, especially if the car is specified with the bulky sports seats. Positives run to a good number of cubbyholes, including a useful centre armrest. At the rear the Jag's boot is a practical size given the car's compact dimensions, although the loading aperture could be bigger.
Controls and display
Improvements in quality all-round have even benefited the instrumentation and switchgear. Everything feels a little more expensive - and how it should have been from the car's launch. Everything is where you'd expect it to be, while the optional touch screen sat-nav makes finding your way through climate, audio and navigation functions easy.
Comfort
The X-Type is not a car you can stretch out in; its cabin is snug rather than spacious. However, the various seats are supportive and headroom - even in the back - is more than reasonable. Noise levels are pleasingly low, although ride comfort is spoilt by firm suspension settings - something that's most obvious when driving around town.
Car security
Jaguar hasn't missed a trick in the security department; remote locking, an alarm and engine immobiliser are all standard fit. There are few places to leave valuables in plain sight too, making it doubly hard for the criminals. However, given the car's status, you might want to consider an aftermarket tracking device for added peace of mind.
Car safety
You're well protected in the X-Type, what with occupancy-sensing restraint systems, dual-stage driver and passenger front airbags, front seat-mounted side airbags and side curtain airbags for both front and rear occupants. There's also the predictable inclusion of anti-lock brakes and traction control.
Driver appeal
At its launch Jaguar went to great lengths to promote the car's all-wheel drive handling prowess. Well, you can forget that when driving the front-wheel drive diesels. In truth, and unless you are an F1 driver in the making, you'll struggle to notice the differences. Steering is direct, and the brakes are powerful and responsive. The 2.2 diesel is the pick of the range thanks to its deep reserves of power and effortless overtaking potential. In contrast, the combination of sports suspension and large alloy wheels promote an unnecessarily harsh ride over poorly surfaced roads.
Family car appeal
With the core audience likely to be men in their mid thirties who are married but probably don't yet have a family, the X-Type is simply not targeted at a traditional family. It will cope, although expensive interior trims will be under threat from sticky hands and muddy shoes. The car's modest boot won't help, either. It's not big enough to swallow shopping, toys and the odd pushchair. An executive-style MPV would be a better choice.
First car appeal
Unless you've got a pot of cash handy, you're unlikely to have the means to buy and run an X-Type. Asking price aside, insurance, servicing and fuel costs are in the premier league - as you would expect from a Jaguar.
Quality and image
The principle is a good one: a compact prestige saloon blessed with plenty of obvious Jaguar styling cues and one that will please the enthusiastic driver. Alas not everyone has bought into the concept, as many still think of Jaguar as a maker of big, expensive and luxurious saloons. Initial build quality niggles have gone and the arrival of two impressive diesel engines have allowed the car to compete more successfully against the mighty steamroller that is BMW, Audi and Mercedes.
Accessibility
The car's doors feel heavy and substantial but are still very easy to pass through, although access to the front is predictably better than the rear. Compact saloons never make the best load-luggers, and the X-Type is no different thanks in part to the modest aperture of the open boot.
Stereo and ICE (In car entertainment)
The regular audio system is pretty good, as is always the case with all Jaguar cars. The options list includes power amplifiers, CD changers, sat-nav and Bluetooth telephone provision. The sat-nav is of the touch screen variety, and boasts a large display and responds quickly to detours. Topping all this off are remote audio controls on the steering wheel.
Colours and trim
All the traditional, sombre Jaguar colour options are present in the catalogue, and there's no question that a black or dark green car does look stylish. Light colours are good too, if combined with minimal chrome trim. The same is true of the car's cabin, as restrained colours certainly lend a more sophisticated air - especially black leather.
Parking
Parking the saloon is relatively straightforward; the power steering is light and the car's overall dimensions are hardly huge. That said, it's not always easy to judge where the boot ends, making the parking sensors a must-have purchase.
Spare wheel
A full size spare is fitted as standard.
Range information
Engine range comprises 2.0 V6 petrol (157bhp); 2.0 diesel (128bhp); 2.2 diesel, 2.5-litre V6 petrol (191bhp); 3.0-litre V6 petrol (228bhp). Trim levels: Classic S, Sport, SE and Sport Premium. Not all trim levels available with every engine option. Five speed manual or five speed automatic transmissions (petrol only) are standard fit, with a six-speed manual offered on the 2.2 diesel.
Alternative cars
Volvo S40 More contemporary looking than Jag, but another car boasting modest cabin space
BMW 3 Series Saloon The enthusiast's choice and class leader, although can be pricey
Audi A4 Saloon Latest model is good to drive and build quality is superb
Mercedes-Benz C-Class Much improved Merc is a good all-rounder if a little pricey