May 2006
Ford S-Max 2.5 Titanium
S-Max delivers a sportier ride than a conventional MPV
May 2006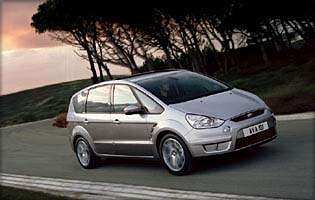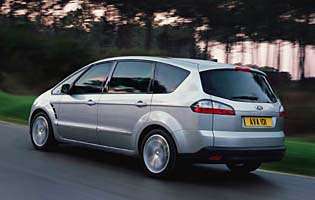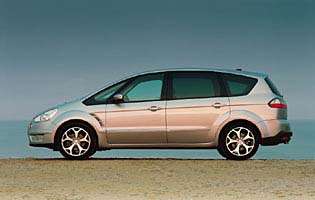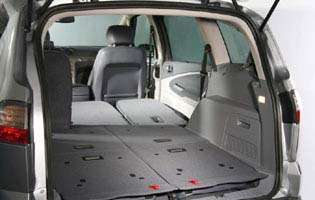 Overall rating

Likes:
More enjoyable to drive than traditional MPVs
Significantly cheaper than similar Galaxy
Thought has been given to interior design
MPV ownership without the social stigma
Gripes:
Luggage space limited with seats in place
Not as different to Galaxy as hype suggests
Difficult to get a discount on list price
Weaker engines cancel out sporty claims
Possibly stealing a march in its rivals, Ford is opening out the traditional MPV market by offering both the second generation Galaxy and the marginally smaller, sportier S-Max. The theory is that the S-Max will give most of the functionality of a people carrier - including seven seats - while retaining the enjoyable driving experience of a car. It seems to work, too.
Sharing a platform with the Galaxy, the S-Max isn't quite as much of a contrast with its sibling as Ford would have you believe, but it is just about distinct enough to merit its own badge. The styling is a bit more aggressive, with an attractive curve to the roof that the Galaxy lacks
On the road the S-Max provides a firmer ride and more direct steering than the Galaxy, feeling more like a medium-sized saloon car than a seven seater. Anyone who has driven a Mondeo will feel at home instantly. The driving dynamics are superior to most other people carriers, particularly with the excellent 2.5-litre petrol engine selected. It's the same unit in the storming Focus ST, and sounds great as well as turning the S-Max into something of a rocket ship.
Interior quality is impressive. Not only is fit and finish well up to the standards of mainstream opposition, there are even some innovative new features that add genuine functionality such as the mobile phone style steering wheel controls, which are very easy to use.
Interior quality is impressive. Not only is fit and finish well up to the standards of mainstream opposition, there are even some innovative new features that add genuine functionality such as the mobile phone style steering wheel controls, which are very easy to use.
Our verdict on the Ford S-Max 2.5 Titanium
In identifying a significant number of potential buyers who want the functionality of a people carrier but don't want the associations of being boring, Ford has been very canny. It doesn't matter that in reality there is little to separate the S-Max and Galaxy - the perception will be that they are very different. This is the people carrier for people who don't want a people carrier.
Costs
Opting for an S-Max looks like a cost-effective decision. It'll be only marginally more expensive than a conventional hatch or estate and returns similar fuel economy. Diesel models are particularly impressive. It's far cheaper than a Galaxy, too, though it will also be harder to negotiate a significant discount on an S-Max than it would be with its sister model.
Space and practicality
Likely to prove an effective all-round vehicle, the S-Max offers either seven seats or five seats and decent load space. With all seven seats in place, the boot is seriously compromised, particularly as the third rank of seats does not slide forward. There are lots of storage areas in the cabin even if the S-Max lacks the Galaxy's roof-mounted units.
Controls and display
From being rather outmoded a few years ago, Ford has really put some effort into its driver interface, with impressive results. The S-Max's dials and driver information systems are even somewhat reminiscent of Audi, which is really saying something. The steering wheel mounted controls will be familiar to anyone with a toggle switch mobile phone, enabling instant usability.
Comfort
Seats provide plenty of support throughout the vehicle. The driving position is excellent, so that the driver feels he or she is in a saloon or estate car rather than a van-like people carrier. Think carefully before opting for larger wheels than the standard 17-inchers, as such a move makes already firm suspension settings harsh. Wind noise is well suppressed, largely due to the aerodynamic nose section.
Car security
With their large expanses of glass and a tendency for items to be left on display, people carriers will always be prone to smash and grab robberies, but there's not much that can be done about that. The expected deadlocks and immobiliser are provided.
Car safety
The architecture of the S-Max looks robust, with an ingenious arrangement of crumple zones to minimise the effect of a crash. Active safety features include front and side airbags, middle-row window airbags and a driver's knee airbag. However, the S-Max's roofline causes the third-row window airbags of the Galaxy to be dispensed with. Other notable features include extensive Isofix mountings and active head restraints.
Driver appeal
Despite sharing a chassis with the Galaxy, the S-Max's suspension settings are noticeably stiffer and it delivers sharper responses as a result. Rear seat passengers may lose a little comfort, though driven sensibly there can be no real complaints. Braking and steering are similarly advanced. Pushed hard, the S-Max can deliver on its sporty claims.
Family car appeal
Contemporary wisdom has it that unless a family car can offer seven seats, it's no good. That's what hampered sales of the C-Max. So though few families will actually use seven seats with any degree of frequency, it's good to know they are there. And Mum or Dad is less likely to get annoyed with the kids in the back if the vehicle is good fun to drive. You need to keep these adults occupied, don't you?
First car appeal
Unless you are of a bizarrely practical bent and intend to get as large a family as possible as quickly as possible, the S-Max is not a particularly attractive proposition, even if it is slightly cooler than a Galaxy.
Quality and image
By offering a people carrier that pretends not to be a people carrier, Ford is cannily providing an outlet for drivers who know they need more room than an estate or hatchback can offer but don't want to regarded as just another middle-class MPV family. The styling changes may be slight but they are significant. Quality is high throughout this Belgian-built vehicle.
Accessibility
The falling roofline makes the S-Max slightly more difficult to get into than the Galaxy, but not by so much that it makes much difference. Second row seats fold out of the way easily to allow access to the rearmost rank. That said, the back seats are really for children or for adults on very short journeys. Doors are rather heavy, too.
Stereo and ICE (In car entertainment)
A single-slot CD player is provided. Importantly there is also a socket in the glovebox to let you plug in an iPod or MP3 player. All you need is a lead and you're away. Sound quality is very good, even from the entry-level music system
Colours and trim
Interior trim is more than acceptable. The designers have shrewdly placed high quality materials wherever they are likely to be touched, hiding poorer quality plastics in less accessible areas. Adopting a monochrome black, carbon fibre theme not only ties in with the S-Max's sporty character, it gives a feeling of unity and solidity to the cabin. It also makes it rather dark, but you can't have it both ways.
Parking
With a narrower back window than the Galaxy, rear visibility is rather limited in the S-Max. Generously proportioned wing mirrors go some way to minimising the inconvenience. An electronic parking brake is standard, though it will take a while to trust it completely if you have never used one before. Rear parking sensors are a worthwhile option.
Spare wheel
No spare wheel is provided. You'll have to make do with a puncture repair kit instead.
Range information
Four engines: 2.5-litre turbocharged five-cylinder petrol (220bhp); 2.0-litre petrol (145bhp); 1.8 TDCi (125bhp) diesel and 2.0 TDCi (140bhp) diesel. Trim designators are LX, Zetec and Titanium. A hot ST model will also appear. Five or six speed manual gearbox according to engine choice.
Alternative cars
Volkswagen Touran Nicely put together, if decidedly dull
Honda FR-V Distinctive six seater worthy of exploration
Vauxhall Zafira Seven seats and hot VXR version available, though smaller
Mitsubishi Grandis Quirky styling and lots of interior space