Ford Focus Zetec 16v Duratec Ti-VCT 3dr review
Restyled Focus looks more grown up than its predecessor
Mar 2005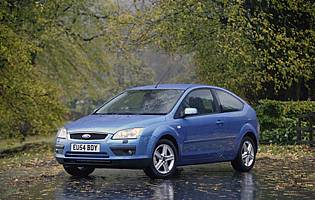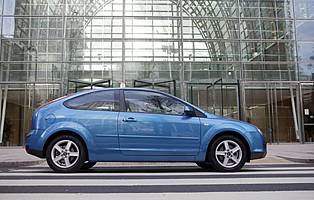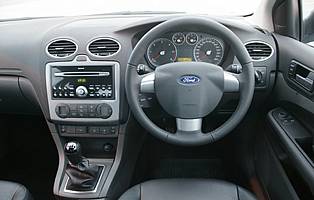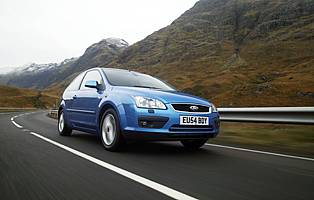 Overall rating

Likes:
Noticeable improvements in quality over original Focus
Refinement levels on a par with cars in the next class up
Good levels of standard safety and comfort equipment
Ride and handling stays largely faithful to its predecessor
Gripes:
Driving position will feel too high for some
Although still good to drive, it's lost the subtle nuances of the original Focus
Room in the back of the three-door car is modest at best
Overall, exterior less elegant than predecessor – more chunky
With the first Focus, Ford set a new benchmark in terms of looks and driveability. It would be correct to say that all eyes were on the company when it unveiled the second generation car, as repeating such a feat is never easy. In fairness, Ford has done a good job. Vehicle dynamics are still one step ahead of the competition while refinement levels easily put the car in the class above.
The original Focus was something of a trendsetter. Sporting a bold exterior complete with unusual curves and lines, plus a driving experience that was so far removed from the humble Escort as to be branded revolutionary, Ford's family hatch for the nineties was a huge success.
All good things must come to an end – despite the car having spent a record time at the top of the UK sales charts – and, in the face of rivals moving upmarket, Ford's decision to take the 2005 car in a subtly new direction will be rewarded in future years.
Gone are the first car's rakish lines, replaced by a more conservative appearance. It's still recognisably a Focus, but it's clear that rivalling the likes of Volkswagen's Golf is now more important than mixing it with lower order cars such as Peugeot's 307. The conservative, premium feel is immediately evident inside, too. Shiny plastic surfaces have been replaced by materials that wouldn't look out of place in an entry-level BMW, while on the move refinement levels are more than a match for the cars from Germany.
And while the amount of kit on offer has risen to new heights in terms of complexity and opulence, it's the change in the car's behaviour on the road that will be most noticeable to people familiar with the old car. In a bid to challenge more expensive machinery and deliver a higher class of experience, the 'edge' has been taken off the second-generation car's ride. It's still fun to pedal quickly but the Focus' newfound level of maturity has taken precedence over outright driving thrills.
Our verdict on the Ford Focus Zetec 1.6i 16v Duratec Ti-VCT 3dr
When you've got a bestseller on your hands and you decide to update it, everyone is going to put your new effort under the microscope. Yes the second generation Focus is a more mature, smoother riding and available with a better range of hi-tech kit. But, the purists will rue the slightly detached feeling you experience when driving it. Like so many cars, the Focus has grown up, become more classy and has a welcome executive feel to it. If that's the price of progress then it would be rude to nitpick.
Costs
Ford products have a reputation for putting little strain on the wallet and the Focus is no different. Agreeable insurance groups are backed up by modest servicing costs. The company's various purchasing plans should make the Focus an affordable purchase, while opting for a diesel engine will bring big savings at the pumps. What you can't expect is a stellar residual performance - there are too many cars in circulation for that to happen.
Space and practicality
There's little to complain about in the front part of the Focus' cabin. With enough leg, head and elbowroom for most adults, the cabin is a pleasant place to spend time in. As with many three-door hatchbacks, room in the rear is at a premium - the car's sloping roof and the general lack of legroom will be the main causes for discomfort if you're an adult. Children won't even notice, though. The trade-off is a decent size boot accessed via a wide opening tailgate, plus split-folding rear seats. Elsewhere in the cabin there are numerous, conveniently positioned storage bins and cubbyholes, giving an almost MPV-like feel to the cabin.
Controls and display
Revisions to the Focus' fascia have resulted in easer to read dials, more sensibly located minor controls and a general, all-round improvement. The column stalks operate with a greater quality feel, while the revised range of audio equipment all boast intuitive layouts – the top-spec touch screen unit is particularly impressive. Ventilation controls are either rotary dials or push button units and neither should pose any problems to users.
Comfort
The Focus' slightly raised front seating position makes it easy to get comfortable, as do the various adjustments available – including both rake and reach for the steering wheel. As such, you never really have to stretch to reach the car's major controls, making the driving experience a relaxed one. Head, leg and elbowroom up front is good too, although back seat occupants won't be impressed by the lack of legroom. In three-door form it's best to limit the rear chairs to occasional use for children, especially if it's going to be a long journey.
Car security
Base models get an immobiliser and central locking as standard, while moving up through the range the list expands to include remote central locking and a perimeter alarm on Zetec models. Further up the scale there's also a Thatcham approved anti-theft system.
Car safety
Twin front and side airbags are fitted as standard to the base Focus, but you'll have to move up the range to the LX if you want curtain airbags as part of your kit list. At least ABS and electronic brakeforce distribution is fitted to all cars. Xenon and adaptive headlamps are model dependent options, while Ford's stability control package isn't even standard on their top-spec cars.
Driver appeal
In three-door Zetec trim the experience is enhanced by a sports suspension package. The chassis is noticeable more responsive than other variants, while the steering remains direct and responds faithfully to your inputs. Bump absorption is also first rate, But, with the car's new layer of added refinement comes a slightly detached feeling – you can't have it both ways. And yet, despite the smoothing out of feedback from the steering wheel and driver's seat, the Focus remains an entertaining car to drive. For motive power, the top choice remains diesel thanks to the units' extra torque. If you crave refinement at a modest price, Ford's clever Ti-VCT petrol motor is an acceptable alternative.

Family car appeal
In sporty three-door trim the Focus is hardly going to have families rushing to dealerships. Access to the rear could be better, although that's a criticism you can level at most three-door cars, making this particular Focus more suitable for singletons, couples or as a second car to, say, a people carrier. Bootspace is fine, though, ensuring that car remains a decent load-lugger.
First car appeal
The Focus does make a sound first car if you don't fancy the confines of a supermini. Engine choice is varied, with the low power units more than adequate for a first timer. Comfort, visibility and ease of use all rate highly when assessing the car, while running costs – especially insurance – are unlikely to break the bank.
Quality and image
Ford would be kidding itself if it thought it had managed to cultivate a prestige image. Instead, the company is best known for pumping out millions of cars that real people own – and often buy with their own money. That last bit it's important, because if the car isn't good enough or the quality is lacking, even fleet managers won't sign up. Luckily for Ford the original Focus wasn't lacking, and neither is the latest one. And, despite being sold in record volumes, the car hasn't suffered image-wise from being everywhere you look.
Accessibility
In three-door form front seat occupants will have no trouble getting in or out thanks to the car's wide-opening doors. The high seating position also makes access and egress easy. However, rear seat passengers don't fare so well as they have to negotiate the seat belt rail and folded front seat to gain access. Making a dignified exit is more of a challenge, however.
Stereo and ICE (In car entertainment)
The standard radio/CD player delivers a decent performance and, thanks to its big buttons and display, is intuitive and easy to use. The upgrade path includes a number of options, including a flashy Sony-branded unit incorporating an in-dash CD changer and a full-blown touch screen sat-nav and combined telephone unit, plus a DVD system complete with extra screens for back seat passengers. Save for the entry-level Focus, there's a handy steering column stalk containing all the basic controls.
Colours and trim
Most exterior colours look good on the Focus but, predictably, it's the various metallics that give the car a more upmarket ambience. Lighter hues are better if you want to bring out the various details, as darker shades aren't terribly flattering. Inside, the cabin is noticeably built to a high standard – helped by the various combinations of black and silver to lift the mood.
Parking
Parking the Focus is a relatively straightforward exercise. Forward visibility is good, even if you can't quite see the end of the bonnet, while the view to the rear is more than adequate. The car's three mirrors help, as does the steering, which is nice and light and requires little effort to turn at low speed. If you need more help, rear parking sensors can be selected from the options list.
Spare wheel
Space saver fitted as standard.
Range information
Six engine options – 1.4-litre (80bhp) petrol; 1.6-litre (100bhp) petrol; 1.6-litre Ti-VCT (115bhp) petrol; 2.0-litre (145bhp) petrol; 1.6-litre TDCi (109bhp) diesel; 2.0-litre TDCi (136bhp) diesel. Manual, automatic and CVT transmissions are available depending on the various engine combinations. Trim levels: Studio, LX, Sport, Zetec, Zetec Climate, Titanium.