February 2005
Ford Fiesta ST
Sculptured front valance looks menacing
February 2005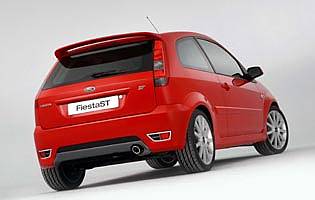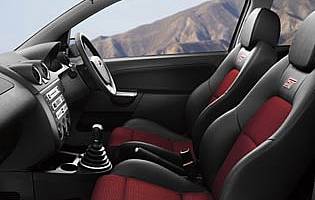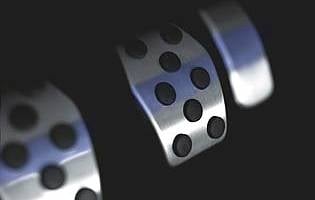 Overall rating

Likes:
Stylish looks are most appealing
Performance and handling are impressive
Half-leather interior oozes street cred
Asking price is more than reasonable
Gripes:
Wheel spin and torque steer can become irritating
Insurance will be too high for some very younger drivers
Flashy appearance likely to attract the wrong kind of attention
Rubber gearstick gaiter feels cheap
Ford rejoins the hot hatch market with its feisty little Fiesta ST - the latest in a long line of potent superminis from the Blue Oval. Priced to encourage younger buyers and styled to appeal to the boy racer in all of us, the ST is a pocket rocket and no mistake.
For a long time it looked as though the hot hatch had had its day. The blend of practicality and poke offered by these pocket rockets had seemingly lost its appeal, thanks in part to running costs and insurance hitting record highs.
Also, if someone wanted an affordable sportscar they bought an affordable sportscar. Similarly, if practicality was the name of the game then a family hatch, estate, SUV or MPV were the typical choices. The humble hot hatch was neither quick enough or practical enough to contend with this kind of competition.
However, they are now making a comeback with Ford's Fiesta ST coming in at the bargain end of the spectrum. The plucky little Ford has bags of style and doesn't come up short in the pace department either. It handles well and is more than capable of raising a smile.
It will have to see off the likes of the Seat Ibiza Cupra, Mitsubishi Colt CZT, Renault Clio Renaultsport and Peugeot 206 GTI, but with its combination of performance and poseability the Fiesta has a good chance of doing so.
Our verdict on the Ford Fiesta ST
Nippy, stylish and bags of fun: the Fiesta ST is a great car for the money. Unlike many hot hatches, the people who most desire it - i.e. the under 25 - will be able to insure this feisty Fiesta. Avoid the garish go-faster stripes if you don't wish to attract any unwanted attention.
Costs
Given the performance and the looks on offer, the ST is most reasonably priced. Fuel economy levels are good and insurance premiums won't be overly extortionate even for the under 25s. Repair and maintenance costs will be typical for a car sporting a Blue Oval on its nose - inexpensive.
Space and practicality
It's a supermini so there is a limit to how practical one could expect the Fiesta to be. That said, there is more than enough room for two adults to sit reasonably comfortably in the back, with those on the flight deck similarly well taken care of. The boot is big enough for a couple of medium sized bags or a large supermarket shop.
Controls and display
A majority of the ST's switchgear comes directly from its more humble siblings, which means that it is largely black and plastic. However, that isn't to say that they don't feel well connected. The main instrument binnacle looks clear and nicely appointed, as does the central control console.
Comfort
Those fat alloy wheels throw up a fair amount of tyre noise but in general the ST provides a civilised ride for something designed as a hooning aide. The stiff suspension creates more crash and wallop than on more mundane models but it is by no means unbearable.
Car security
Remote control central locking and an alarm take care of security. The stereo is fully integrated so as to deter any would-be thieves. A little extra protection would have been nice, though, as the ST will be to joyriding oiks what curry is to a drunken reveller.
Car safety
Twin front airbags are standard across the range. Side and curtain bags are a cost option. Buyers can also expect to find ABS on all models, and ESP on the ST. The Fiesta was awarded four stars when it underwent Euro NCAP testing.
Driver appeal
The ST has been designed as a driver's car and this is evident in nearly every aspect of its make-up. The slightly harder ride, the heavily bolstered seats and the rally-style pedals all allude to the supermini's purposeful intentions. It handles well and straight line pace is surprising. There is a slight problem with wheel spin when the accelerator is floored, but when full traction returns the ST howls off into the distance like a scalded whippet.
Family car appeal
As a second car yes, but as a primary mode of transport, no. If the family concerned has only one small child then the Fiesta is a possibility, but you would need to be a Rubik's cube world champion to cram a pushchair into its boot.
First car appeal
Any teenager worth his salt would be more than happy to cruise along the local highstreet in an ST. When kitted out in racing stripes and half-leather interior it looks like every boy racers dream. Insurance could be worse and those getting cover under a parents name won't have any problems at all. There's room in the back for a couple of mates, too.
Quality and image
Ford builds cars for the everyman, the average Joe. Modern cars bearing the Blue Oval badge are affordable, reliable and cheap to maintain - that's why several of the countries top ten best selling cars are Fords. In terms of image, models like the nippy little ST help enormously to make the brand seem more desirable and sought-after.
Accessibility
Five-door models are easier to get in and out of than their more compact three-door siblings. Relatively wide door apertures fore and aft make it easy for even the stiffest of occupants to gain access and egress. In the three-door only ST the job is made a little more difficult as you would expect, but most passangers will manage without too much bother.
Stereo and ICE (In car entertainment)
A single slot CD player makes its way into the ST as a standard fitment. The sound quality is good, if not quite hi-fi, and manages to drown out any excess background noise. Steering wheel-mounted audio controls - always a welcome addition - aren't available.
Colours and trim
Which paint scheme you go for will be entirely dependant on what kind of person you are. The more reserved will probably go for the understated yet classy black. Those that like more attention may be tempted by the flashy red paint job complete with full-length go-faster stripes. On the inside, branded sports seats look the part and hold you tightly in place.
Parking
Light steering and a small body make the Fiesta a synch to park in even the tightest of spots. There is plenty of glass all round providing the driver with excellent levels of visibility.
Spare wheel
Models are fitted with either a full-sized spare or a 14-inch space saver dependent on specification.
Range information
Petrol engine options - 1.25-litre (59bhp, 81bhp); 1.0-litre (79bhp, 99bhp, 123bhp); 1.6-litre (104bhp, automatic gearbox only). Diesel engine options - 1.5-litre (74bhp); 1.6-litre (94bhp, 180bhp). Transmission options: five-speed or six-speed manual gearbox, six-speed automated manual (1.6-litre 104bhp petrol only). Trim levels: Studio, Style, Zetec, Zetec S, Titanium, Titanium X, plus Econetic sub-models at Style, Zetec and Titanium level.
Alternative cars
Peugeot 206 GTI French hatch is getting old but still holds its own
Renault Clio Renaultsport 182 In Gordini Blue nothing looks better
Mitsubishi Colt CZT Colt looks good and goes well
Seat Ibiza Cupra Hot Spaniard packs a lot of punch