December 2012
Ford Fiesta 1.0 EcoBoost 125PS
The new Ford family face includes a large, imposing grille
December 2012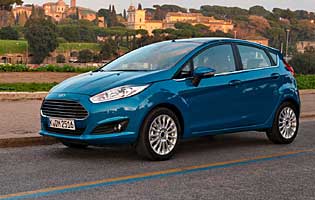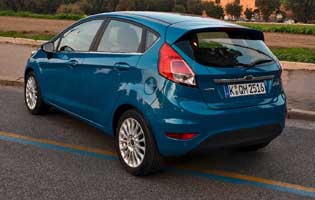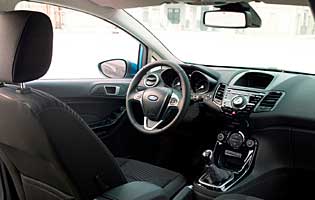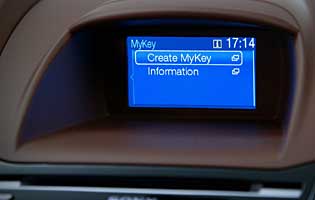 Overall rating

Likes:
Wide choice of frugal engines with low running costs
Good balance of driving enjoyment and ride comfort
Plenty of room in the rear for child passengers
Safety equipment breaks new ground for worried parents
Gripes:
New long nose looks awkward from some angles
Five-speed gearbox compromises both acceleration and cruising ability
If adequate care isn't taken, fuel economy plummets
Some areas of specification compromised to make way for safety kit
This is not an all-new car, rather being updated using the existing chassis. The Fiesta is a market-leading seller with a great combination of qualities that people really want, and key features among those have been enhanced for this minor model change. New engines, new front styling and minor interior changes are capped by a series of significant technological innovations.
Ford calls the Fiesta a small family car, and its dimensions are indeed similar to those of some compact family hatchbacks of 15 years previous. Sitting one class above the Ka and one below the Focus, the Fiesta is one of the mainstays of the Ford range. This model simply adds the latest styling and technology to the existing package.
New engines are the headline change, with a number of both petrol and diesel options now falling below 100g/km of CO2. While the chassis and body size are unchanged, leaving a generally familiar silhouette, a longer, more impact-absorbent nose is fitted with Ford's latest family face. It now has a much larger, more prominent grille and slanted headlights.
Key to Ford's aspirations for sales to families with kids of driving age is the MyKey system, which allows parents to limit certain electronically-controlled functions like audio volume and maximum speed. Two keys are supplied, so one can be customised as a MyKey if required. The latest generation of SYNC emergency services contact system is also a potential life-saver.
Inside, certain switchgear has been relocated but things are mostly unchanged, just like the driving experience. The Fiesta's feisty handling characteristics and tenacious front end bit are helped in the new model by the lightweight and characterful three-cylinder turbocharged EcoBoost engine, which also offers vastly improved fuel economy compared to traditional small petrol engines if used gently.
Our verdict on the Ford Fiesta 1.0 EcoBoost 125PS
The Fiesta has a winning combination of looks, efficiency and driving enjoyment. Much of the package is familiar, but all the changes and improvements have made a significant difference to the model range's appeal. Given that it was already a market leader, the Fiesta has raised the bar yet again. It's excellent to drive, amply comfortable and spacious, multi-talented and satisfying to own.
Costs
On the whole the Fiesta range is cheaper than ever to run, thanks to new lows in emissions, fuel consumption and insurance costs. The raft of safety systems help to make the Fiesta less of an insurance risk, with the MyKey system having received a warm welcome from insurers. The purchase prices of the latest model seem high but discounts are frequently easy to come by, and the lower the price goes the better value the car is.
Space and practicality
As a supermini the Fiesta is not built for load-carrying, but has a few tricks up its sleeve to add outright usability at need. The moderately-sized boot can be expanded by folding the rear seats down, and although they do not fold flat the resulting space is much larger than the boot alone. In the front area of the cabin there are storage bins and open-air trays to use and only the restrictive door pockets are disappointing.
Controls and display
There are a mixture of displays, from the simple but stylish instrument dials to the optional sat-nav and reversing camera screen. The latter is rather dated in its style of menus, looking very old-fashioned against equivalents from brands like Toyota. It's also a small screen that is recessed a long way into the dashboard, shielding it usefully from the sun but making it harder to read and control at a glance. The rest of the controls, including the relocated electric mirror switchgear, fall to hand easily.
Comfort
The cabin is surprisingly quiet at speed, with little wind and road noise. The seats are on the firm side of average, probably to promote longevity. The driver is treated to a good range of seat and steering wheel position adjustment on the higher trim levels, but may find that the wheel doesn't come close enough when their legs are comfortable. Rear passengers have less light, but good legroom. Overall ride quality is adequate at speed, but the Fiesta never really settles and can feel too bouncy.
Car security
As well as alarms and immobilisers, high-spec Fiestas have a very clever system to circumvent any potential remote central locking signal-jamming equipment used by criminals. Fiestas with keyless entry will detect whether a locking command has been successful and if not, the key will resend the command at a different frequency. Higher models also have darkened glass around the rear portion of the car to keep prying eyes out.
Car safety
Many systems are standard on higher models and not the lower ones, but among the range you can find systems to help prevent low-speed accidents in the city, an automated emergency services contact system that activates after an accident, the MyKey-linked top speed and audio volume limits and a spread of stability control-related active safety systems. Euro NCAP awarded the Fiesta the maximum five stars for safety.
Driver appeal
Successive generations of Fiesta have all been held as the driver's choice in the supermini segment and the latest is no different. It bites into corners keenly, has a pleasantly nimble chassis balance and is relaxing to potter around town in as well. The 1.0-litre EcoBoost engine is partly to thank, with its characterful three-cylinder thrum and mid-range torque. It's not as fast as the power-to-weight ratio suggests though; tall, eco-friendly gearing holds the car's gusto back.
Family car appeal
Befitting Ford's own description of the Fiesta as a small family car, it has many family-friendly features but also some obvious size-related impracticalities. Isofix child seat mounts are standard-fit, and an astonishing number of safety features means that parents can feel confident that their little ones are well protected. The limitations come with space across the rear bench, where three young children are fine but adolescents will be cramped. Nor is the boot big enough for pushchairs and the like.
First car appeal
Whether bought by a young person or by parents looking for a car that their kids can share, the Fiesta is built to be a first car. It may be considerably bigger than its Ka city car stablemate but for many people its increased practicality is a good reason to choose it instead. The Fiesta is affordable to buy and run, easy to drive, has only modest performance and the potential added safety of the MyKey system.
Quality and image
The Fiesta is seen as one of the coolest superminis. It looks good, it has a good reputation for being fun to drive, it comes in bright colours and it's generally unintimidating. It isn't, however, thought of as being among the most solid or reliable of small hatchbacks. Ford does not have an enviable reliability or ownership satisfaction rating, so this is one area where the car falls behind some of its rivals.
Accessibility
The Fiesta comes in both three- and five-door body styles, with the five-door cars sacrificing some outright style for more practicality and greater ease of access. The long front doors on the three-door make it harder for rear passengers to enter and exit, while also pushing the seat belts further back and making life harder for front seat occupants. The boot loading aperture is not the widest in the class but still leaves little to be desired.
Stereo and ICE (In car entertainment)
Only a basic system is included on the entry-level Studio model, with Ford's SYNC voice control system optional on lower mid-range trims. On higher grades the option brings with it a better Sony CD/radio. Functionality is good, but sometimes proves difficult on the move due to the small buttons being spaced quite far apart. SYNC-equipped models have Bluetooth and USB connectivity to increase the playback options.
Colours and trim
A series of bright, bold new colours has been released for the new Fiesta with the aim of attracting younger buyers to the model. The bright shades look great on the sharp lines and compact proportions, giving the car the visual zest that it deserves. The interior trim on high-end models can now be specified in colours to match the paintwork, but although it can look great it's not compulsory.
Parking
Despite the steeply raking shoulder line that is a design feature of this Fiesta, visibility is plentiful all around. That makes it easy to park, although for a little extra confidence rear parking sensors can be specified as part of options packs. A rear-view camera can also be ordered, but only on Titanium and Titanium X cars. Without any aids the Fiesta is small and narrow enough to park almost anywhere, with light steering making the job easier.
Spare wheel
Emergency tyre repair kit supplied. Space saver spare wheel fitted as standard only to Econetic models.
Range information
Petrol engine options - 1.25-litre (59bhp, 81bhp); 1.0-litre (79bhp, 99bhp, 123bhp); 1.6-litre (104bhp, automatic gearbox only). Diesel engine options - 1.5-litre (74bhp); 1.6-litre (94bhp). Transmission options: five-speed manual gearbox, or six-speed automated manual (1.6-litre 104bhp petrol only). Trim levels: Studio, Style, Zetec, Zetec S, Titanium, Titanium X, plus Econetic sub-models at Style, Zetec and Titanium level.
Alternative cars
Vauxhall Corsa Long in the tooth but still a financially attractive and capable option
Volkswagen Polo Good materials quality and image beneath sober styling
Chevrolet Aveo Great-looking and talented supermini with a small range of engines
Kia Rio Build quality, a long warranty and high fuel economy are all Rio traits