March 2013
Fiat 500L 1.3 MultiJet Lounge
The 500L has fuller proportions than the 500 hatchback
March 2013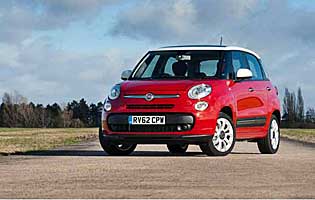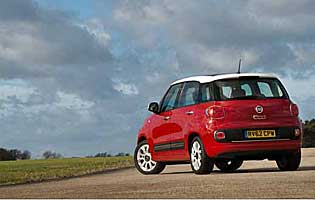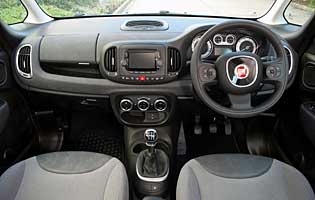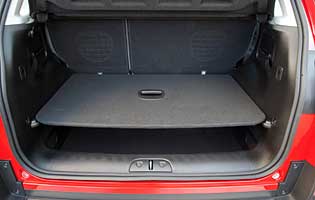 Overall rating

Likes:
Impressive ride quality and general driving manners
Stylish interior environment balances practicality and fun
Clever adjustable boot layout gives extra practicality
Mid-range engines offer excellent fuel economy and running costs
Gripes:
Still a relatively compact car for the asking price
Costlier 1.6-litre diesel struggles to impress
Some displays feel old-fashioned
Large gear lever knob may be awkward for smaller hands
Just as Fiat spotted a gap in the market for its 500 city car, the company now says it's discovered another. Those who bought the little 500 have by now started families and their beloved car no longer fits their lives. Many don't want to leave the fun and customisation potential of the 500 behind, so cue the 500L.
Although the names are partly shared, almost nothing else is. The overlap in the two cars' names simply reflects the mutual ethos of personalisation. Underneath the 500L is an all-new chassis that will form the basis of several important Fiat Chrysler Group cars, and a lot of development money and effort has been spent on it.
Young families are the target audience for the 500L. Many rival cars are perceived as a bit dull, or at least by comparison to the characterful superminis they may have owned previously. Fiat is aiming to achieve more of a sense of fun while incorporating all the key features that parents want, especially in terms of space and practicality.
The 500L is a compact car but its boot is actually larger than those of most C-segment hatchbacks. Its forte is local running where luggage is generally kept to a lower quantity, and where its small-capacity engines can give the greatest benefit. A mix of advanced petrol and diesel options addresses any potential buyer's needs.
It faces stiff competition in a burgeoning market sector from very accomplished rivals, but the myriad customisation options as well as a very simple pricing structure that gives buyers straightforward choices at the same cost point between more stylish or more comfortable and petrol or diesel gives the 500L a unique showroom advantage.
Our verdict on the Fiat 500L 1.3 MultiJet Lounge
The 500L is a much better car than many people may initially give it credit for. The new chassis is supple and controlled, the likely best-selling engines are excellent and the interior ambiance is light and likeable in a way that just about echoes the 500 enough to lift the new model above the crowd. It's a convincing package, but it's perhaps more expensive than some people might expect.
Costs
The purchase price of the 500L, especially considering that such prices are before options and customisations, seems high for its relative size and functionality. Other cars, if perhaps models without the raised driving position, offer much more space for less money so the 500L will need to be something that buyers really want. Low running costs are offered with a frugal selection of engines, but in the real world the 1.3-litre diesel is likely to be the best all-round compromise.
Space and practicality
One of the key features of the 500L is a movable boot floor that can be positioned at three different levels to provide either a large single load bay or two different split-level arrangements. In practice it allows easier access to luggage as well as space for large objects should the need arise. In the cabin storage for small items is excellent, with open bins and two separate glove boxes. There is no centre storage bin for larger items though, and the door pockets are disappointingly small.
Controls and display
Fiat's trademark 'squircle' is evident on the steering wheel but is then otherwise replaced with more conventional circular and kidney bean shapes. The main instruments are contrasting white and black with red-tipped needles, which makes them very easy to read at a glance. The touch-screen media and information interface is a welcome addition that lifts the interior from a visible technology point of view, but while it's easier to use at a standstill the rest of the controls are intuitive and fall readily to hand.
Comfort
The cabin is reasonably well noise-insulated, but there's sometimes a whistling around the door seals at higher speeds. Ideally the wheel arches would benefit from a little more soundproofing, too. Physical comfort is well taken care of, with this Lounge model's seats being some of the softest of any car on the market. They are immediately plush and comfy, which in turn creates a relaxing perch over shorter drives. For regular journeys of 80 miles or more, firmer, more supportive seats might be better.
Car security
On this model locking wheel nuts are standard thanks to the feature being linked to the presence of alloy wheels. The same feature is also standard on Pop Star models but not on the steel-wheeled Easy. Tinted glass is an optional extra across the range but will help to keep prying eyes out. The 500L doesn't reach the standards of security set by some sub-GBP20,000 cars, with four out of five awarded for preventing theft of the car by experts Thatcham.
Car safety
Six airbags, stability control and a space-saver spare wheel are standard on every model, the latter ensuring that a puncture doesn't have to mean being stranded. This Lounge version has fog lights and an auto-dimming rear view mirror to make the car more visible in fog and to cut down following traffic's headlight glare respectively. Daytime running lights are standard as well, to increase other road users' general awareness of the car's presence.
Driver appeal
Cars of this type have to be comfortable and quiet, with a good driving position and driver-friendly controls. The 500L is a definite step up in terms of maturity from the 500, riding with a thoroughly pleasant composure and stability even on broken and twisting roads in a way that belies the car's raised mini-MPV dimensions. It feels grown-up, but the ambiance behind the wheel still radiates fun and individuality.
Family car appeal
Young families are squarely in the 500L's sights. Rear access is excellent, making mounting a child seat easy, and the list of standard safety equipment is enough to reassure buyers that their most precious cargo is as well protected as it can be. There are Isofix child seat mounts on the outer rear seats and the driver can activate a child lock on the rear doors to prevent little hands from opening doors or windows. The boot can hold a full-size pushchair.
First car appeal
Although the 500L is clearly targeted at the sort of buyer who is upgrading from a 500 city car or a similar hatchback, there is a strong case for it as a first car if the obvious hurdles of purchase price and insurance can be overcome. The 500L is very easy to drive and has a confidence-inspiring level of visibility. It's also easy to park, can be customised to reflect a buyer's personality and has an economical range of engines.
Quality and image
Fiat has not had the best reputation for build quality or reliability over the years and such reputations are hard to shake off. It will take years of hard work to change the brand perception on that front, but Fiat's main pull is nothing to do with this field anyway. On the positive side the new chassis feels solid and offers a controlled, comfortable and steady ride, which gives it a more expensive feel than you might expect.
Accessibility
A tall, flat roof line means that entry and exit is as easy as any other car of this size or better. Its rear doors are just as long as the fronts as well, which makes sliding onto any of the five seats surprisingly easy with just a small tuck of the head on entry. The boot lid is wide and offers a very practical aperture, but is initially heavy for the first moment that you pull it.
Stereo and ICE (In car entertainment)
There is one chief stereo configuration, which uses a five-inch touch-screen interface to display music tracks and artists. It offers clear and quick functionality while the car is stationary but it can be a little bit awkward to push the correct part of the screen while driving along a bumpy road. At times the screen can seem a little too small. For extra power the standard audio system can be upgraded to Beats Audio.
Colours and trim
This is the ace up the 500L's sleeve, with a number of unusual and attractive body colours available for an extra cost. Light, pastel colours do the most justice to the curvy, fluid exterior lines, especially when combined with a white or black roof, but not all colours and combinations are available at the cheaper trim levels. The interior trim looks much more prestige than in many other Fiats, and colour accents can be changed according to taste.
Parking
The 500L is quite unusual in that it actually has very good visibility in all directions. Many cars really cut down on the rearward lines of sight, especially in the corners, and as such the 500L gives itself a real advantage when it comes to parking. Parking sensors are really not necessary here except for drivers who struggle with spatial awareness, but they are standard fit on Easy and Lounge grades. At less than 1.8 metres wide it can squeeze comfortably into most bay spaces.
Spare wheel
Space-saver spare wheel supplied as standard.
Range information
Petrol engine options - 1.4-litre (93bhp); 0.9-litre turbo (103bhp). Diesel engine options - 1.3-litre (83bhp); 1.6-litre (103bhp). Transmission options: five and six-speed manual gearbox depending on model, plus automated manual gearbox (1.3-litre diesel engine only). Trim levels: Pop Star, Easy, Lounge.
Alternative cars
Peugeot 2008 Fabulous looks, impressive practical touches and a good range of engines
Skoda Yeti Larger than the 500L but a highly acclaimed all-rounder
Renault Captur Outrageous two-tone styling hides Renault at its best
Toyota Verso-S Smart, straightforward and ingenious to live with