January 2008
Fiat 500 1.3 16v Multijet Lounge
Fiat's second-gen 500 might look familiar, but it's thoroughly modern in every way under the skin
January 2008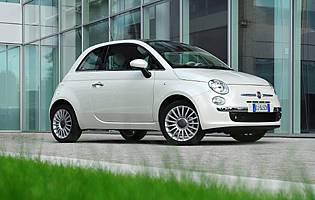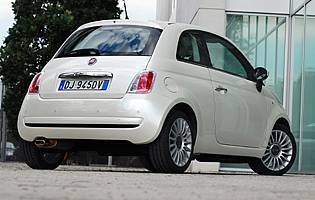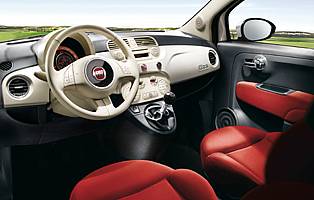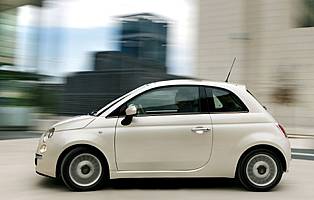 Overall rating

Likes:
The new 500's design has stayed faithful to its predecessor
Wide range of options and considerable scope for personalisation
Cabin build quality is impressive
1.3 diesel is the standout engine option, offering exceptional refinement and performance
Gripes:
Not the sharpest performer on the road - keen drivers will prefer the Mini
Steering wheel lacks reach adjustment
1.4 petrol engine could be more refined when worked hard
ESP is a cost option on all but 1.4-litre cars
No one could have predicted the success of BMW's Mini. The little car with the retro look bucked all the trends - fashionable cars usually have a short shelf life but since inception the Mini has gone from strength to strength. Clearly buoyed by such a performance, it was only a mater of time before Fiat delved into its past and produced a 21st century incarnation of its iconic 500.
Anyone with fond memories of Fiat's original 500 should look away now: this second generation car is no less civilised than your average supermini. The engine's in the front this time and the cabin is far from cramped - at least for something of this size.
In fact, this 500 has Fiat's Panda to thank for donating its basic platform and mechanicals. The purists have noting to fear though, as the end result is a perfectly well mannered and practical little car. When behind the wheel, you get a distinct big car vibe thanks to the above average build quality and refinement levels.
The overall look might contain a hint of a caricature of the old car, but the 500's appearance is more faithful to the original than its main rival, the Mini. The 500 also doesn't aspire to be anything but a cute little car. It can't compete with the Mini when it comes to driver enjoyment, but to criticise is to miss the point: the 500 is a 'feelgood' car, both for owners and onlookers.
The one parallel with the Mini is the ability to personalise you 500. From different colour keyfobs to numerous iterations of the Italian flag for badges, stickers and roof decals plus coloured interior panels to match the exterior and a generous selection of seating materials, there's scope to make your 500 one of the calculated 500,000 different permutations on offer.
Our verdict on the Fiat 500 1.3 16v Multijet Lounge
Offering a retro-styled car is one thing, making it successful as a rounded proposition is harder. BMW achieved this with its Mini, and Fiat can rightly claim to be on an equal footing with its 500. That's where the comparison ends though, because the 500 is not an overtly sporting car. It's cute with a capital 'C' yet delivers a thoroughly modern ownership experience. Build quality and refinement are well above what you'd expect at this price, and the 500's ease of use makes it a delight to drive.
Costs
Even if you don't exercise restraint over the options list, the 500 isn't an expensive purchase. With the 1.2-litre petrol model slipping under the magic 120g/km CO2 barrier, there's no compulsion to buy the diesel - although that too is a sub-120g/km car. Overall, factoring in running costs and the purchase price, the little Fiat should prove inexpensive to run.
Space and practicality
It's unusual for a car maker to produce a genuinely small car anymore, but the 500 is not the big, bloated caricature of its predecessor that it could have been. However, the little Fiat is surprisingly accommodating; space up front for two adults is fine, with head, leg and elbowroom all to a good standard. Storage space is modest though, as the door bins are shallow and there's no conventional glovebox but a deep shelf where one should be. At the rear, children will feel right at home and adults less so on long journeys on account of the modest legroom. Further back, the hatchback 500 possesses a good size boot and the rear seats fold to further increase the space available.
Controls and display
For the driver, the focus of attention in the 500 is the large, cowled display behind the steering wheel. It plays host to the speedometer, rev counter, trip computer and various warning lights and is both clear and intuitive. The 500's switchgear is familiar Fiat items and all work well. Essentially, the fascia mirrors that of the Panda - the 500's donor car - and is all the better for it. Depending on the chosen variant, when activated, Fiat's 'City' mode greatly increases the steering effort to make parking much easier.
Comfort
Although unashamedly a small car, the 500 will surprise you with its big car feel. Refinement levels are high, and it's only when you're on the motorway will you notice any obvious noise intrusion. Front seat occupants are well catered for thanks to a choice of supportive seats. And so long as you're short of leg, rear seat space isn't that bad - four-up to the pub is not out of the question but longer journeys might prove uncomfortable for grown ups.
Car security
Despite the car's raised profile thanks to its looks, there's nothing special in the protection department. That said, the standard remote locking and immobiliser package should prove effective. If you want a more visible deterrent, an inexpensive steering lock would be a smart purchase.
Car safety
Unusually for a small car, the 500 comes with seven airbags: front, side, curtain and driver's knee. This has help to ensure a top crash test rating, and should boost the car's profile with safety conscious buyers. Sadly the same attention to detail doesn't extend to the provision of ESP, which is only standard on the 1.4 petrol variant and cost option elsewhere. ISOFIX rear seat mounting points are present, ensuring the 500's reputation as a child-friendly car is intact.
Driver appeal
Where BMW promotes its Mini as a sporty, engaging car to drive, Fiat doesn't make wild claims about its 500 in a bid to tempt keen drivers. In reality the 500 is a solid all-rounder: supple suspension, a compliant ride, light but accurate steering, slick gearshift and good brakes are the order of the day. Of the engine options, the diesel shines because its flexible and refined nature make it ideal for both the city commute and longer, higher speed journeys. The equally CO2 friendly 1.2 petrol makes sense if money is especially tight or its home will be the city, while the 1.4 petrol feels very brisk but is also more vocal than the others when pushed hard.
Family car appeal
As a second car in the family the Fiat 500 might prove to be a useful addition, but don't expect it to be able to carry much in the way of family paraphernalia: the weekly shop and a pushchair or two for example. And like all compact two-door cars, it's always a struggle to make sure young children are secure and comfortable in the rear seats.
First car appeal
The 500 is a perfect car for the first time driver. Leave aside its looks for a moment, because its dimensions and ease of use make ideal for a city dwelling novice. Good visibility, a modest - not too powerful - engine range and light but accurate steering all conspire to ensure no surprises when you're just starting out.
Quality and image
In general terms Fiat has achieved good things in recent years, and done much to banish the old problems of poor reliability and long term durability. The 500's cabin is a perfect example of what has been achieved, with high quality materials evident throughout. Image-wise the 500 is clearly styled to tap into the demand for retro designed city cars and compete for a slice of the Mini's lucrative market share. Those with an interest in such style-led cars will instantly 'get' the 500, which is Fiat's goal after all.
Accessibility
The small Fiat's large doors open nice and wide, making it easy to access the front two seats. Tipping those seats forwards allows access to the rear seat, although you will need to be reasonably agile given the car's modest dimensions. At the rear the 500's boot requires little effort to open, although the aperture isn't as big as a regular compact hatch.
Stereo and ICE (In car entertainment)
Located high up in the fascia, the 500's audio unit boasts large controls and an easy to read display. Sound quality is more than acceptable for something at this price point, and the inclusion of six speakers on the entry-level Pop variant is welcome. Lounge and Sport models gain Fiat's 'Blue and Me' system, which consists of a Bluetooth telephone connection and a USB port for connecting media players to the audio unit. There's also an upgraded sound system option with more speakers and power to boot.
Colours and trim
With many colours both inside and out to choose from, there is little point in dictating what is good or bad. Ultimately the final decision will be a matter of taste, although it's fair to say that garish combinations could adversely affect future residual values. Sufficed to say, the 500's interior can be specified in a number of bright colours which are perfectly in keeping with the car's cheerful personality.
Parking
Being a compact car, the 500 is easy to park and manoeuvre at low speeds. All-round visibility is good, thanks in part to the raised driving position and generous amounts of glass in the in cabin. Ordinarily the car's steering is light enough, but models fitted with the 'City' feature enjoy greatly increased steering assistance at the press of a button. Although not really essential on a such a small car, where fitted the rear parking sensors are a welcome bonus.
Spare wheel
Space saver fitted as standard.
Range information
Petrol engine options - 1.2-litre (69bhp); 1.4-litre (100bhp). Diesel engine options - 1.3-litre (75bhp).Transmission options: five-speed manual gearbox as standard, with six-speed unit for 1.4 petrol variant. Dualogic semi-auto system is a cost option for petrol models. Trim levels: Pop, Lounge, Sport.
Alternative cars
Mini One Similar retro design to the Fiat but promises a more engaging drive
Suzuki Swift Conventional supermini, although delivers a more rounded performance than expected
Volkswagen Beetle Popular cult car reborn with Golf underpinnings; refined but not a driver's car
Renault Twingo Unusual styling hides straightforward mechanicals; not quite as polished as rivals