April 2013
Ferrari FF 6.3 V12
FF shares some styling cues with the 458 Italia
April 2013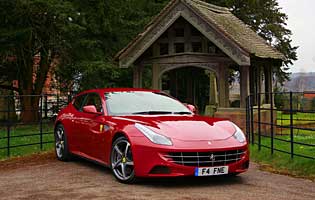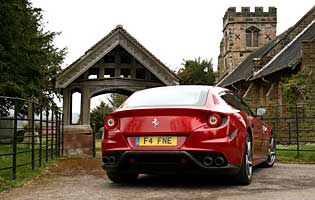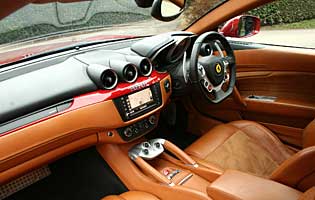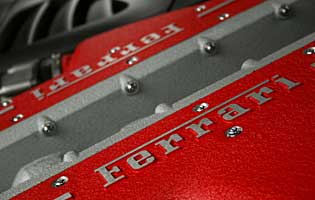 Overall rating

Likes:
Stunning shape and muscular lines work best in the flesh
Magnificent engine provides huge pace and character
Versatile load area can accommodate skis and more
Double glazing helps to provide gentlemanly refinement
Gripes:
Boot not especially versatile in its basic interior shape
Tanks of super unleaded are consumed quickly with high-speed cruising
Long nose and poor rear visibility knock parking confidence
Some interior stitching does not align from trim panel to trim panel
If you're fortunate enough to be in a position to be able to simply choose at leisure to up sticks and drive to somewhere sunny, you probably want the right car in which to do it. With a huge engine, magnificent engineering and four seats, the Ferrari FF has the glamour, the speed and the comfort in spades.
Ferrari's V12 models are traditionally more mature cars than its V8s. They are usually longer-legged and designed for crossing continents at high speed, and the FF - Ferrari Four - fits that mould. However, where it differs is in its four-wheel drive system and 'shooting brake' shape that can look awkward in photos but just perfect in the flesh.
Built as a replacement for the 612 Scaglietti, the FF has features designed to make it more at home in places like the Alps, where snowy roads and slippery hillsides are routine. A unique four-wheel drive system uses two separate drive shafts at opposite ends of the longitudinally-mounted front-mid V12 to minimise weight and keep the engine low.
However, the FF is entirely rear-wheel drive until the back tyres break traction, and it has all the dynamic capability on a dry road that you would expect from a rear-driven Ferrari grand tourer. The advantage comes in slippery conditions, where a maximum of 20% of the engine's power is sent to the front wheels and makes a big difference.
Obviously it's extremely fast, but it also shrinks around the driver at speed. The ride is good for the type of car and the seats are genuinely comfortable. The cabin is quiet, too, thanks a clever application of technology. It has the ideal mix of attributes for a car that can be enjoyed as well as being a cross-continent express.
Our verdict on the Ferrari FF 6.3 V12
The FF is characterful. It blends refinement and a dash of soul with the hard-edged mechanical excellence that typifies the brand, and it does so in such a way as to make itself compelling as a grand tourer that transforms into a sports car on demand. The boot still isn't especially big, but there's enough room for a weekend trip for four. And what a trip it would be.
Costs
Clearly the FF is a hugely expensive car by normal standards, but to the people who buy it the car is actually reasonably priced for what it offers. On average, owners add around GBP60,000 of extras to the car anyway. Running costs are made surprisingly reasonable by seven years' free servicing, but the one problem that might be difficult to escape is depreciation. The FF is not a limited edition despite its relative rarity, and owners are almost certain to lose out over the course of their ownership.
Space and practicality
Although the car has a useful boot similar in size to a C-segment hatchback, it has a stepped layout because of the rearward drivetrain components. That limits the physical size and shape of objects that can be loaded, but golf bags and ordinary luggage like suitcases will slide in with minimal fuss. The cabin has a basic complement of storage solutions, including a central bin, cup holders and a reasonably sized glove box.
Controls and display
As is the fine Ferrari way, the huge yellow-backed rev counter is the centrepiece of the main instrument cluster, which is perfect for spirited driving. Either side of it are digital screens that can display everything from the parking camera views to a digital speedometer and a choice of live car information including coolant and engine oil temperatures. These screens, like the sat-nav unit in the centre console, are relatively low-resolution compared to many you find on the market but they get the job done.
Comfort
The FF could never be compared to a Rolls Royce for outright comfort, but for the type of vehicle it is; how low it is and how large the wheels are on this particular car, the ride comfort is impressive on UK roads. Down through Europe on the smooth and well-maintained toll motorways the FF would be superb. The seats are also very impressive, offering a firmness and unobtrusive kind of support befitting the car.
Car security
Although an alarm and immobiliser are standard, there is actually very little in the way of advanced security precautions on the FF. There is a standard and rather cheap-looking key for the remote central locking, but Ferrari seems to assume that owners will look after their cars with tracking devices, theft-warning alerts and heavily fortified overnight storage. The boot is, however, difficult to access if thieves have broken into the main passenger area.
Car safety
Ferrari introduced the complex four-wheel drive system not just as a traction-boosting performance aid, but as a safety device as well. When the rear tyres lose traction the fronts engage, helping to reduce the load on the rear rubber and reducing the possibility of any slide. Furthermore, wide, advanced and expensive tyres offer huge grip. Other than that the FF is equipped with enough airbags to offer protection for all the occupants.
Driver appeal
If any car offers the best of all worlds, the FF does. Its rear-wheel drive handling balance and even weight distribution provide the dynamism, the four-wheel drive system adds traction when needed and the engine - especially with the double-glazed windows wound down - sounds out of this world while delivering its astonishing speed. Plus the ride is mainly composed aside from striking potholes too hard and a tendency to follow white lines.
Family car appeal
As strange as it may seem, the FF is one of Ferrari's most family-oriented cars. The four seats are spacious and airy enough to transport parents and children however far they want to go. The boot might not be big enough for all pushchairs but collapsible ones will fit, and the only real drawback is that the three-door layout does hinder access to the rear seats slightly, making fitting a child seat harder.
First car appeal
It's easy to imagine pictures of the FF covering wallpapers both in the house and on the computer desktop, and its desirability is beyond doubt. It's the sort of dream car that many young drivers aspire to, but there are many reasons why even if the financial obstacles including price, insurance and running costs could be overcome, the FF would still be an awful choice. Its huge power could be dangerous in the hands of an inexperienced driver, and relative to a supermini it's hard to park.
Quality and image
Ferrari's brand image is unimpeachable and for that reason some people choose not to like it. Most people, though, respect the company's cars and even lust after them, so the sight of a Ferrari travelling along, especially in an area that doesn't normally see such expensive machines, is enough to draw amazed stares and hastily-drawn camera phones. The car's physical quality is split between astonishing mechanical precision and somewhat less exacting interior trim.
Accessibility
The FF is a three-door car and a long one at that, so the main doors have to be quite long. That in turn makes them heavy and also means that it's quite a considerable step forwards from the door edge into the footwell. It's something you get used to but not the best for weak knees. The tailgate is light and easy to lift, though, making it a one-finger operation to lift it.
Stereo and ICE (In car entertainment)
The stereo is a secondary concern for Ferrari, and although the system works through the large colour display in a way similar to many other cars, the menus are not the most intuitive. The steering wheel is packed with other buttons and there is no room for audio controls, but there is at least the capacity to either wirelessly stream music via Bluetooth or connect an MP3 player via USB. According to Ferrari the USB socket doesn't charge the device, though.
Colours and trim
A number of colour options are available, including the obvious and traditional red, a black, a silver and a blue. Silver looks too understated, but for real impact buyers can opt for a three-layer paint job that adds depth and wow factor, but costs over GBP11,000. The interior trim of this test car had been upgraded with additional leather trim and very few surfaces were not coated in the same soft tan leather. Unfortunately, the look is let down by misaligned stitching in places.
Parking
For a high-power GT car the visibility out of the FF is actually very good in all directions, and barring a large blind spot that affects rear three-quarter line of sight the situation is not too bad when considered against its direct competition. However there is a selection of cameras that provide direct front and rear views, plus diagonal views at the front corners. This makes parking extremely simple - until the cameras get coated in dirt or water and become rather less useful.
Spare wheel
Emergency tyre repair kit fitted as standard.
Range information
Petrol engine options - 6.3-litre (651bhp). Transmission options: seven-speed dual-clutch automatic only. Trim levels: FF 6.3 V12.
Alternative cars
Aston Martin Vanquish Breathtaking to look at with a glorious V12 engine, but not as practical
Porsche Panamera Ruthlessly efficient Turbo version is hugely fast, versatile and much cheaper
Maserati Quattroporte Beautiful Italian design, a decent boot and a practical four-door layout
Bentley Flying Spur Dignified and impeccably appointed inside, this is the rear passengers' choice