Log in or register
close
My AA Account
Sign in to see your cover and request assistance online
Don't have a My AA account?
You'll need your policy or membership number
DS 3 Cabriolet review
Striking exterior design
March 2016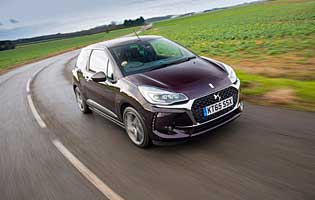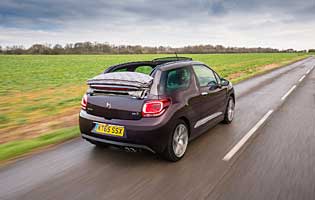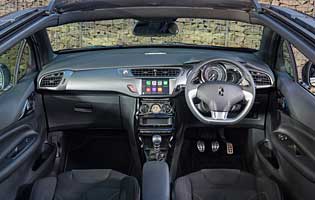 Overall rating

Likes:
Striking exterior design
Fun customisation options
Good choice of engines
Roll-top roof is great in summer
Gripes:
Awkward interior
High list price in comparison to rivals
Not all the materials as premium as they could be
No cupholders
The 1955 Citroen DS is one of the highlights of French carmaking. Its name (a play on words - it sounds like 'goddess' in French) is now being used to build a premium brand from scratch. This is an ambitious endeavour that the company's bosses acknowledge will take decades, but this DS3 Cabriolet is the first meaningful step in that journey.
The DS3 is a good-looking premium city hatchback with recognisably French character. The Cabriolet adds to this with a roll-top fabric roof and heaps of extra flair. Decisive lines, bold features and ornamental additions come together to make arguably the best-looking city-orientated hatchback currently on sale.
Mechanically, the DS3 Cabriolet is a good car for UK buyers. The seven engine choices range from incredibly efficient to veritably sporty - the 80bhp petrol is designed as a city runabout while the 207bhp version is edging into 'hot hatch' territory. The PureTech 130 (129bhp) is the most compelling all-round choice for Brits.
DS has placed an emphasis on luxury and personalisation. With so many options to choose from, there are literally millions of possible permutations and it's conceivable that buyers will end up with a 'unique' DS3 Cabriolet. This model is incredibly eye-catching, and in that sense it's the closest to the original Citroen DS.
All of this comes at a price, though. The DS3 Cabriolet - as with other DS cars - is comfortably more expensive than rivals in the segment. It's a premium model with commensurate price tag, so buyers looking for a value city car should consider one of the many competitors. And while the DS3 Cabriolet is an attractive car, it's not without its flaws.
Our verdict on the DS 3 Cabriolet
On paper, the DS3 Cabriolet is a slightly expensive alternative to the well-established mass of well-priced city hatchbacks currently on the market. Rivals offer objectively better packages for less money, but that's not the point of the DS. This car is for people who want something different and are prepared to pay for it.
Costs
Driven sensibly, the DS3 Cabriolet delivers comparable fuel economy to listed figures. Driven in anything approaching an exuberant manner, this figure plummets. The lowest-powered petrol engines will cost a surprising amount to run outside the city streets for which they was designed, while the diesels won't return savings on anything other than constant long journeys.
Space and practicality
As with any convertible, some sacrifices are made in boot space - though you're unlikely to notice significant changes to the hatchback. It still has more luggage capacity than the 500C convertible and the Mini Convertible. In the cabin, however, storage space is weak. Door bins are compact and there are no cupholders.
Controls and display
The instruments and controls of the DS3 are largely good. The touchscreen in our test car was at least as responsive as that of any other small hatchback, but fell behind the systems found in truly premium cars. Switches are generally well laid-out but the gearstick in manual versions is partially obstructed by the arm rest.
Comfort
Levels of comfort in the DS3 Cabriolet rival those of much larger cars, but only in the front seats. The back seats remain a bit of an afterthought, only suitable for youngsters or stoic adults. The driver gets a very comfortable and adjustable seat, clad in one of many luxurious fabrics. The average-height male driver will be aware of how compact the DS3 Cabriolet is, though.
Car security
The DS3 cabriolet comes with an alarm and immobiliser, locking wheel nuts and tinted rear windows to keep away prying eyes. However, cars with fabric convertible tops have generally been more vulnerable to thefts from inside the vehicle, as an enthusiastic thief could slash open the roof with a sharp object. This, and the car's eye-catching looks, could leave the DS3 Cabriolet more vulnerable to vandalism too.
Car safety
The DS3 Cabriolet is available with active city braking, which can prevent accidents at speeds of up to 18mph. The ABS will intelligently assist in an emergency braking situation, and the model is even available with an SOS emergency button that swiftly connects you to a real person in a call centre. The DS3 Cabriolet earns five Euro NCAP stars.
Driver appeal
The dynamics of the DS3 Cabriolet have never been a selling point, and most of the engine range is swift rather than fast. The most popular, the PureTech 130, delivers brisk acceleration and fairly refined motorway cruising, but with a 0-62mph time of 9 seconds it will never compete with sportier hatches. The fastest, the THP 210, will offer the most performance for speed-hungry buyers.
Family car appeal
While the DS3 has ostensibly been designed with younger buyers in mind, the DS3 Cabriolet would be a fun second car. It has all the hallmarks of a city runabout, but with the added benefit of being able to open the roof in summer. A five-door hard-top hatchback or small estate would be more practical for anyone hoping to carry passengers regularly, though.
First car appeal
The main reasons against buying the DS3 Cabriolet as a first car are price and visibility. It's one of the most expensive city hatchbacks available, and also lacks the kind of rear windscreen most learners become accustomed to. Novice drivers could choose the entry-level DS3 Cabriolet, but they'd get more value for money elsewhere.
Quality and image
Generally, the DS3 Cabriolet is a very high-quality car. Depending on the trim level you choose, materials used to make the interior range from 'good' to 'lavish', and the exterior fit and finish is just as good. Minor design flaws let the interior down but in terms of how the car looks, it's hard to beat the DS3 Cabriolet.
Accessibility
The doors of the DS3 are long relative to the size of the car, making them slightly hard to open in tight spaces but easier to climb in and out of. Rear passengers have quite a cramped space - this is really a car for occasional back row use. Small children might be happy but anyone requiring legroom would be better off in the back of another hatch.
Stereo and ICE (In car entertainment)
Apple Carplay and Mirrorlink for Android are available in the DS3 Cabriolet. A range of apps keep you abreast of weather and traffic conditions - useful information in an open-top city car. Sound quality is good, the touchscreen is easy to use and the navigation system is adequate. The infotainment system still falls behind the best offered by premium manufacturers, though.
Colours and trim
DS expects people to personalise the DS3 Cabriolet. There are many options, ranging from lavish interior materials to small ornamental decals. Even the muted colours in the selection are eye-catching, so it will be hard to choose a paint job that will blend in with traffic. This is all part of the DS3 Cabriolet's image and adds to the stylish, look-at-me appeal. Highlights in the colour list include the striking Sport Yellow, the pretty Belle Ile Blue, and the aubergine-esque Whisper Purple.
Parking
Rear parking sensors are standard from 'Chic' trim level, which helps mitigate the reduced rear visibility in the DS3 Cabriolet. A reversing camera is well worth the upgrade, though only standard on high-end models. Front and side visibility is good, and the overall compact nature of the DS3 Cabriolet makes it well-suited to city carparks and streets.
Spare wheel
Emergency tyre repair kit supplied as standard.
Range information
Petrol engine options - 1.2-litre (80bhp, 108bhp, 128bhp); 1.6-litre (160bhp, 207bhp). Diesel engine options - 1.6-litre (98bhp, 118bhp). Transmission options: five and six-speed manual gearbox depending on model, plus automatic. Trim levels: Chic, Prestige, Ultra Prestige, Performance, Performance Black.