Citroen C5 Tourer 2.2 HDi 200 Exclusive review
Relaxed and compliant ride is rare and wonderful among this class of car
April 2013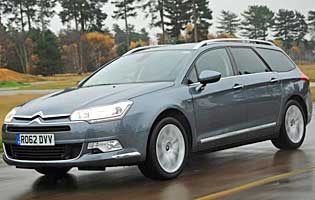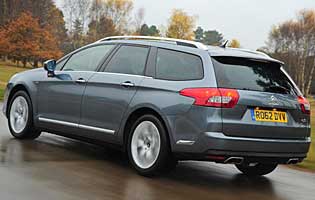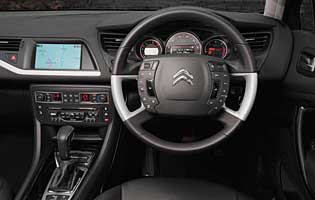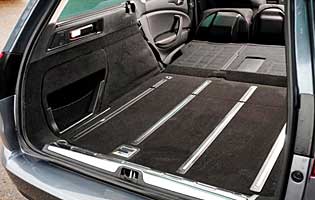 Overall rating

Likes:
Relaxed and compliant ride is rare and wonderful among this class of car
Soft leather seats are extremely plush and feel very premium
Ample legroom for all passengers and a large boot provide practicality
Powerful, smooth engine pulls hard and adds to the luxury feel
Gripes:
Too many buttons squeezed into a small space on the centre console
Slow steering demands significant turning action in tight corners
Soft suspension creates above average cornering body roll when pushed hard
Would be more fuel efficient with a manual gearbox
Citroen's C5 D-segment contender may have been around for a good few years but new life has been breathed into it with a higher power version of the 2.2-litre HDi diesel engine. Boasting 200 horsepower, a standard automatic gearbox and lots of luxury equipment, this range-topping variant has rivals from the premium German brands square in its sights.
This combination of engine and trim grade is available in both saloon and estate body styles, and in this estate guise it offers impressive long-distance touring capability. Set up to be comfortable rather than overtly dynamic, the C5 is perfectly suited to motorway life - much more so, in fact, than many considerably costlier rivals.
It's also a great looking car, having benefited from Citroen's talent for creating a good design without going overboard. It's on the understated side but is undeniably stylish, and that suits its intended purpose well in the sales fight with the lower ends of the 3 Series, C-Class and A4 ranges it hopes to usurp.
The new engine is extremely strong, pulling hard through the higher gears to cover ground at speed with impressive ease. Tall gearing helps to make the most of the vast reserves of torque on offer, while also allowing the C5 to cruise at respectably low engine speeds, which means lower fuel consumption and less engine wear.
Practicality is guaranteed with a large, square boot space on hand. The centre console is not so simple to grasp with its myriad small buttons covering an array of functions, but thanks to a soft, stable and very comfortable ride quality the driver can keep his or her hand steadier for more button-pressing precision.
Our verdict on the Citroen C5 Tourer 2.2 HDi 200 Exclusive
The C5 is a breath of fresh air in a market dominated by hard-riding, 'sporty' executive cars that ride terribly by comparison. It wafts along with such compliance that it's difficult to see why any other car would even make a high mileage driver's shortlist. Equally, soft, cosseting seats will keep the whole family happy over hundreds of miles. This may be the most expensive C5 but it's worth it.
Costs
This is not the cheapest C5 Tourer to buy or run. This engine is the thirstiest in the diesel range and depending on driving style it may return very reasonable or disappointing economy. Benefit in Kind taxation rates will also be adversely affected by this more powerful engine's higher CO2 output, while residuals will not match the premium German rivals. It's reasonable to expect significant discounts in the showroom, though.
Space and practicality
The estate is not only arguably the better looking body style; it features a larger boot that has few limits in terms of what normal luggage can and cannot be stored. The actual load area is broad, deep and square, allowing owners to make the most of the available room no matter what they need to pack into it. The cabin has plenty of storage spaces, but there is a slight niggle with the central storage bin. It's far too easy to pull the lever that raises the armrest rather than the lever that opens the lid.
Controls and display
The C5's basic controls fall to hand in an organised and predictable way via a pair of ancillary stalks behind the steering wheel. The rest of the controls, for the air movement, telephone and more are squeezed into far too small a space and are more awkward than they could and probably should be. Conversely, some of the controls for the media interface are too simplistic and don't offer neat interaction.
Comfort
Aside from a measure of wind noise around the door mirrors, the interior is a hushed place even at motorway speeds. There is some road noise that comes mainly through the wheel arches, but in the main the environment is comfortable. Occupant comfort is taken care of by uncommonly comfortable seats, the front two of which are fitted with heating and electric movement controls. Long journeys are a pleasure in this car.
Car security
Citroen has in the past had some problems with electrics in the security systems, where certain unusual radio frequencies could unintentionally cause unpredictable reactions. Standard security systems since those problems were addressed include remote central locking, a boot that can be opened independently of the doors and an immobiliser. The alloy wheels have a locking wheel nut each, too.
Car safety
Citroen has installed a host of airbags to make sure that occupants' heads in particular should be protected in the event of an accident. Front, side and curtain airbags are standard. The C5 also has thick doors for a reason; they contain substantial passive safety constructions to absorb the worst of any impact. There are also many active safety systems that monitor traction, stability and more to ensure a safe journey.
Driver appeal
For drivers that value real comfort and relaxation behind the wheel this range-topping C5 suffers few competitors. Soft, inviting seats and a floating ride thanks to air suspension make the car one of the most pleasant on the market. You do pay a handling penalty, with plenty of body roll among the costs, but the C5 is not designeed to be a sports car. It simply excels at what it was designed for.
Family car appeal
The wider C5 range, in particular the Tourer estate model, is an ideal shape and size for family life. There is loads of room in the back for children, and the door apertures are large enough to facilitate easy installation of child seats. The boot is also huge and well equipped for even the largest quota of child-related paraphernalia. Cabin materials shouldn't prove too vulnerable and the leather seats can in most cases be wiped clean.
First car appeal
This isn't a particularly wise choice as a first car, since it's large and sometimes unwieldy at low speed. It's also the most powerful diesel model and offers a rather more imposing driving experience than a typical supermini that learners practise in. Its weight and body roll through corners would be an alien sensation to someone without appropriate experience. Then there are financial hurdles to consider, and it's unlikely that a first-time car buyer would be able to afford to buy, run or insure this.
Quality and image
Citroen is fighting a battle on two fronts. On one side it's desperate to be seen as a more premium choice among the mainstream in the way Volkswagen is, but on the other side it's fighting to stave off the sales advances of brands perceived as offering better value, like Kia and Hyundai. The C5 feels solid enough in everything that falls to hand, although small electrical problems are still more common than Citroen would like.
Accessibility
With five doors and relatively high-mounted seats, the C5 is at least as easy to get in and out of as any of its rivals. Rear passengers might have to tuck their feet in before stepping out of the car just to get over the sill, but in the main it's a very comfortable process. The powered tailgate opens via a button on the key and presents a very large aperture, while it's closed by pressing a button on the tailgate itself.
Stereo and ICE (In car entertainment)
The C5's standard stereo system is surprisingly good quality, although that varies according to volume. Where it falls down slightly is in the navigation through settings, where a simple one-button approach just doesn't allow the flexibility to quickly try several different settings of the same variable. On the other hand, there are connections for Bluetooth wireless music streaming and a USB device so users have the choice of how they want to input their music.
Colours and trim
C5 buyers can choose between a small number of relatively sober hues, reflecting its businesslike attitude. Dark colours suit its lines best, with dark metallic grey arguably the most flattering choice when married to the large, silver wheels. The interior trim looks great, at least as far as the leather upholstery goes, while the crowded plastic frontage on the centre console is not so pretty.
Parking
The only noteworthy difficulty in parking the C5 Tourer is in its length. Where rows of cars are positioned fairly close together it can occasionally be tricky to reverse it in a single arc that won't result in a scrape with another car. Mid-manoeuvre tweaks might sometimes be required. This model has front and rear parking sensors to warn when cars or other objects are too close, though, so in practice slotting the car into a space isn't especially tricky.
Spare wheel
Space saver fitted as standard.
Range information
Diesel engine options - 1.6-litre (113bhp); 2.0-litre (158bhp); 2.2-litre (197bhp). Transmission options: five and six-speed manual gearboxes plus six-speed automatic depending on model, plus six-speed EGS6 automated manual gearbox (1.6-litre diesel only). Trim levels: VTR, VTR Techno Pack, VTR+, VTR+ Techno Pack, Exclusive, Exclusive Techno Pack.