December 2005
Chrysler Voyager 2.8 CRD LX
Stylish headlights and grille identify this Voyager as being the latest variant
December 2005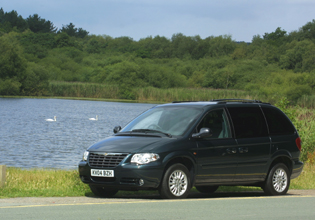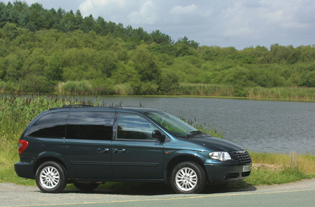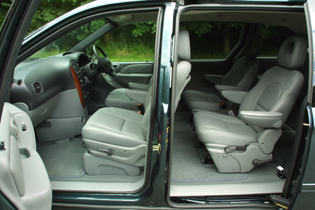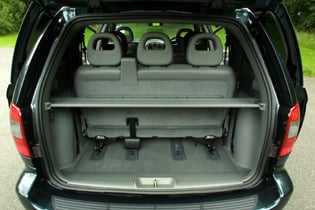 Overall rating

Likes:
Sliding doors provide good access to rear seats
High driving position a useful feature
Space and versatility make the Voyager a practical car
Diesel engine provides good acceleration and respectable economy
Gripes:
Substantial body roll when cornering can be disconcerting
Dashboard looks dated and has fiddly controls
Wood trim is unlikely to appeal to many buyers
Some options not available on lower specification models
Chrysler can lay claim to being one of the first manufacturers to create the MPV, so its latest generation Voyager has all the right credentials for taking on its modern rivals. This Voyager gained a number of refinements during 2004, although the original car first appeared in 1997.
Changes to the exterior of the Voyager for the 2004 model year were subtle and discreet, mainly centred around the front of the vehicle. Also obvious is a revised grille and projector headlamps which brought it into line with the rest of the Chrysler range. Further improvements included bigger side body mouldings and new wheel trims and alloy wheels for a sharper appearance. Despite its age, the Voyager has a classy and unusual shape, which distances it from more conventional MPV rivals.
Inside the Voyager also benefited from a series of enhancements. One of the most major changes was the adoption of full-length curtain airbags which stretch the length of the vehicle. This means that even passengers sat in the third row of seats benefit from the protection that side airbags offer. Another safety measure is a belt warning system for the driver, which chimes and flashes if the car is being driven without the front seat occupants being securely belted.
Underneath the skin, the stand-out engine is a 2.8-litre CRD diesel, which provides an improved level of acceleration and fuel economy over previous generations. The diesel option is chosen by the majority of Voyager customers, and it's engineered to provide quick acceleration from a standing start.
Other notable improvements to the current-shape Voyager include a reduction in the amount of road and engine noise transmitted into the cabin, mainly thanks to increased engine sound proofing and a number of sound dampening spray and insulation underneath the car and behind the dashboard help to improve refinement.
Our verdict on the Chrysler Voyager 2.8 CRD LX
On the most important factors for an MPV, the Voyager scores well. It has a substantial amount of interior space and the flexibility to cope with a combination of passengers and luggage. Dynamically it is not the best in class, but its unusual styling and good equipment levels will be more important to many buyers.
Costs
Although the initial purchase price is relatively high, the diesel engine provides respectable economy for a car of this size, and its ability to carry passengers and luggage in great quantities and in comfort should make it a cost effective vehicle as long as its versatility is used frequently.
Space and practicality
A big plus point is the amount of room on offer in the Voyager, and even with seven passengers aboard there is sufficient head and legroom for all. Front seat passengers benefit from the most room, while the three on the rear bench have less elbowroom than other passengers. With all seats in place the boot is tall rather than deep, but it does provide 395 litres of space. Remove all bar the front seats however and 4,100 litres of space becomes available, making the Voyager ideally suited for all sorts of load carrying duties.
Controls and display
The instruments in the Voyager are clear and attractive, with a pleasant green illumination and retro-style graphics. Elsewhere, the centre console houses the remaining controls, which are black plastic switches and dials with green LED illumination. These look and feel quite dated, although they operate in a satisfactory manner and it is mainly in this area that the Voyager shows its age.
Comfort
The front seats in the Voyager provide a good level of comfort, and with a wide range of adjustment and arm rests on both sides it is easy to get into a comfortable position for a long journey. The second row of seats are similar to the front, whereas the third row is a more simple bench seat which is not quite as accommodating. The ride quality of the Voyager is generally good, although larger bumps are felt as a minor jolt through the bodyshell.
Car security
The Voyager's size makes it a more obvious target for thieves, though features such as the standard electronic immobiliser and remote central locking should help to prevent theft of the vehicle. A Thatcham approved alarm system is also standard on all models.
Car safety
Once not a great performer in this area, the model revision improvements resulted in the adoption of curtain airbags and seat belt warnings - bringing the Voyager up to a decent standard. Additional safety equipment includes pre-tensioners on the front seats and ABS as standard.
Driver appeal
Most drivers will find that the Voyager's size and weight make it comfortable rather than a car for twisting back roads, and although the diesel engine has a large car to move, a firmly pressed accelerator does result in a useful turn of speed. The column change automatic transmission takes a little time to get used to, but the amount of space it frees up between the seats a serious plus point. The steering is pleasingly firm and the brakes work well, ensuring the Voyager is an easy car to drive.
Family car appeal
The Voyager is an ideal family car, particularly for those with large numbers and a wide range of ages and sizes. It could easily carry a family of five or more and their luggage on a long holiday, while seven could be carried every day providing the amount of luggage to carry was minimal.
First car appeal
With a hefty price tag and seven seats, the Voyager is an unlikely car for a first time buyers, although the good visibility and ease of driving would make it simple enough for inexperienced drivers. Only the issue of running costs - fuel economy and insurance would prove to be hurdle for buyers.
Quality and image
Overall the Voyager comes across as a good quality vehicle, for although some of the interior trim may not be to all tastes, it does feel well constructed and robust. The Voyager's image is somewhat different to that of the majority of MPVs, with a classier image thanks to the more exclusive Chrysler brand.
Accessibility
An important factor on an MPV, particularly with a third row of seats, the Voyager makes entrance easy for passengers with the sliding doors on both sides. A useful feature of these is a locking system, holding the doors fully open unless released with the door handle, preventing injury. Front seat passengers are just as well catered for with wide opening doors and a high seating position for easy access.
Stereo and ICE (In car entertainment)
LX models come with Infinity speakers and a 360-watt CD/tuner as standard, which provides powerful, high quality sound. The standard fit steering wheel controls are useful, and as they are mounted on the back of the wheel spokes there are unseen but easy to use.
Colours and trim
The optional leather seat facings are a big boost to the interior, giving it a classier feel as well as the practicality of greater resistance to everyday spills and marks. Standard fitment on LX models is walnut burr effect trim around the centre console, with a light grey grain effect on the rest of the dashboard, and while the light grey is inoffensive the faux-wood is not a success. The rest of the interior is finished in cloth and plastics of a good standard.
Parking
Despite its size the Voyager is a relatively easy car to park, thanks to large door mirrors and extremities that are easy to place. Rear parking assistance is not available as an option however, yet it is fitted as standard to higher specification models.
Spare wheel
A space saver spare wheel is fitted as standard underneath the boot floor.
Range information
Four engine options - 2.4-litre petrol (145bhp), 3.3-litre petrol (172bhp), 2.5-litre diesel (141bhp) and 2.8-litre diesel (150bhp). Manual transmissions are standard on the smallest two engines with automatic transmission standard on the others. Trim levels are SE, LX and SE Plus.
Alternative cars
Renault Espace Stylish and space efficient but expensive to buy and run
Citroen C8 Electric sliding doors a useful feature, good value for money
Toyota Previa Unusual styling but petrol engines are inadequate
Mitsubishi Grandis Attractive to look at and decent driving experience